Catching Attention with Unique Exterior LED Signage
Connect with your audiences when they are out and about in your city using unique exterior LED digital signage.
Justin Ochsner on 4/26/2021
Categories: Business & Community, Out of Home Advertising, Pro Sports and Colleges, Spectaculars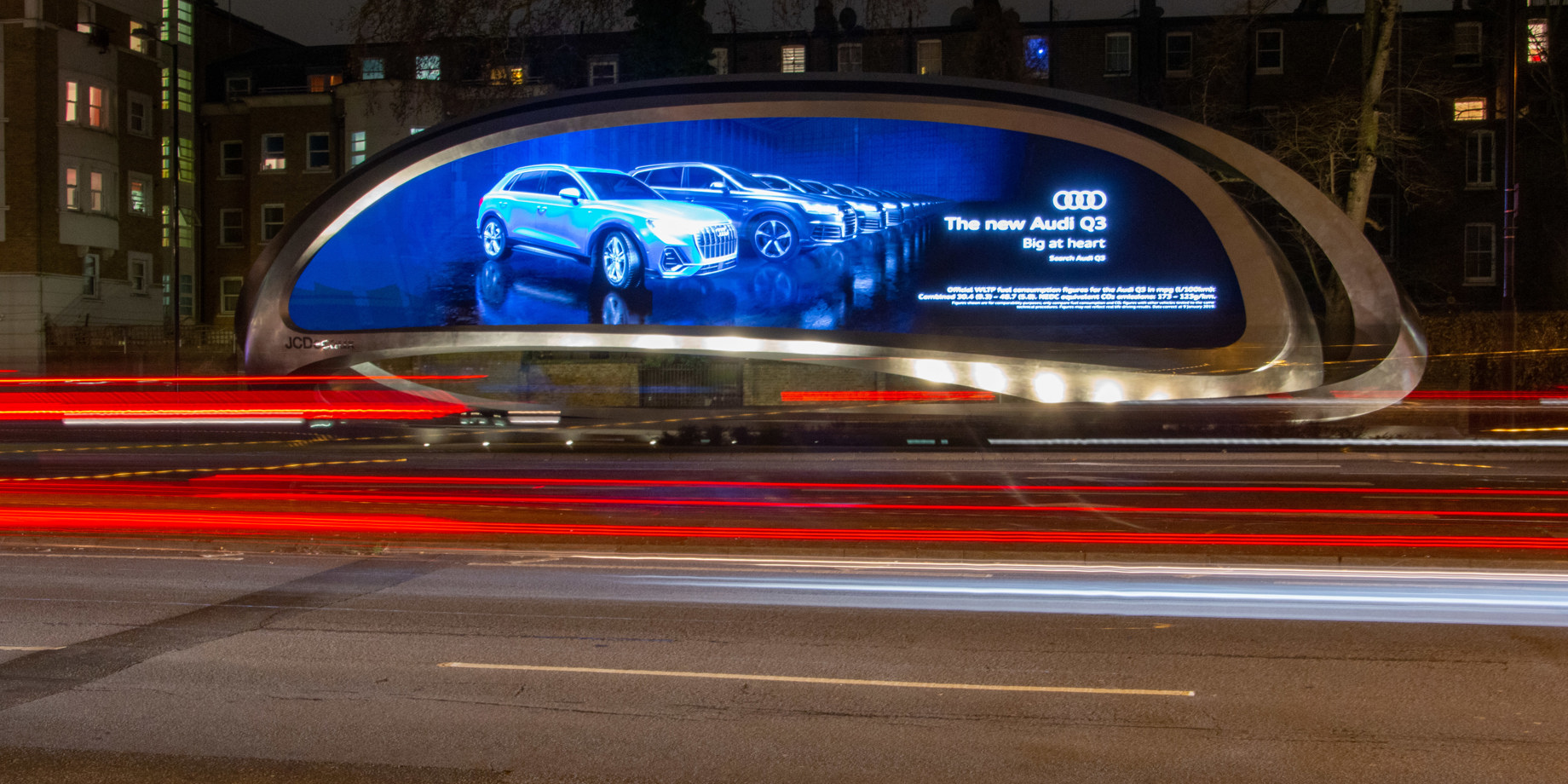 When moving about in the world today, your attention is very valuable. Signs are everywhere trying to connect and engage with you. More now than ever before, those signs are digital LED displays. Whether you're heading to a shopping center, commuting via train or car, or arriving at a venue for a live event, opportunities to share messages with you are plentiful. I'd like to dig into those opportunities and applications to share what they can do to engage audiences and deliver those messages for your valuable attention.
To start, I should mention that it's not only the signage itself that catches your eye. It's the size and architecture that goes with those signs and the digital technology incorporated into that architecture that stands out. The unique and, in some instances, unimaginable digital signage can garner the most attention.
Out Of Home Applications
In this section, we're thinking of billboards on steroids. Not literally of course. More figuratively as they take the standard-shaped, traditional medium to the next level. Not only by going digital, but also by introducing some new perspectives for viewers. Okay, let's dig in.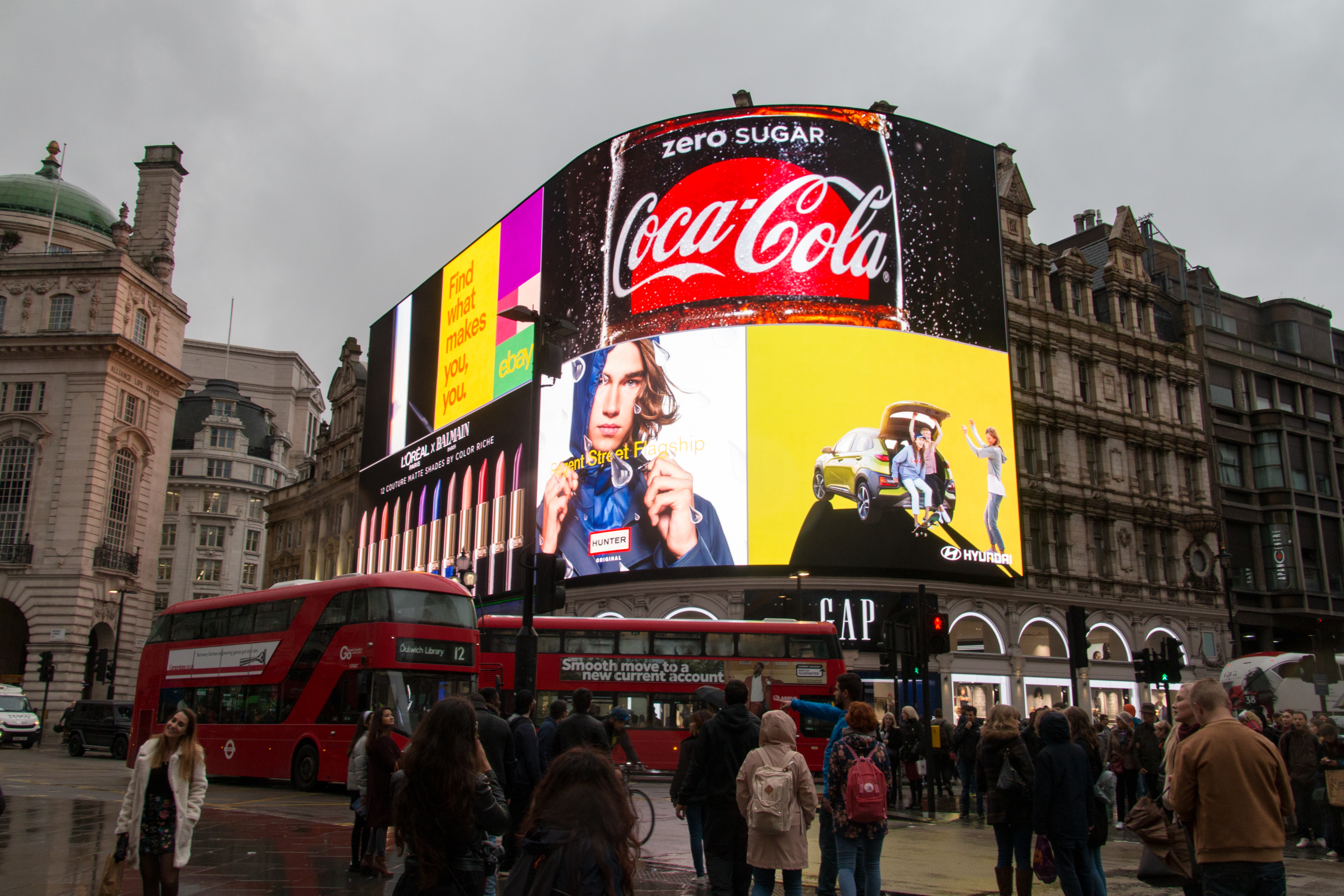 The brightest lights in London were installed in 2017 at Piccadilly Circus in the UK. The massive, outward-curved display is capable of 4K video production and combines multiple individual advertising displays into one solid canvas. The location's advertisers each have their own feature moment on the display while also maintaining the ability to section the display and show all advertisers in their own section at the same time. It's an iconic location and installation that simply can't be ignored.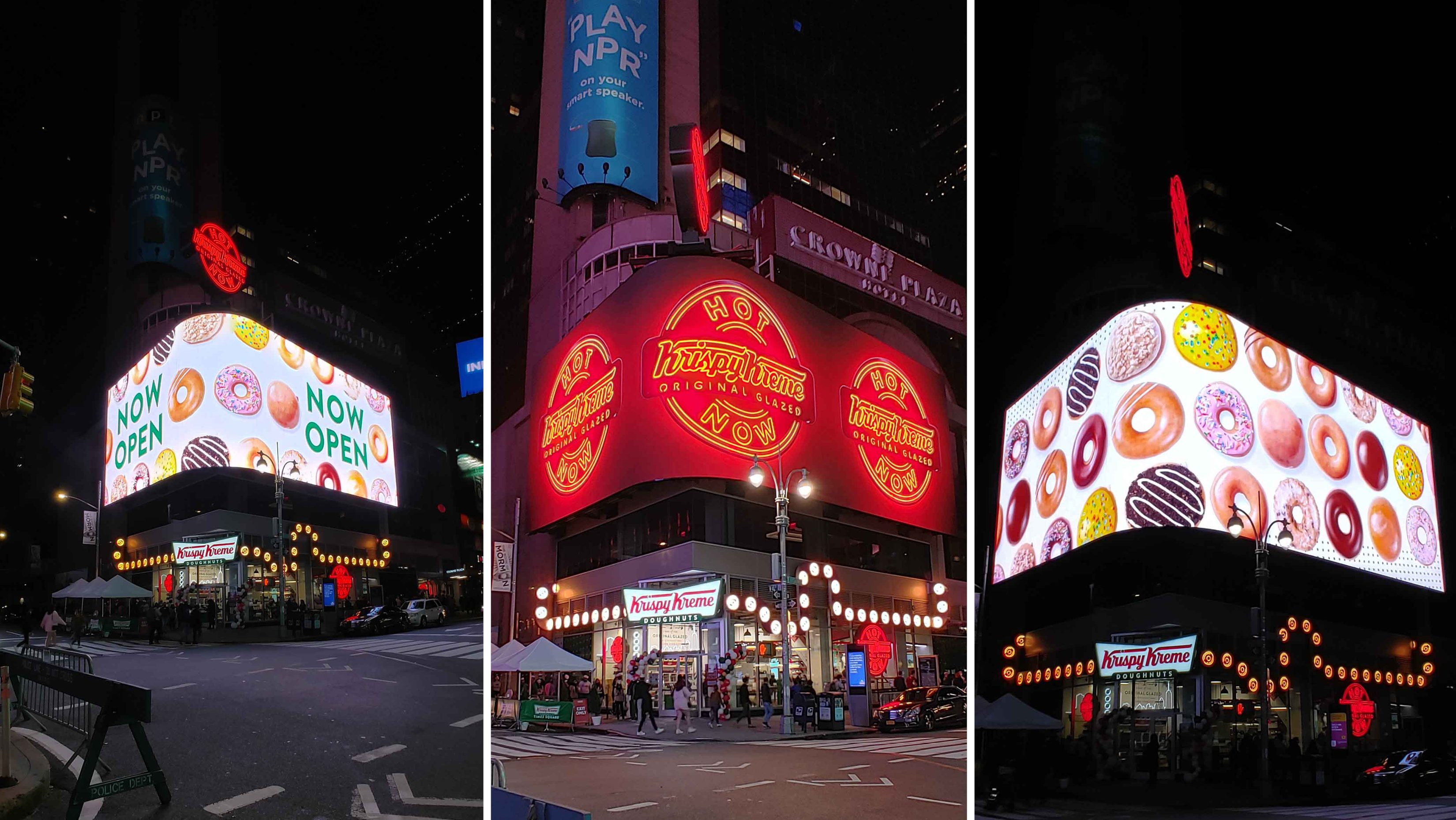 Much like the bright lights of London, New York's Times Square recently added a massive curved display of their own for Krispy Kreme's newly opened flagship location. With the ability to leverage vibrant colors to show off their latest pastry creations, the installation is a beacon above their store in New York.
Also in New York's Times Square, just a few blocks away, Barclays Capital building is covered in a unique combination and layout of LED displays. This display configuration brings a new perspective to content as it can wrap around the corners and move across an entire building worth of digital technology to garner attention and share branding and other desired messages. Without the curved display or curved edges, this installation is an example of organizing ordinary shapes in an unordinary, extremely creative way.
Similar to Barclays, El Corte Inglés in Spain (left image) and Northern Quest Resort & Casino in Spokane, Washington, (right image) have each implemented a unique organization of traditional-shaped displays. El Corte Inglés features two displays that actually have an angle to the left side matching the building architecture, but also implements a horizontal space between the two digital displays. And Northern Quest Resort & Casino added a nine-display configuration that combines for more than 2,500 square feet above the main entrance to their venue. Both can use the display independently or all together for a dynamic presentation.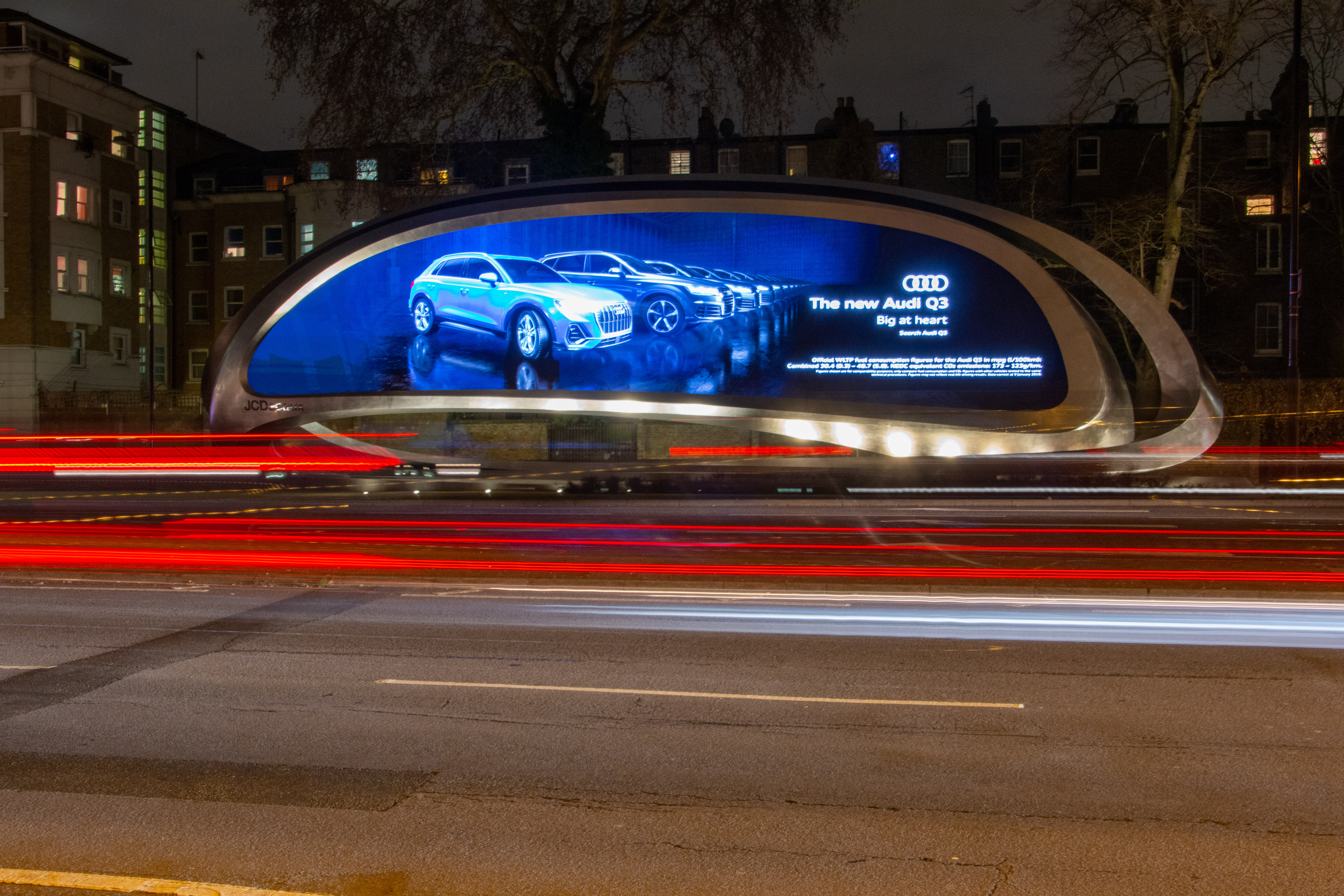 Located in London, this JCDecaux installation at The Kensignton shows the ability to go beyond the rectangle shape and highlights that inward curves are possible as well. Framed by a curved double-ribbon stainless steel design, this project shows how the design elements around a display can help with generating intrigue. It also shows how architecture, art and LED technology can come together to gain attention in a visually-pleasing way.
Proving that these unique signs are installed all around the globe, we wanted to point out this Scentre Properties installation for Westfield in New Zealand. Once again, LED technology is most certainly not limited to rectangle shapes. These displays show off the engineering capabilities of curved edges with only two sharp corners while giving a visual assist to the architecture and corner of the building. Locating the displays at the busy intersections around the property gives them mass appeal as people pass by.
Adding to the aesthetics of an outdoor space is also an important aspect of outdoor LED displays. Looking at this display at Parc Expo in Paris, you can see the inward-facing ring display in an outdoor gathering area. This type of installation has multiple purposes, chief among them is to create a space where people want to spend time and linger. While they are there, the branding and sponsorship messages have a captive audience.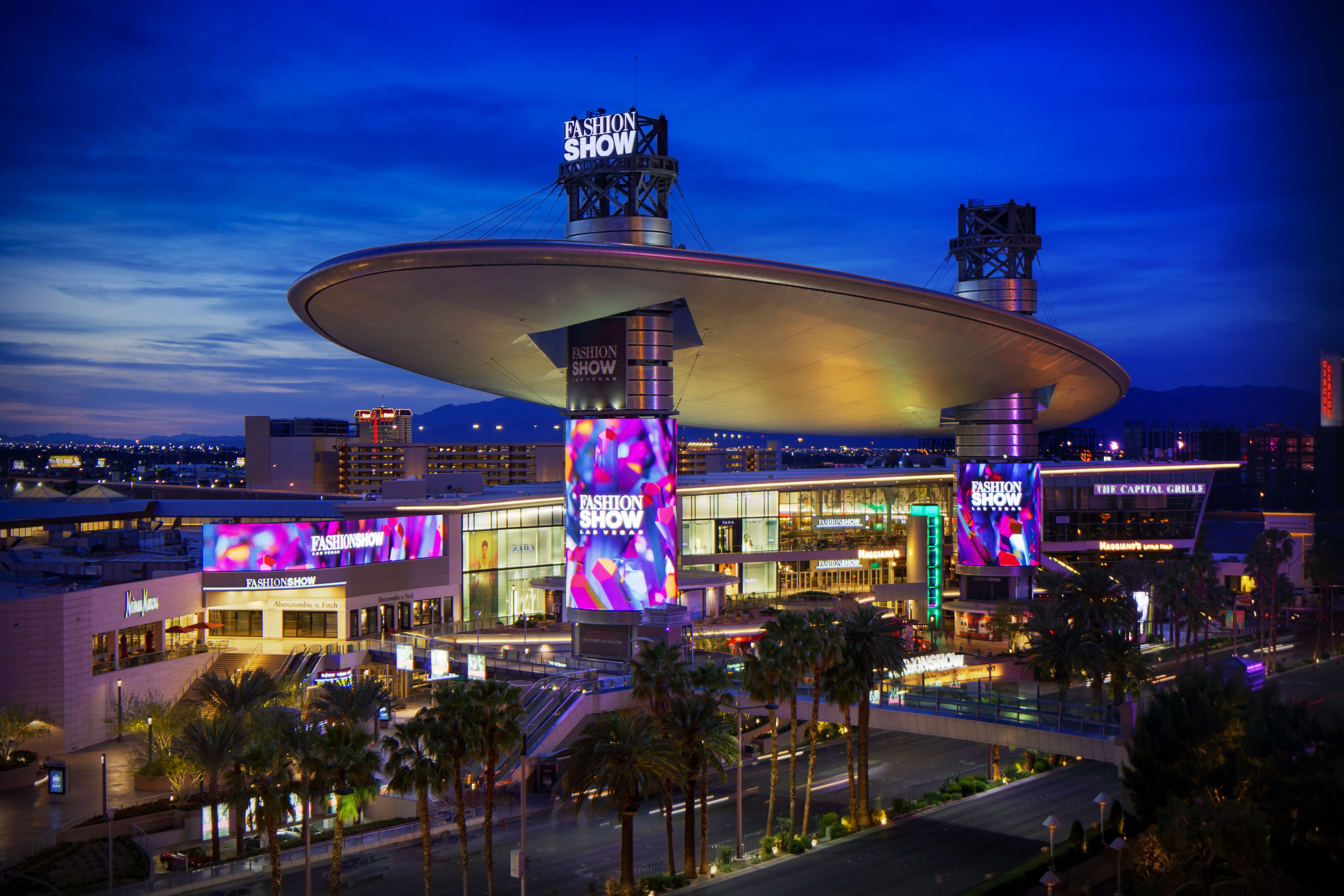 Las Vegas is certainly known for it's bright lights, glitz and glamor. As such, this installation at Fashion Show Mall stands out in the crowd with two massive column-wrap displays and another curved display to match the architecture of the main building. These can be used separately or coordinated to show the same content for an all-encompassing experience for shoppers and audiences in the area.
Exterior Displays at Stadiums and Arenas
Starting with the most obvious, attention-grabbing signage, marquee displays are there to communicate directly with patrons as they pass by or arrive at a venue. Some of the most interesting and iconic installations Daktronics has created include the sail and prow displays at U.S. Bank Stadium, the Oculus display at Barclays Center, the pylon displays at MetLife Stadium, angled displays at Tottenham Hotspur Stadium and FirstEnergy Stadium, street furniture at Texas A&M University and many, many more!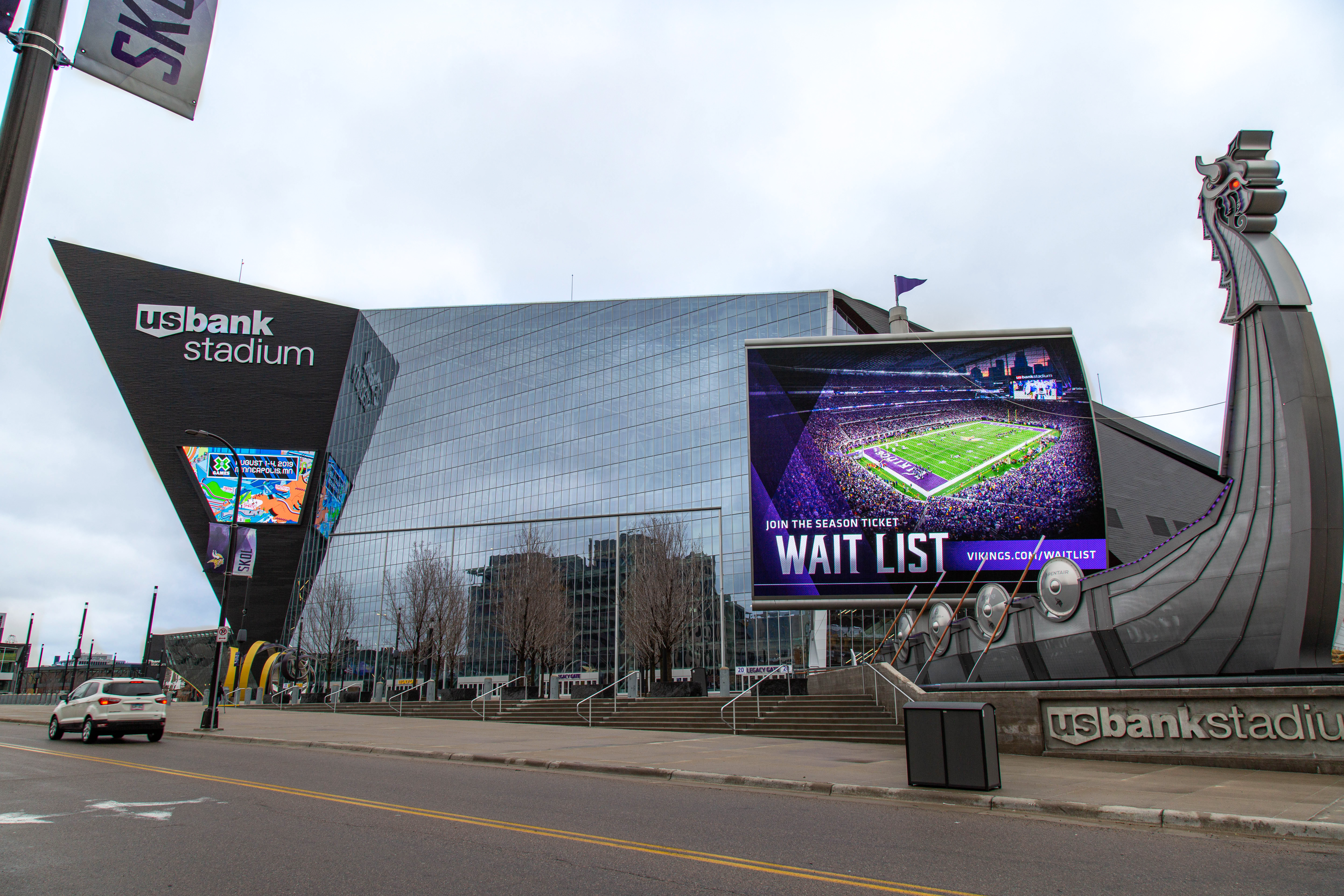 With the main tenant as the Minnesota Vikings, the end of the building at U.S. Bank Stadium juts out like the prow of a ship and has a marquee display mounted on one side. Also, a legacy ship in front of the stadium has a huge mast and curved sail with one side of the sail featuring an LED display that matches the curve. These displays brand the facility for the Vikings and engage fans as they arrive, immersing them in their team's desired atmosphere long before the game kicks off.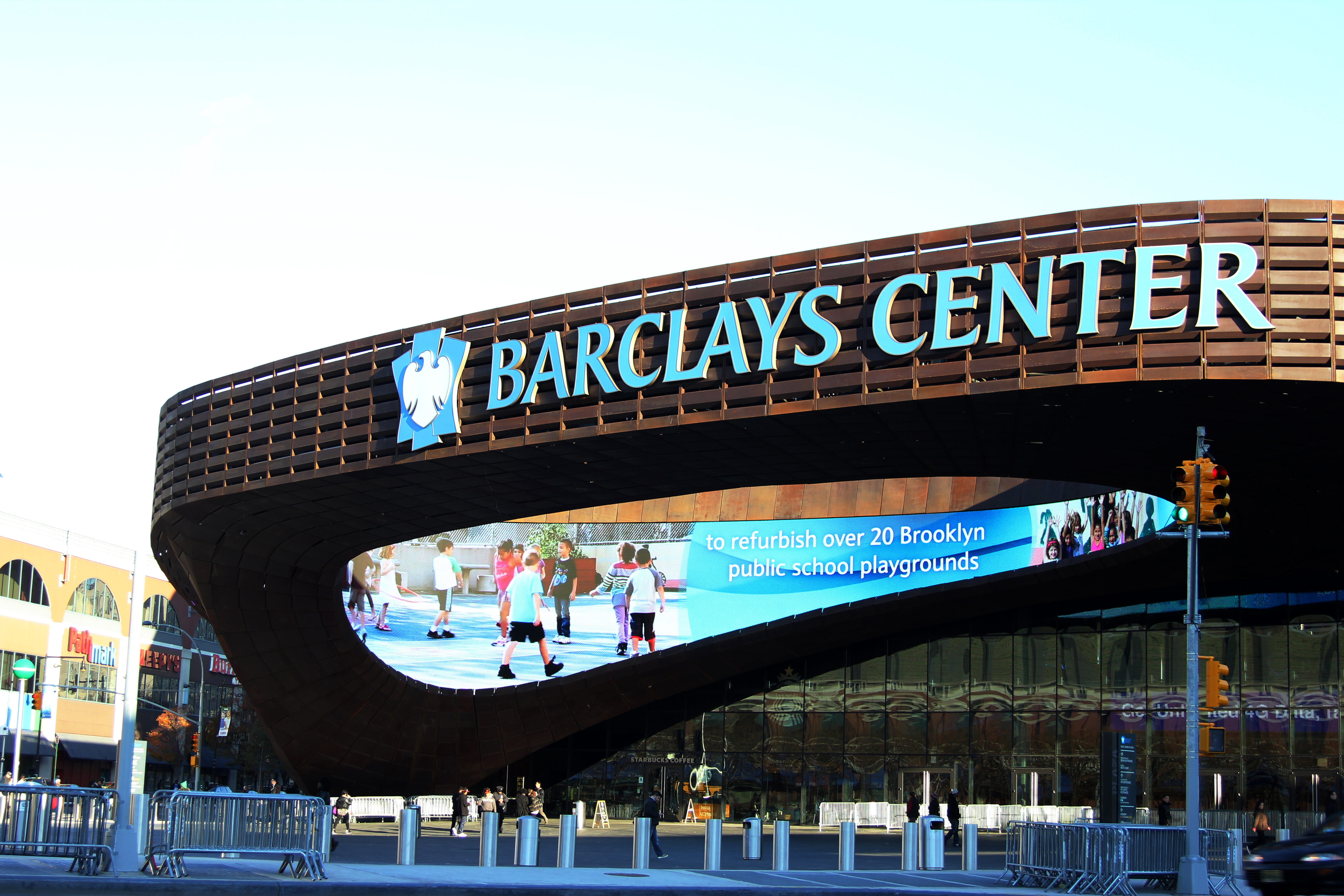 Barclays Center, home of the Brooklyn Nets and New York Liberty, has a large, halo-shaped display outside their venue to capture attention in a different way as people are able to walk directly under the display and stand in the center to be surrounded by the display above them. Branding the event taking place inside the venue, the Oculus is a versatile display that can be used for engaging content, sponsor recognition, event information or sharing community messages.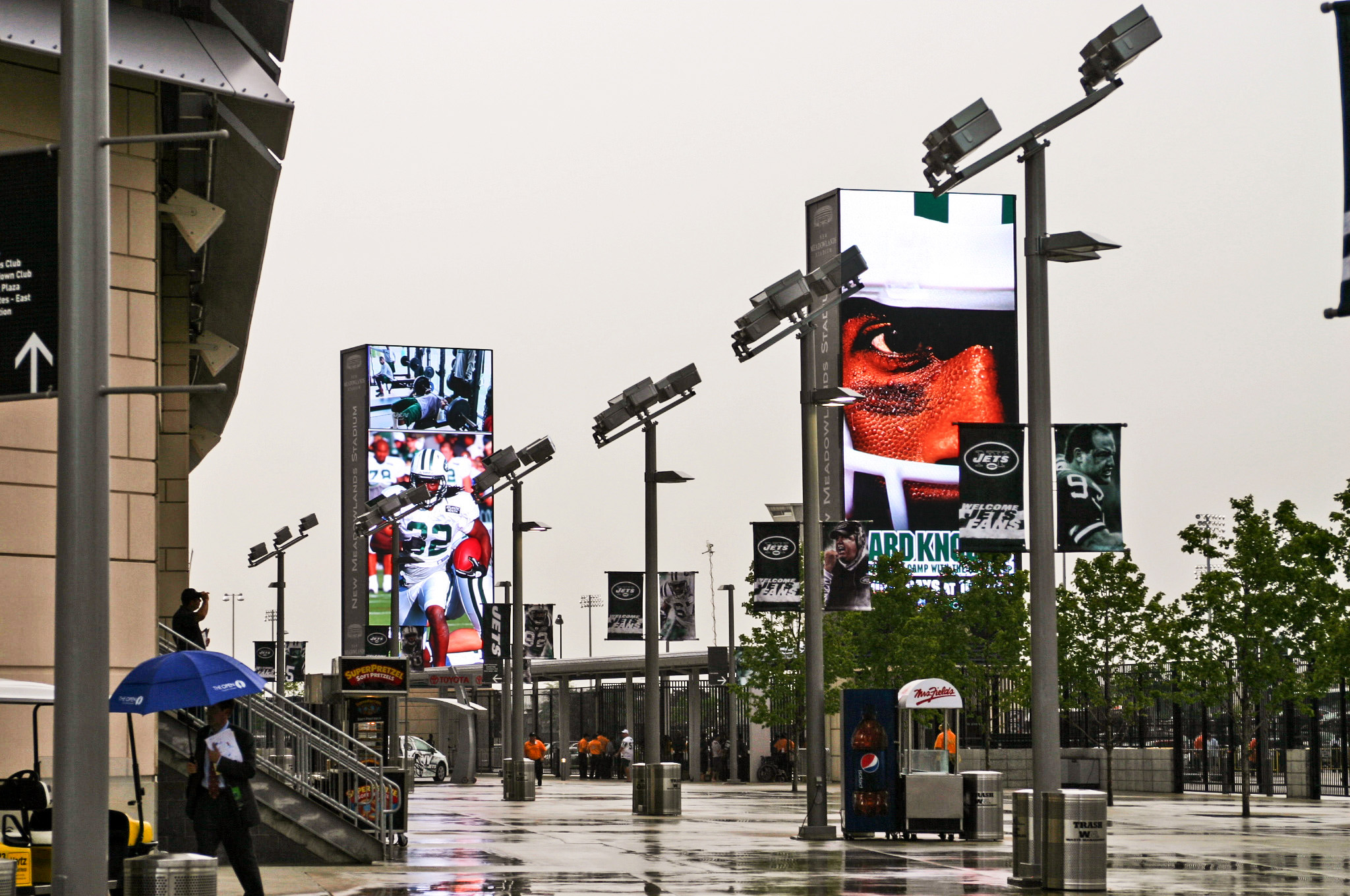 The pylon displays at MetLife Stadium take a slightly different approach. While they are unique and certainly gain their fair share of attention, they are spaced around the stadium to connect with and engage audiences at multiple locations as people enter through different gates instead of one main entrance. These tall vertical displays surround the stadium to brand the experience for the New York Jets or New York Giants on game day, but also help connect with patrons of concerts and other special events held at the stadium.
Street Furniture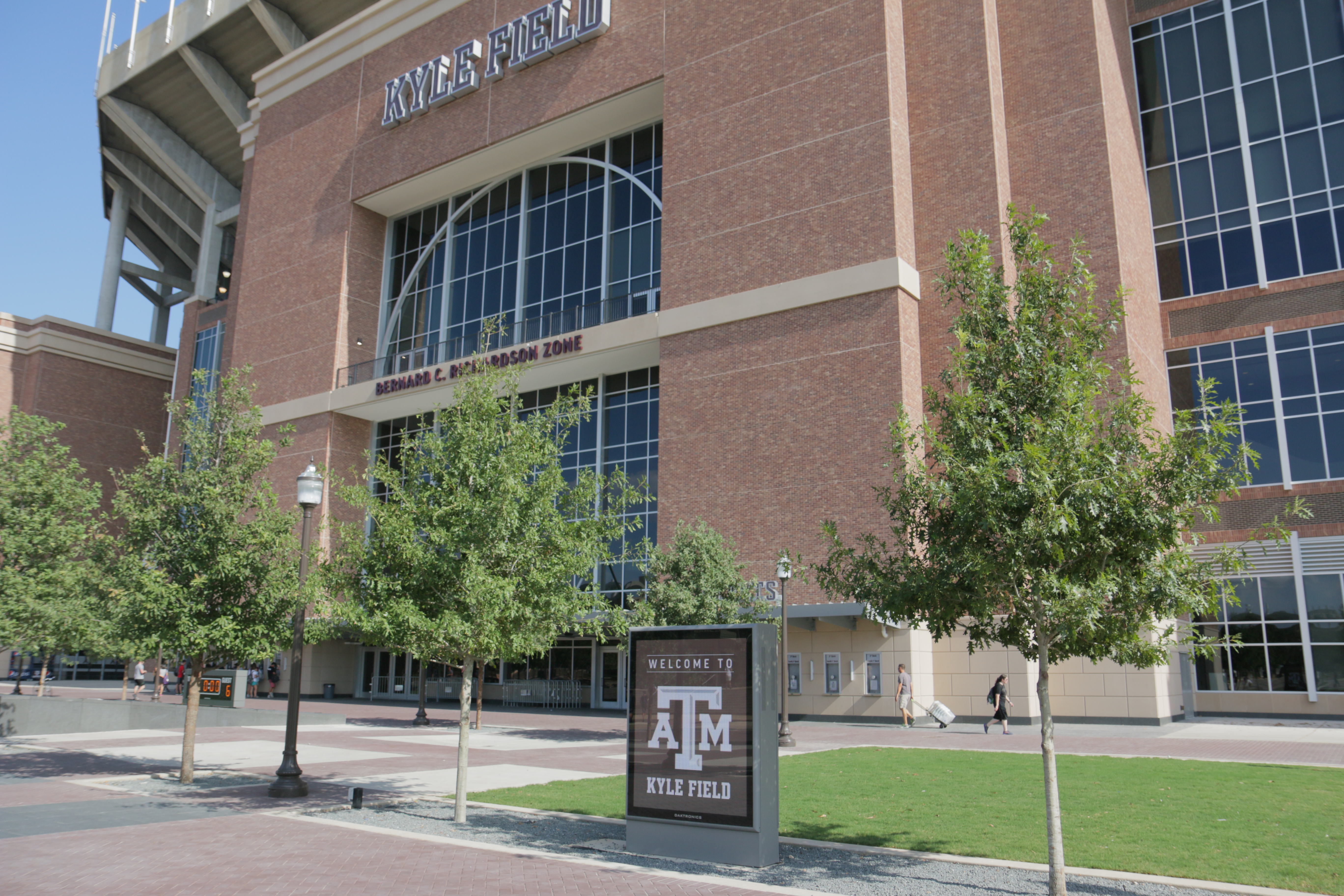 To engage fans at eye-level, Texas A&M University partnered with Daktronics to install European-inspired digital street furniture around their football stadium, Kyle Field. Being an up-close LED video solution, these displays are encased in glass for protection as they communicate upcoming events, highlight university sponsors and partners, and provide another outlet for campus communications. These units even provide an additional revenue source for the athletics department beyond ticket sales and traditional advertising.
Think Beyond the Box
Okay, so it sounds VERY cliché, but think outside the box and beyond basic display sizes! These examples show that nearly anything is possible; the only limitation is your imagination. The engineering team at Daktronics is ready for your challenge and looking forward to designing a solution that fits your location and the way you want to connect with and engage your audiences. Take a look at your options, prepare your vision and then give Daktronics a call to bring your display aspirations to life!
---