Catalyst Outdoor Advertising: Redefining Outdoor
Catalyst Outdoor founding partner, Thaddeus Bartkowski, sat down with us recently and discussed his outdoor advertising business. Catalyst owns and operates locations throughout Philadelphia and New York which includes 14 digital billboard faces. Bartkowski uses the flexibility of digital outdoor in creative and charitable ways and worked closely with municipalities to develop an aesthetically driven […]
2/11/2014
Categories: Out of Home Advertising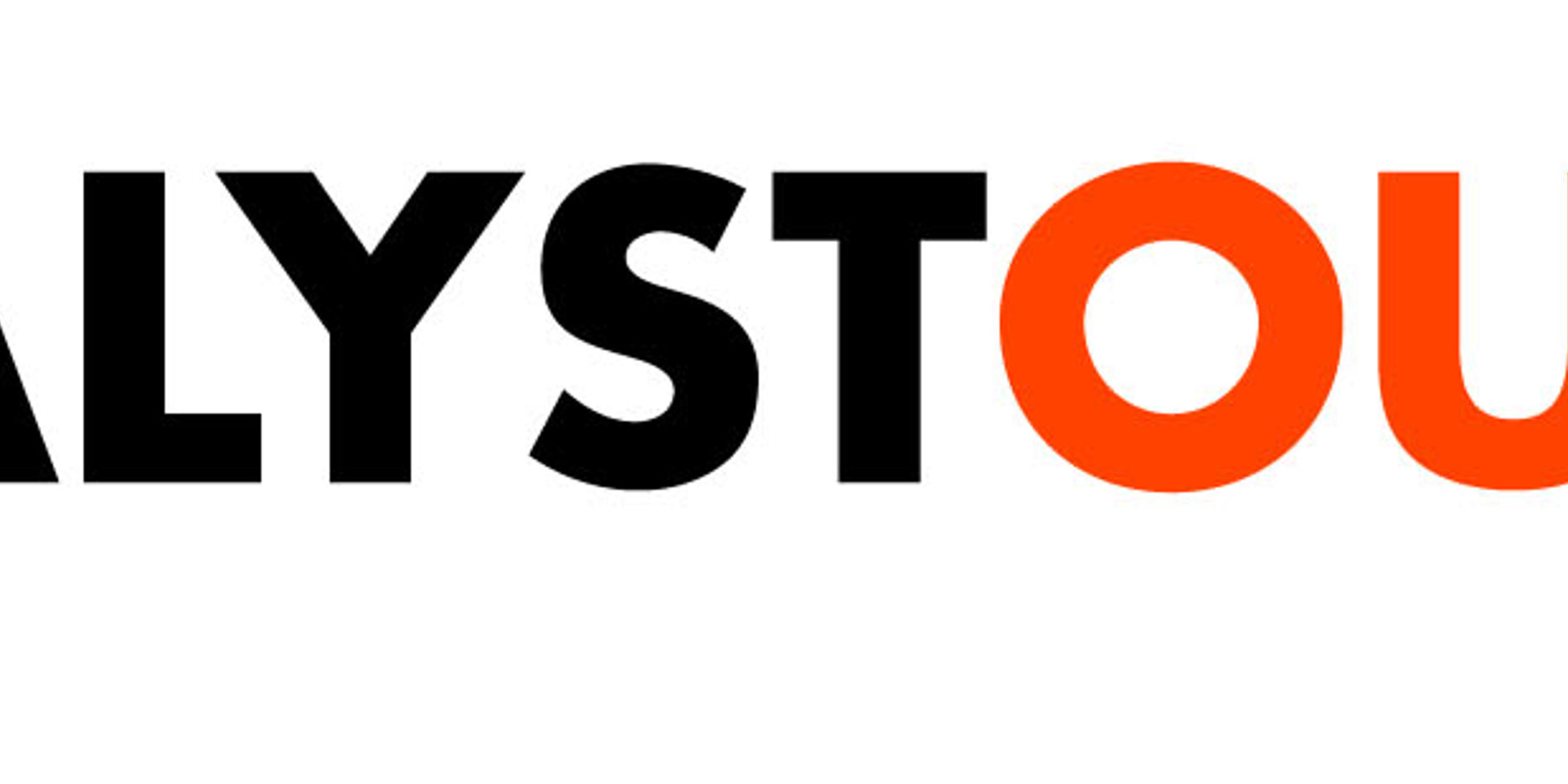 Catalyst Outdoor founding partner, Thaddeus Bartkowski, sat down with us recently and discussed his outdoor advertising business. Catalyst owns and operates locations throughout Philadelphia and New York which includes 14 digital billboard faces. Bartkowski uses the flexibility of digital outdoor in creative and charitable ways and worked closely with municipalities to develop an aesthetically driven digital monument sign solution, redefining the face of outdoor.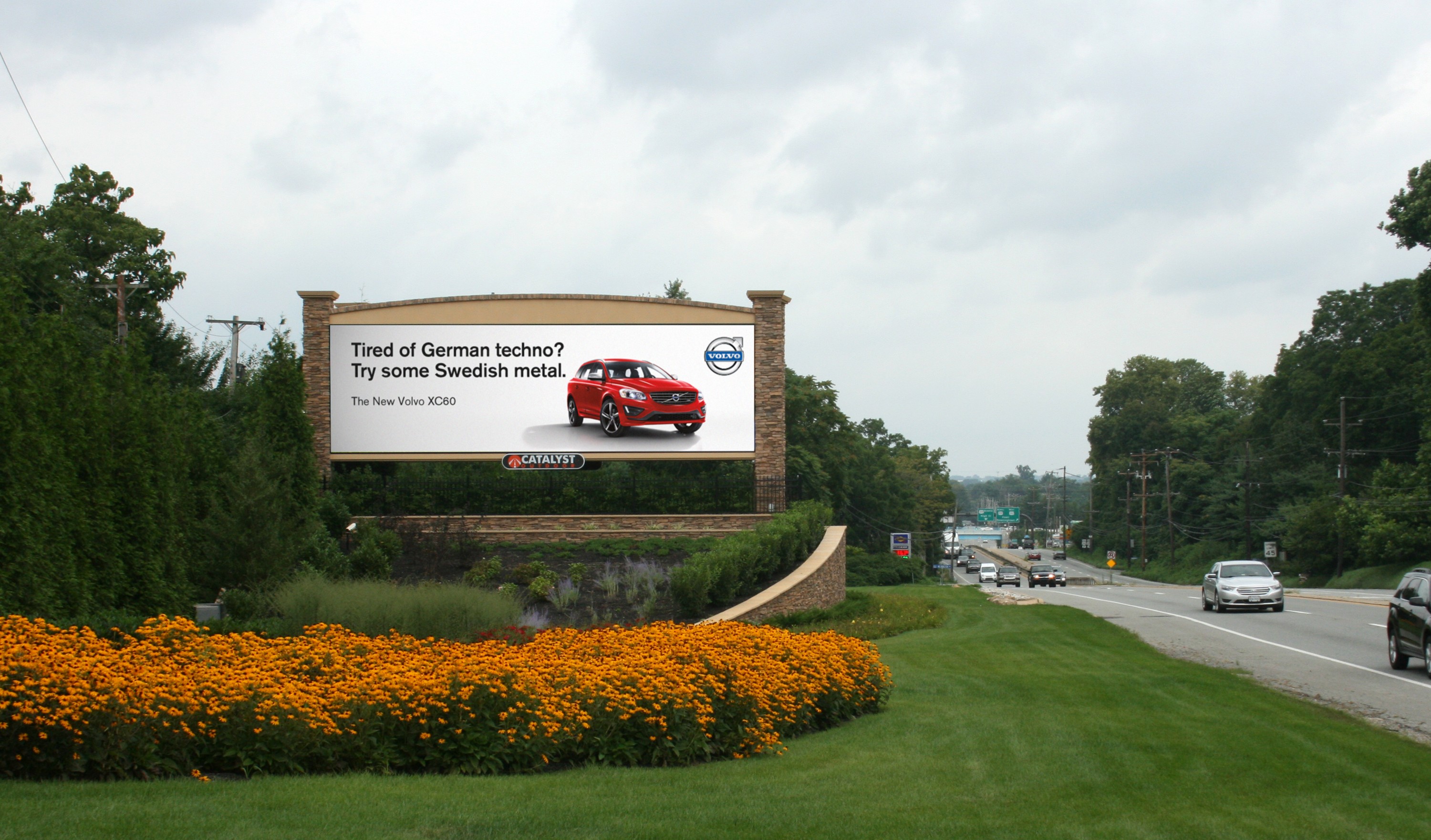 Q. How did you get involved in billboards and out-of-home (OOH) advertising?
A. "I've been in the out-of-home ad space for 14 years, having been an owner of three OOH media businesses. My first experience with digital began in 2003 and I've been working with Daktronics for more than 2 years now."
Q. What is a typical day like for you?
A. "There is no typical day, that's what I love about this industry. Each day brings its own challenges and we have a singular focus of adding as much value to our client's business that we can. Our business as a whole grew 92% between 2012 and 2013 with the largest growth area being DOOH (digital out-of-home), so the pace is incredible."
Q. How did you know it was the right time to add digital?
A. "Our business thrives because we do almost all ground up development. As an operator, if you're going to make the investment in capital, resources, and put time into developing an asset, then it behooves you to make that a digital asset. Most of our growth has been in the digital area for two key reasons:
1. Clients have found digital to be more effective at helping their businesses grow.
2. Municipalities feel that digital makes a more professional and contemporary appearance in their municipality as compared to a static billboard.
With digital you can appeal to a broader base of clients and given the virtually infinite creative options, you can deliver more value for your clients. At the end of the day it's about helping your clients grow their business and exceed their own goals. Digital enables us to do that most effectively."
Q. How do you attract or gain new advertisers?
A. "Our approach is simple, we strive to solve our client's advertising problems. It's a client centric, solutions-minded approach. The media choices that clients have today are extensive and include newspapers, fliers, static, internet, magazines…there are endless possibilities. We like to truly understand their business, what challenges they face, and what problems they're trying to solve through advertising. Once we create that relationship and truly understand their business we then create a custom solution that helps them achieve their objectives. With digital, we can satisfy a broader base of our client's problems with day parting, short run ads, campaigns, etc.
Digital gives us the ability to run time specific ads (different ads during different times of the day), event driven products or services, and short term solutions. It broadens the category base and client types, from your local ballet studio to your regional auto dealer. A local advertiser with a limited/specific budget can advertise on digital, and we help them find the right fit according to their budget. We find a true fit for our unique clients because everyone is a little different."
Q. What type of public service/charity ad efforts have you championed?
A. "Unlike the industry-wide public service initiatives, Catalyst's public service efforts are uniquely designed to add as much value to the indivduals and communities in which our displays are located. In calendar year 2013 we contributed to more than 35 different causes. We recently ran a campaign to help Aretha Swift, a woman suffering from acute renal kidney failure. Her kidneys had failed, but no one among her family and friends was a suitable match to donate a kidney at which point she was placed on a waiting list to receive one from a cadaver or living donor with the average wait being five years. At that point Aretha began raising money to lease a billboard in hopes of finding a donor quicker. With the help of a regional advertising agency, The Gillespie Group, along with the cooperation of 8 other DOOH operators, we provided Aretha with 8 weeks of advertising throughout the New York and Philadelphia DMA's on 23 digital faces. The copy showed a photo of Swift alongside the words, "You have two, I only need one to live". Viewers were then directed to a website, http://www.AKidneyForAretha.com, to learn more.
It felt great to take the knowledge normally used to communicate products and services and apply it to help Aretha."
Q. What do you appreciate about Daktronics or the Daktronics product?
A. "We wanted to find a technology PARTNER, not just a provider of technology. We plan to add another 16 digital displays in the next 12 months. Our top three criteria in making that decision were:
1. A trusted partner with an extensive support team
2. Highest quality and most advanced technology
3. Maximized manufacturing and development in the USA"

Q. You have created the Monument Sign by working with the different townships, how do you think this has helped your business?
A. "The concept emanated from an idea to design a customized sign structure that enhances the aesthetics of the community and helps solidify a community's sense of place. The "Suburbanization of America" has led to a homogenization of the built environment. Stated differently, the suburbs of two different cities on two different ends of the country essentially look the same, so how can we change that and make each look distinct and help them reaffirm their own identity. Each monument is a custom design, working closely with the Municipality in determining the esthetics. They are placed in high traffic areas on parcels where the construction of the monument is seen as an enhancement to the community. Every town has that neglected building or abandoned parcel of land that draws attention in a negative way and we have found a way to turn that negative into a positive.
We installed our first monument 2 years ago when we purchased a dilapidated gas station that had been abandoned for almost 10 years. We re-graded the land, added elevation change and a stone wall. Each monument site is unique and always includes other elements besides the displays. For example, our first monument had extensive landscaping with more than 20 different plant species, while our second monument has a 300 ft. long reflection pool with timer controlled fountains and LED lighting spanning the body of water. Monuments are not just about putting up a sign to make profit – they are about transforming a location and creating a sense of place that is a particular municipality. We see digital monument signs changing the face of outdoor, and we are proud to be at the forefront of that transformation."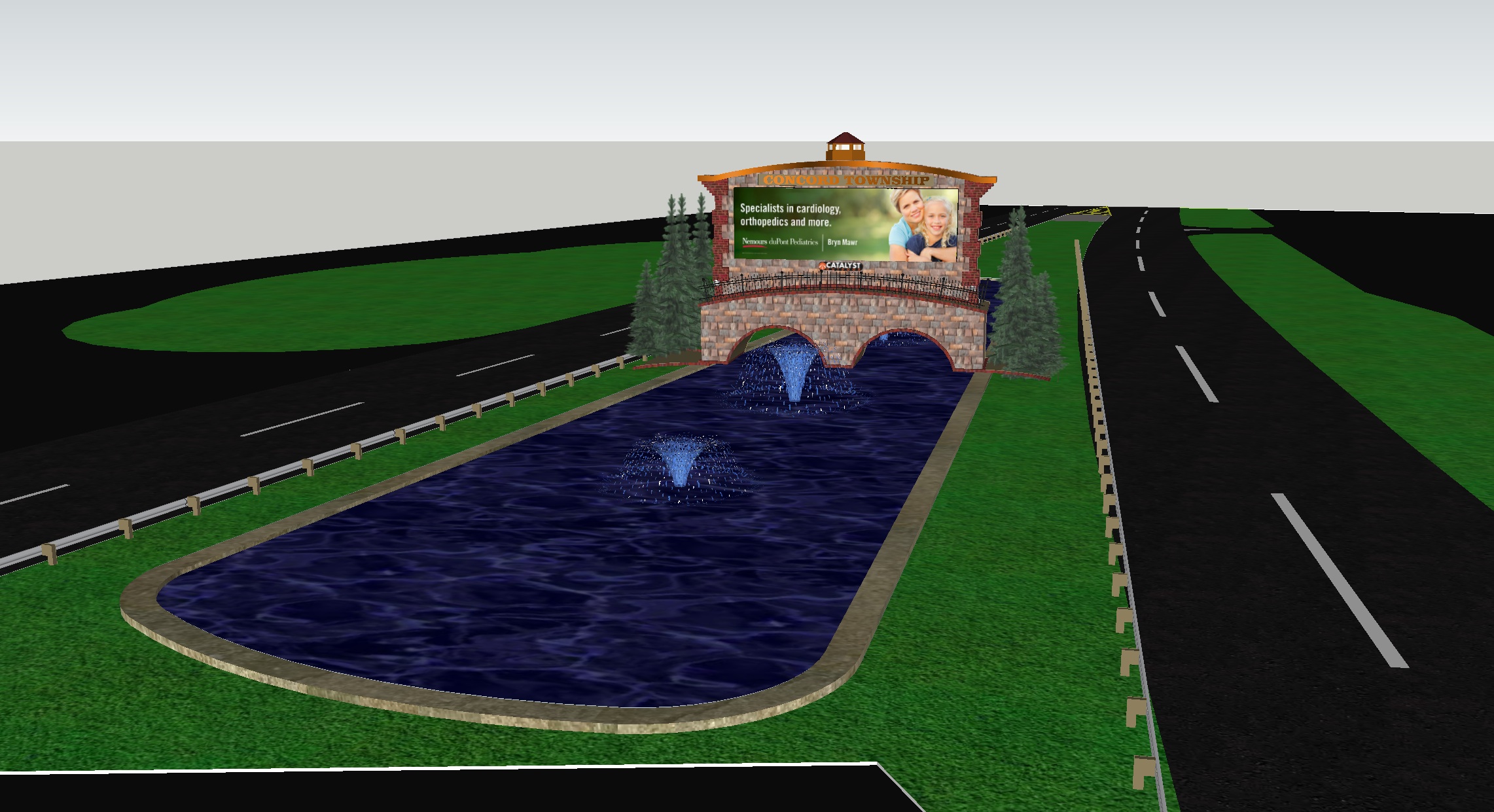 ---