Building Your Brand with a Digital Billboard
A digital billboard doesn't have to be owned by a third-party advertiser. Having your own can draw extra attention to your brand.
9/24/2021
Categories: Business & Community, Out of Home Advertising
Is owning a digital billboard right for your brand?
You've likely seen a roadside digital billboard owned by a third-party advertising company. As of 2020, the U.S. alone boasts 9,600 of these displays. While it is a logical alternative to static advertising, digital billboards have also been independently purchased and used by businesses and brands of all kinds – auto dealers, casinos, a chamber of commerce, gas stations, health care and restaurants – just to name a few. Some of these displays are located on-site, providing a statement to passersby, while others opt to put them on land with high traffic counts in an effort to reach their target audience.
Why should a business or brand own a digital billboard?
Draw Attention
You want to reach consumers where they aren't buried in a smart phone. Digital displays are one medium that can capture attention and ultimately, communicate your message. Netflix purchased digital billboards in Los Angeles to promote its entertainment lineup – an element that elevates Netflix to a "premium" brand status like Nike, Apple, etc.
Hold All the Ad Slots
You desire uninterrupted advertising on a digital billboard. With third-party advertising, exclusivity may be challenging due to existing contracts. Owning your own digital billboard removes the competition for the coveted spots. Willis Knighton Health System, based in Shreveport, LA, implemented digital billboards on-site in 2017, after using it as a medium since 2006 through third-party advertising operators. As an organization that is open 24-7, owning its digital billboards only made sense.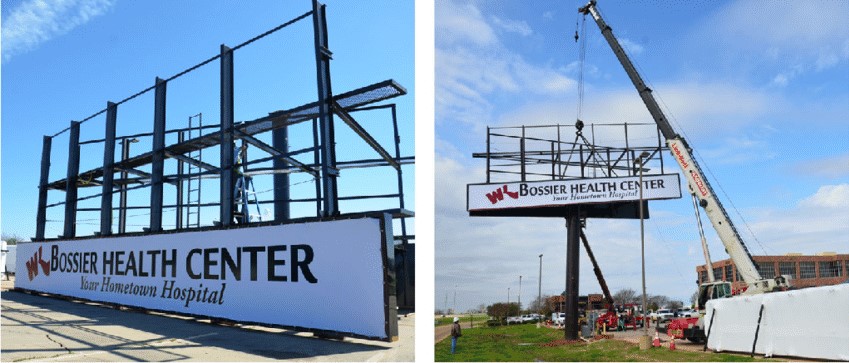 Change Content Anytime
You need flexibility to change your message at a moment's notice. In the case of organizations like Willis Knighton Health System, moments do matter when trying to reach your audience. If an emergency room entrance closes and you need to redirect traffic, being able to post that immediately is critical, removing the extra step of contacting the advertising company to adjust your content.
Maximize Your Reach
You have existing campaigns and want to maximize your reach at specific locations. Campaigns are most successful when you reach a variety of mediums. Digital billboards reach the attention of an audience right where it matters most and is likely to drive decisions. Wilderness Resort, located in the waterpark capitol of the world – Wisconsin Dells, uses both an on-site display and a display down the road as travelers are making last-minute decisions on where to stay.
Create Brand Awareness
You're looking to maximize your social presence. Social is among the fastest growing marketing mediums, and your digital billboard can be a part of that! Digital billboards are the perfect Instagram eye-candy that gets you noticed in a new way.
---
Options exist outside owning digital billboards – you may want to consider a digital billboard partnership. Each business and its needs are different. Daktronics has seasoned experts and connections to assist you with the right opportunity.
Interested in learning more? Schedule a free consultation with a digital signage expert.
---