Backing Up Show Control
When did you last back up your Show Control? A week ago? Month ago? End of last season? My hope is that it was not when the system was installed back in 2012 when the on-site trainer went through and showed you the process. It takes just a few seconds, and can save a lot […]
Daktronics Control Panel on 12/22/2015
Categories: Pro Sports and Colleges
When did you last back up your Show Control? A week ago? Month ago? End of last season? My hope is that it was not when the system was installed back in 2012 when the on-site trainer went through and showed you the process. It takes just a few seconds, and can save a lot of headache and hours of lost work.
The Nucleus Database Utility backs up everything in Display Studio including all workspaces, pages (tabs), containers, and buttons. It's found in the start menu (Start -> All Programs -> Daktronics -> Utilities -> Nucleus Database Utility) though I find it easiest to make a shortcut right on the desktop.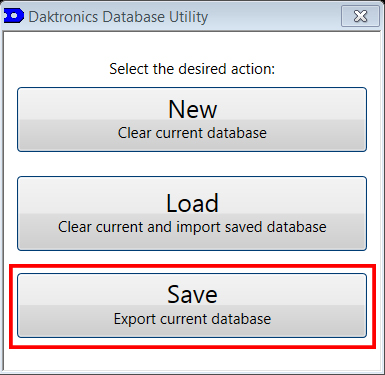 Word of warning — ALWAYS click SAVE. The other two options (New & Load) will clear the current database, and wipe everything out (after a second confirmation pop-up of course). I also recommend copying your backup file (.nucbak) and saving it to separate computer or removable drive for extra assurance that your show is safe.
Keep in mind, this process does not back up your files created in Content Studio (.VMPF). These files are saved directly on the DMP-7000 or DMP-8000 computer.
Our YouTube tutorial outlines the process of using the Nucleus Database Utility. I recommend finding a schedule that works for you that allows for backup at least once a month to ensure a backup is always current.
---