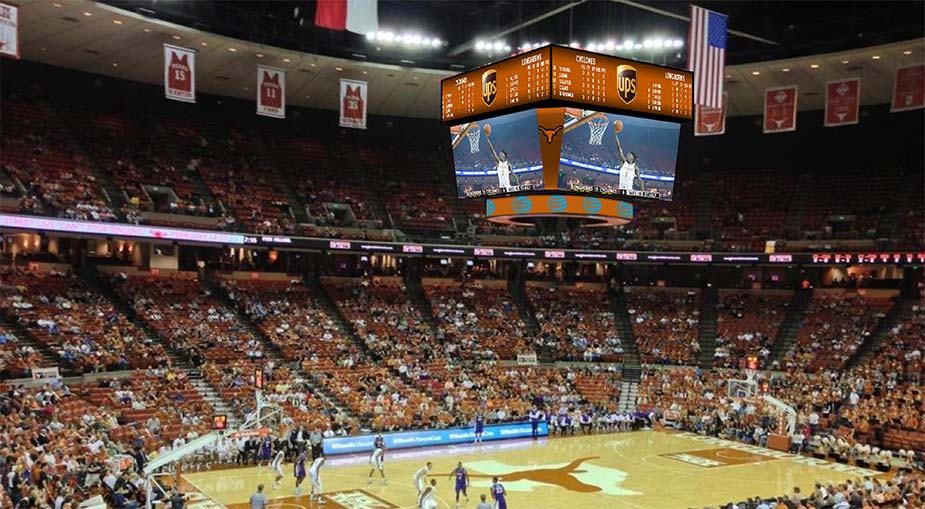 Daktronics to install 9-display centerhung, 360-degree ribbon display
University of Texas Welcoming New Centerhung Video System at Frank Erwin Center
BROOKINGS, S.D. – Oct. 27, 2017 – Daktronics (NASDAQ-DAKT) of Brookings, South Dakota has partnered with the University of Texas to manufacture and install 11 new LED displays at the Frank Erwin Center on campus in Austin, Texas. The installation, which includes 1.7 million LEDs across approximately 3,500 square feet of LED displays, will take place this fall and have Longhorns fans cheering at events this winter.  
"One of our top priorities is offering an exceptional fan experience at our men's and women's basketball games," said Texas Men's Athletics Director Mike Perrin. "Upgrading our video display system to include the latest LED technology will enhance the viewing experience for our fans."
The 9-display centerhung configuration will consist of four main video displays, four upper game in progress displays and a lower ring display. Each main display will measure 12.5 feet high by 23 feet wide – the equivalent of nearly 27 total 60-inch televisions. Each upper game in progress display will measure 6 feet high by 28 feet wide. The lower ring will measure 3 feet high by 68 feet in circumference.
"We're grateful to extend our partnership with the University of Texas by providing new displays for the Frank Erwin Center," said Daktronics Sales Representative Dan Fjeldheim. "The installation will bring the game-day experience to the next level for their student-athletes and fans. We're can't wait to see it up and running later this year."
The main displays are capable of variable content zoning for each to bring one large picture to highlight live video or instant replays, but each can also separated into multiple zones to show any combination of video, replays, statistics, graphics and sponsorship messages.
The main displays and ring display will feature 6-millimeter line spacing while the upper displays and 360-degree ribbon display will feature 10-millimeter line spacing to bring crisp, clear imagery to fans in every seat of the arena.
A new 360-degree ribbon display will be installed around the seating fascia of the venue. It will measure 2 feet high by 689 feet wide as it circles the main seating bowl.
The upper centerhung displays, lower ring display and 360-degree ribbon display allow the opportunity to show supplemental content to the main displays while also highlighting sponsors throughout events.
Daktronics LED video and messaging display technology offers a long lifetime with consistent, industry-leading performance and low power consumption, providing value and excitement for years to come.
​About Daktronics
Daktronics helps its customers to impact their audiences throughout the world with large-format LED video displays, message displays, scoreboards, digital billboards, audio systems and control systems in sport, business and transportation applications. Founded in 1968 as a USA-based manufacturing company, Daktronics has grown into the world leader in audiovisual systems and implementation with offices around the globe. Discover more at www.daktronics.com.
Safe Harbor Statement
Cautionary Notice: In addition to statements of historical fact, this news release contains forward-looking statements within the meaning of the Private Securities Litigation Reform Act of 1995 and are intended to enjoy the protection of that Act. These forward-looking statements reflect the Company's expectations or beliefs concerning future events. The Company cautions that these and similar statements involve risk and uncertainties which could cause actual results to differ materially from our expectation, including, but not limited to, changes in economic and market conditions, management of growth, timing and magnitude of future contracts, and other risks noted in the company's SEC filings, including its Annual Report on Form 10-K for its 2018 fiscal year. Forward-looking statements are made in the context of information available as of the date stated. The Company undertakes no obligation to update or revise such statements to reflect new circumstances or unanticipated events as they occur.