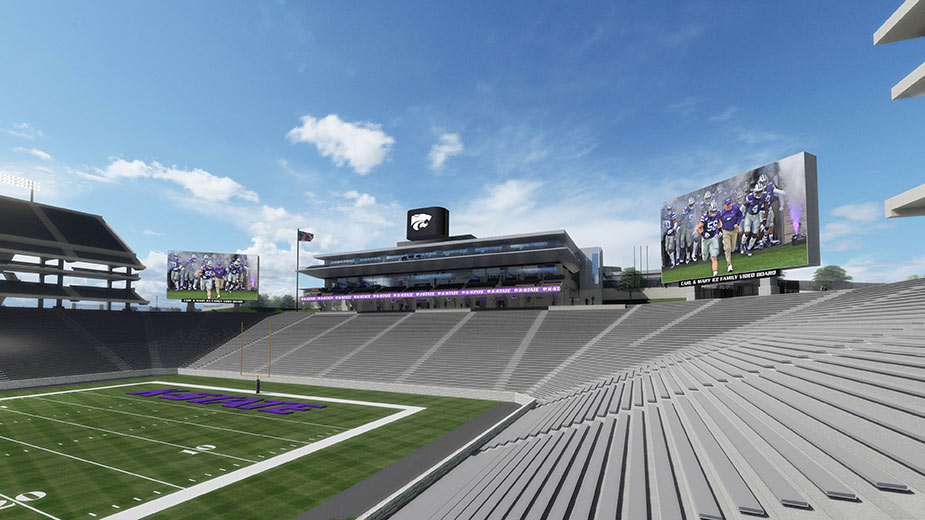 Kansas State University Upgrades Audio and Video Displays with Daktronics
Football and baseball facilities received LED display, audio system improvements
BROOKINGS, S.D. – May 6, 2020 – Daktronics (NASDAQ-DAKT) of Brookings, South Dakota, has continued a long-standing partnership with Kansas State University to provide new Custom Audio and LED video displays at Bill Snyder Stadium for football and Tointon Family Stadium for baseball. The baseball installation took place over the winter and the football installation is planned for this summer.
"We are proud to partner with Daktronics as we continue to find ways to significantly enhance our fans' experience at our games," K-State Athletics Director Gene Taylor said. "The new display at Tointon Family Stadium is a complete game-changer for our fans, and when they return to Bill Snyder Family Stadium next fall, the two new boards and sound improvements in the south end of the stadium will provide them a complete experience. They will now have four mirrored video display options for all angles and sides of the stadium which will also include an improved sound system in the south end. And our fans have probably already experienced the upgraded marquee along Kimball Avenue which will provide us more visibility to our residents."
Bill Snyder Stadium is set to receive two end zone displays and a ribbon display in the south end zone, a marquee display outside the stadium, two wall-mounted displays in club spaces, and a custom audio system. The two main video displays will each measure 38.5 feet high by 68.5 feet wide and the ribbon display will measure 2.5 feet high by 220 feet long. These three displays will feature 13HD pixel layouts to bring excellent image clarity and contrast to every seat in the stadium.
The two club displays will each measure 13 feet high by 33 feet wide and will feature 3.9-millimeter line spacing for up-close viewing. The marquee display will feature 16-millimeter line spacing and measure 10.5 feet high by 14.5 feet wide.
"We're extremely honored to be a part of these exciting new audio and LED video improvements taking place at K-State Athletics," said Ryan Kuzman, Daktronics sales representative. "We are excited to see these awesome new solutions very soon when sports begin coming back to all of us and look forward to this cutting- edge technology having a positive impact on their athletics programs for years to come."
The custom audio system at Bill Snyder Stadium will be integrated with the video and scoring system to provide full-range sound reproduction while delivering clear, intelligible speech. This will provide a powerful audio experience for fans in every seat of the stadium.
"Thousands come for the entire game-day experience at K-State and approaching 'Go Time' in the stadium means ramping up the excitement in the entire venue," said John Olsen, Daktronics audio sales representative. "The new audio system will provide the energy needed at key moments, grabbing attention and creating emotion – with an audiovisual experience that extends beyond the bowl – and reason to come back for more. It is our goal at Daktronics Audio to make every second, minute and moment matter for fans, sponsors and players each and every game day. Does it sound like fun? Well, it is!"
Tointon Family Stadium welcomed a new video display in left field featuring a 15HD pixel layout and measuring 20.5 feet high by 36 feet wide. It brings image clarity and contrast to live video, instant replays, up-to-the-minute statistics and game information, graphics and animations, and sponsorship messages.
The main video displays at both facilities are capable of variable content zoning allowing them to each show one large image or to share any combination of live video and pre-created content.
Daktronics will also be including its powerful Show Control solution with this installation. This industry-leading system provides a combination of display control software, world-class video processing, data integration and playback hardware that forms a user-friendly production solution. For more information on Show Control, visit www.daktronics.com/show.
In addition to the equipment installations, Kansas State will also receive a content package that will be produced and delivered by Daktronics Creative Services.
Daktronics has grown with the sports industry from the company's beginnings in 1968. Today, the company has LED video display installations at hundreds of colleges and universities across the United States. For more information on what Daktronics can provide for the collegiate market, visit www.daktronics.com/college. 
​About Daktronics
Daktronics helps its customers to impact their audiences throughout the world with large-format LED video displays, message displays, scoreboards, digital billboards, audio systems and control systems in sport, business and transportation applications. Founded in 1968 as a USA-based manufacturing company, Daktronics has grown into the world leader in audiovisual systems and implementation with offices around the globe. Discover more at www.daktronics.com.
Safe Harbor Statement
Cautionary Notice: In addition to statements of historical fact, this news release contains forward-looking statements within the meaning of the Private Securities Litigation Reform Act of 1995 and are intended to enjoy the protection of that Act. These forward-looking statements reflect the Company's expectations or beliefs concerning future events. The Company cautions that these and similar statements involve risk and uncertainties which could cause actual results to differ materially from our expectation, including, but not limited to, changes in economic and market conditions, management of growth, timing and magnitude of future contracts, and other risks noted in the company's SEC filings, including its Annual Report on Form 10-K for its 2018 fiscal year. Forward-looking statements are made in the context of information available as of the date stated. The Company undertakes no obligation to update or revise such statements to reflect new circumstances or unanticipated events as they occur.