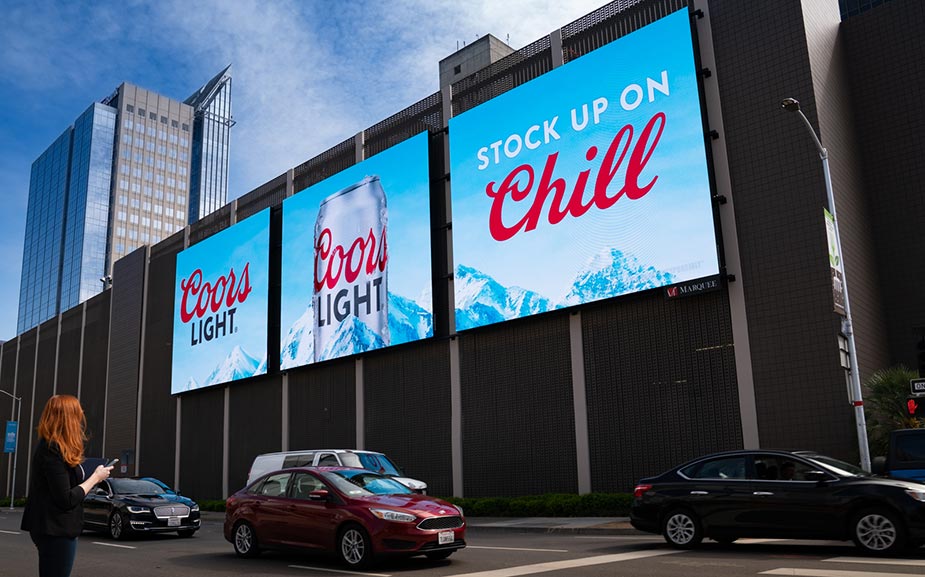 ​Daktronics and Marquee Media Team Up for Marquee Triplets, VIP Corner Display Installations
Three displays positioned on wallscape, two displays positioned on corner create a one-of-a-kind experience for viewers and advertisers
BROOKINGS, S.D. – May 11, 2020 – Daktronics (NASDAQ-DAKT) of Brookings, South Dakota, has continued a long-time partnership with Marquee Media to manufacture and install a three-display feature known as the "Marquee Triplets" and a two-display corner "VIP" showcased the newly formed Golden 1 Center Entertainment District "DOCO" in downtown Sacramento, California, this spring.
Jeff Joaquin, president and co-founder of Marquee Media said, "Now clients like Kaiser, the California Lottery, Disney, Sony, Netflix, and other local and national brands have an opportunity to unleash the full potential of an out-of-home campaign on the largest full motion displays in Northern California. Until now, full-motion opportunities that reach vehicular and pedestrian traffic were only available in a handful of cities in the country, such as New York (Time Square), Minneapolis and Los Angeles. Now, Sacramento has joined this exclusive group.
"Brands will now have new ways to engage with their audience while away from home through custom content integration, including social media integration, simulcasting local concerts, and showing Sacramento Kings and Sacramento Republic highlights in full motion to a large captive audience. The excitement is just beginning in Sacramento!"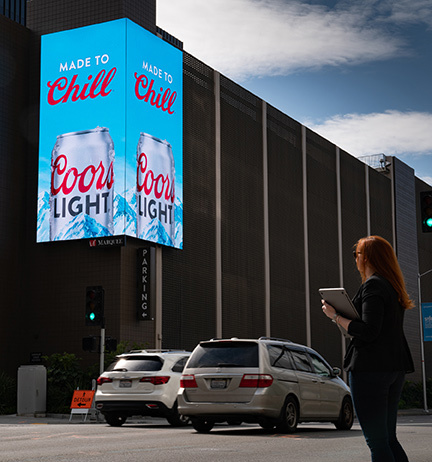 The digital configuration will share unique advertising and messaging to the high traffic areas of downtown Sacramento near large gathering spaces and live event venues.
"The vision for DOCO was to redevelop the city core of Sacramento and create a destination where locals hang out and visitors from around the globe experience this region at its finest," said Michael Wagener, president and co-founder of Marquee Media. "We love utilizing our digital products to be a true community message center by highlighting the arts, restaurants, various non-profits, local businesses, current events and doing our little part to activate this emerging common ground."
These displays are capable of showing high-end digital content and advertising with excellent image quality and contrast to catch viewers' attention and effectively execute advertiser's marketing campaigns.
"Marquee Media's ability to activate a space, including this city block near Golden 1 Center in downtown Sacramento, is second to none," said Eric Cain, Daktronics sales representative. "Their amazing work speaks for itself, and it's obvious why their clients partner with them to amplify their brand. As their LED provider, Daktronics will provide world-class image quality and support to Marquee Media so they can continue to do the same for their clients."
The Triplets displays span a total of 115 feet in length to create a full-motion digital display. Each of the three displays feature 10-millimeter line spacing and measure 30 feet high by 35 feet wide. These displays can work in conjunction to share messaging across all three screens or to show individual messaging on each.
The VIP corner displays each measure 30 feet high by 15 feet wide and meet at a 90-degree angle on the corner of the building. These two displays feature 10-millimeter line spacing and can show one message across both displays or feature individual messaging, much like the Triplets displays.
Daktronics provides digital technology solutions that offer flexible scheduling for multiple advertisers as well as quick and easy changes in content. Additional services provided to the OOH industry add value and generate revenue for customers. For more information on digital billboard technology, visit www.daktronics.com/OOH.
About Marquee Media
Marquee Media is an Out-of-Home Owner Operator, that helps Local and National brands reach their objectives by providing innovative and iconic displays that reach each brand's target audience with impact and engagement. Our goal is to move a client's target audience to drive traffic to their showroom/business, drive traffic to their website and convert to success. We are focused on our clients' success.
​About Daktronics
Daktronics helps its customers to impact their audiences throughout the world with large-format LED video displays, message displays, scoreboards, digital billboards, audio systems and control systems in sport, business and transportation applications. Founded in 1968 as a USA-based manufacturing company, Daktronics has grown into the world leader in audiovisual systems and implementation with offices around the globe. Discover more at www.daktronics.com.