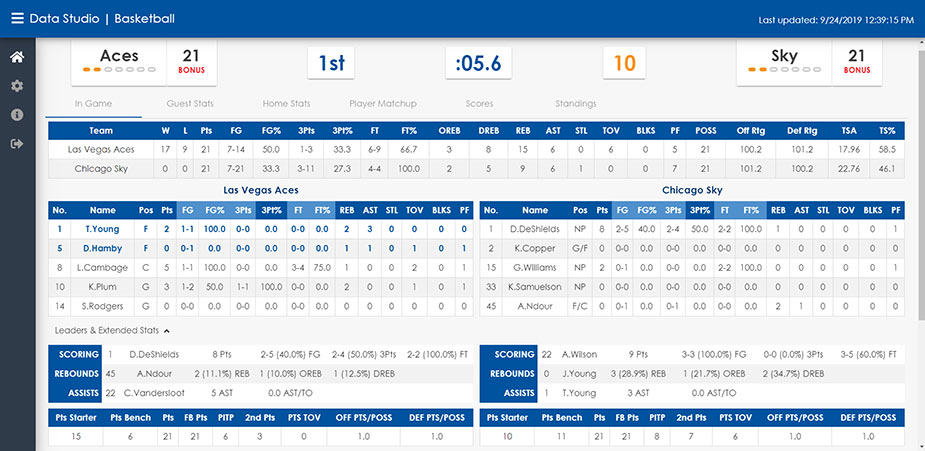 ​Daktronics Releases Data Studio Ahead of Basketball Season
BROOKINGS, S.D. – Oct. 17, 2019 – Daktronics (NASDAQ-DAKT) of Brookings, South Dakota, announces today the release of Data Studio to automate the integration of dynamic data into video display content for live event and commercial applications. Data Studio complements the company's Show Control and Venus Control Suite production solutions and is also available to pull non-sport-specific data into a presentation such as weather and news feeds.

Released for the 2019-20 basketball season, Data Studio | Basketball is available in editions covering both professional and collegiate basketball. It pulls all stats from NGSS as well as NCAA LiveStats (Genius Sports) to offer the statistics needed at both levels of competition. The collegiate version of Data Studio will be available in October with updates and improvements being implemented through January.

"This is a fast and flexible solution that can provide stats for both levels of basketball competition, and customers only need to select the version necessary for their events," said Bill Hadsell, Daktronics product manager. "As navigating the ever-increasing amount of data available becomes more difficult and time-consuming to manage, this offering makes a producer's job easier while making their overall production more effective at the same time."

Data Studio helps event producers and host venues capture data coming from multiple sources, organize that data and deliver that data to their video displays for fans to see during live events. The interface includes a live view of incoming data sources and offers the ability to dynamically select and output the data into their content on the video displays.

"We took direct advice and feedback from our customers to help design this new product," added Hadsell. "Now, operators can view and interact with the data source in real-time, recognize statistical trends and use what they see to tell a better story for their fans. And that's what this product is all about, helping operators provide a better game-day experience using the data they have in front of them."

Data Studio is compatible with LED displays, fixed-digit scoreboards and third-party data sources.

​About Daktronics
Daktronics helps its customers to impact their audiences throughout the world with large-format LED video displays, message displays, scoreboards, digital billboards, audio systems and control systems in sport, business and transportation applications. Founded in 1968 as a USA-based manufacturing company, Daktronics has grown into the world leader in audiovisual systems and implementation with offices around the globe. Discover more at www.daktronics.com.
Safe Harbor Statement
Cautionary Notice: In addition to statements of historical fact, this news release contains forward-looking statements within the meaning of the Private Securities Litigation Reform Act of 1995 and are intended to enjoy the protection of that Act. These forward-looking statements reflect the Company's expectations or beliefs concerning future events. The Company cautions that these and similar statements involve risk and uncertainties which could cause actual results to differ materially from our expectation, including, but not limited to, changes in economic and market conditions, management of growth, timing and magnitude of future contracts, and other risks noted in the company's SEC filings, including its Annual Report on Form 10-K for its 2018 fiscal year. Forward-looking statements are made in the context of information available as of the date stated. The Company undertakes no obligation to update or revise such statements to reflect new circumstances or unanticipated events as they occur.