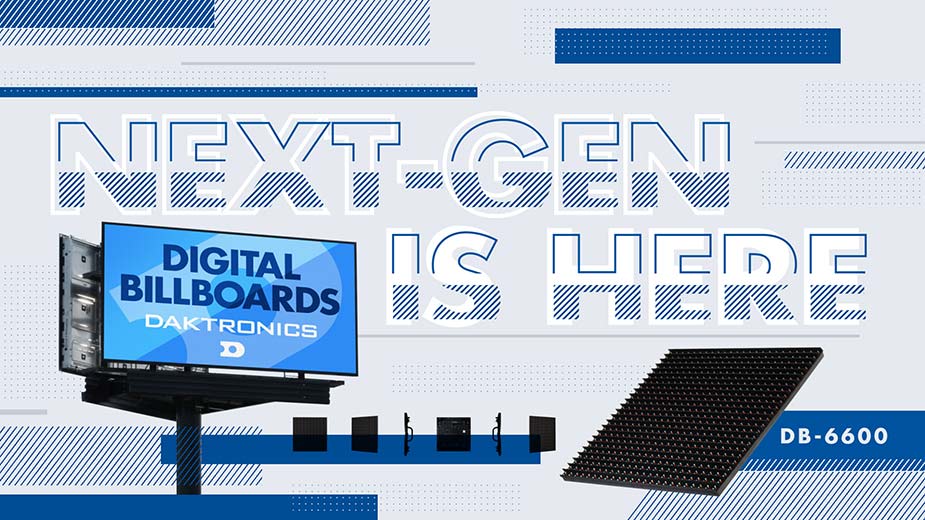 ​Daktronics New Digital Billboard Series Receives Future-Proof Upgrades
BROOKINGS, S.D. – Feb. 10, 2021 – Daktronics (NASDAQ-DAKT) of Brookings, South Dakota, announces the release of the DB-6600, the company's latest digital billboard solution, featuring additional memory and processing power that better supports the latest trends in programmatic advertising, audience measurement and mobile integration.
"With technology, the future depends on the choices you make now," shared Lori Sieler, Daktronics OOH product manager. "Our displays are like your mobile phone; each new model offers expanded capabilities. When we looked at the future needs in OOH, it was clear that the industry's digital billboards need more memory and power to properly handle the trends we see today, as well as those we forecast 10 years down the road." 
Key features of the DB-6600 include: 
Additional memory and processing power, future-proofing digital billboards. 
Latest generation of LED technology, increasing operating efficiency. 
Neighborhood-friendly targeted light output and adjustable brightness (8,500 nits shipped). 
Industry-standard 400 mm x 400 mm module, reducing number of components and failures. 
Factory-integrated SmartLinkTM, allowing remote power control. 
Parts support for 12 years and 10-year brightness guarantee. 

In addition, Daktronics remains committed to delivering the industry's leading lifetime image quality.  
"Our customers represent brands and advertisers that expect print quality clarity, uniformity and accurate color representation," shared Collin Huber, Daktronics OOH market manager. "We go the extra mile by incorporating a matte-black module coating, proprietary louver design, high-quality LEDs and tools like SNAP module auto-blending to ensure our displays keep looking their best as they age."
Daktronics digital billboard product line is manufactured with global parts in South Dakota and supported within their factory in Sioux Falls, South Dakota.
Along with a range of digital billboard options, Daktronics offers a full array of indoor, eye-level and urban display technology for the out of home industry. The company also offers payment options and financing from industry-recognized lenders.
To learn more about the latest digital billboard technology, visit 
www.daktronics.com/billboard
.
​About Daktronics Billboard Statement
Daktronics helps its customers to impact their audiences throughout the world with large-format LED video displays, message displays, scoreboards, digital billboards, audio systems and control systems in sport, business and transportation applications. Founded in 1968 as a USA-based manufacturing company, Daktronics has grown into the world leader in audiovisual systems and implementation with offices around the globe. Discover more at www.daktronics.com.
Safe Harbor Statement
Cautionary Notice: In addition to statements of historical fact, this news release contains forward-looking statements within the meaning of the Private Securities Litigation Reform Act of 1995 and are intended to enjoy the protection of that Act. These forward-looking statements reflect the Company's expectations or beliefs concerning future events. The Company cautions that these and similar statements involve risk and uncertainties which could cause actual results to differ materially from our expectation, including, but not limited to, changes in economic and market conditions, management of growth, timing and magnitude of future contracts, and other risks noted in the company's SEC filings, including its Annual Report on Form 10-K for its 2018 fiscal year. Forward-looking statements are made in the context of information available as of the date stated. The Company undertakes no obligation to update or revise such statements to reflect new circumstances or unanticipated events as they occur.