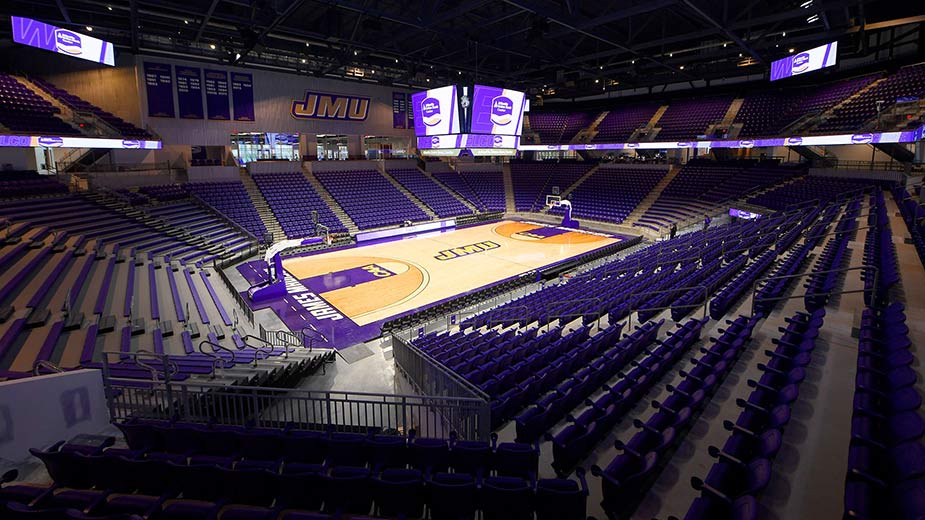 ​Daktronics Delivering New LED Centerhung Display System for James Madison University's Atlantic Union Bank Center
23 LED displays to installed in 2020
BROOKINGS, S.D. – Nov. 9, 2020 – When Dukes fans head to the new Atlantic Union Bank Center in Harrisonburg, Virginia, this fall, they will see 23 LED displays from a partnership between James Madison University (JMU) and Daktronics (NASDAQ-DAKT) of Brookings, South Dakota. All displays, including a five-display centerhung configuration, will be installed in 2020.

"The Atlantic Union Bank Center has changed the trajectory of JMU Athletics in so many ways, and the technology infrastructure is a significant component of that growth," JMU Director of Athletics Jeff Bourne said. "We've had a long history of partnering with Daktronics but never in such a robust capacity. The design of the video components, inside and outside, contribute to a first-class experience for our sport programs and patrons."

The new centerhung will include four main video displays, each measuring 11.5 feet high by 19.5 feet wide and featuring 3.9-millimeter line spacing. A lower ring display will be mounted to the centerhung measuring 3 feet high by 80 feet in circumference and featuring 5.9-millimeter line spacing. These displays will bring high-resolution imagery to fans in every seat of the arena.

Four corner video displays will also be installed in the arena. Each of these displays will feature 10-millimeter line spacing and measure more than 6 feet high by 24 feet wide.

Each video display is capable of variable content zoning allowing each to show one large image or to be divided into multiple zones to share any combination of live video, instant replays, data and statistics, graphics and animations, and sponsorship messages.

"Daktronics is excited to once again partner with James Madison University to provide our state-of-the-art products to enhance the overall fan experience," said Fran Kulas, Daktronics sales representative. "Atlantic Union Bank Center is a ground-breaking venue for athletics and other special events, and Daktronics is thrilled to play such an integral role in this remarkable project."

Three ribbon displays will be installed along the seating fascia and seven court-side scorer's tables will be included with the project. Each ribbon display will feature 10-millimeter line spacing. One ribbon will measure 2.5 feet high by 541 feet long and the other two will measure 2 feet high by 13.5 feet long. Each scorer's table will feature 6-millimeter line spacing and measure 2 feet high. Five scorer's tables will measure 8 feet long while the other two will measure 9 feet long.

These displays, along with the ring display on the centerhung, will offer opportunities to highlight sponsors throughout events while also showing supplement content to the main displays including statistics and other game information.

Outside the venue, two double-sided marquee displays will be installed as well. All four individual displays will measure 16 feet high by 8 feet wide and feature 10-millimeter pixel spacings. One double-sided marquee is located off Carrier Drive near the plaza entrance while the other is located off University Boulevard, parallel each other on opposite sides of the building. These displays can be used to promote upcoming and current events while also sharing branding and sponsor messaging to passersby.

Daktronics has grown with the sports industry from the company's beginnings in 1968. Today, the company has LED video display installations at hundreds of colleges and universities across the United States. For more information on what Daktronics can provide for the collegiate market, visit www.daktronics.com/college.

About James Madison University
James Madison University is a NCAA Division I institution located in Harrisonburg, Virginia. Nicknamed the Dukes, JMU sponsors 18 sports, six male and 12 female, with approximately 450 student-athletes and an overall student enrollment of 20,800. The Dukes are part of the Colonial Athletic Association, whose conference footprint covers the East Coast spanning from South Carolina to Massachusetts.

About Daktronics
Daktronics helps its customers to impact their audiences throughout the world with large-format LED video displays, message displays, scoreboards, digital billboards, audio systems and control systems in sport, business and transportation applications. Founded in 1968 as a USA-based manufacturing company, Daktronics has grown into the world leader in audiovisual systems and implementation with offices around the globe. Discover more at www.daktronics.com.