Updates Made to Event Proof of Play Reports & Maintenance Notification
Recent updates to Venus Control Suite have improved your overall experience with the software. These changes are the result of customer feedback from people just like you!  Remember, if you have any ideas that will improve Venus Control Suite, please let us know!  We are always happy to hear feedback from our customers, and we […]
Daktronics Commercial Software Training on 10/3/2017
Categories: Venus Control Suite Training
Recent updates to Venus Control Suite have improved your overall experience with the software. These changes are the result of customer feedback from people just like you!  Remember, if you have any ideas that will improve Venus Control Suite, please let us know!  We are always happy to hear feedback from our customers, and we do take your input very seriously.
Account Filter for Event Proof of Play (POP) Reports
Events
Events supplement the creation of POP reports by providing a calendar for users to enter events that take place during a certain time period. You can tag the event with "home game" or "concert," "expo," etc., to group the events. Venues hosting large sports events or concerts might want to create an event to run POP reports for what played before, during, or after the event.
Accounts
Allow users to create accounts and associate content to them. You can use Accounts to create accounts for specific advertisers. It's necessary to associate content to a specific account to run a POP report for that particular account. This would be beneficial for a setup similar to a strip mall.  Users would be able to associate tenants' content with specific accounts and make running reports simple.
Events + Accounts
An Event POP report provides you with the number of exposures (plays) and duration for each file played during an event. An event can only be one day with a selected time range. You then tag events to allow them to be grouped together.
When you create events that are linked to the Event POP report, you are then able to run a report for those events that are tagged together. You can pull POP reports for those tagged events and see what played during that event only or group of events for a selected date range.
Update
The latest update added an Account filter to the Event POP report. Now, when you run an Event POP report you will be able to choose specific accounts, should you be using any.  This feature gives you the option of organizing your reports under different Account headers so you can see what specifically played for a certain advertiser or tenant.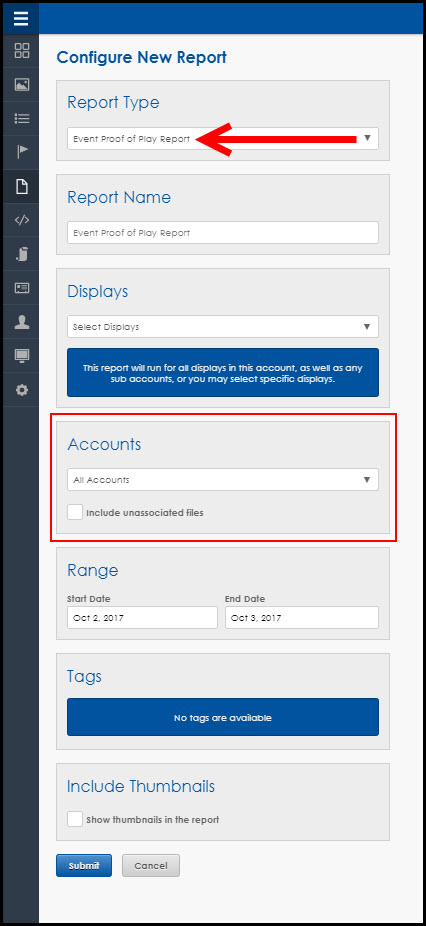 You can run reports that are broken down between all of your different accounts or you can also choose to run an Event POP report for specific Accounts if you want to.
Trainer's Tip: Remember, if you aren't using Accounts, make sure you put a check mark next to "Include Unassociated Files," otherwise nothing will show up on your report.
---
Maintenance Notification
As I'm sure you already know, we perform software maintenance on Tuesday mornings from 9:00 a.m. to 9:30 a.m. Central Time. This time allows us to update Venus Control Suite with new features and make changes in the background to improve your user experience.
Directly under the Log In screen there is a message letting you know that during this time Venus Control Suite may be unavailable. Until recently, if you had tried to log in during that time your browser would continuously spin and not go anywhere.
This had the potential to cause frustration because you may not know whether Venus Control Suite is down for maintenance or if your computer or internet are having issues.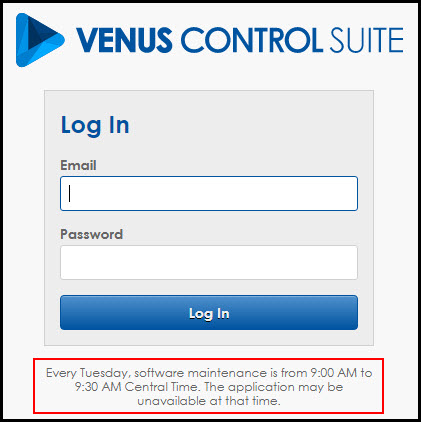 With today's update that has changed. There is now a cool new way to know that you arrived at the correct destination, but that we're working on something to improve your experience, and we'll be back shortly.
You will now be directed to a page that lets you know Venus Control Suite is down temporarily and that asks you to please try again later. It also gives you a link to Daktronics Support should the problem persist for longer than that half hour period.
We hope you find these latest updates useful moving forward. If you would like to stay notified whenever there are blog updates, be sure to click on the orange "Receive Email Updates" button to subscribe to the Venus Control Suite blog.
Thanks for reading!
---