University of Georgia Brings Broadcast Feel to In-Stadium Experience
This past spring, the University of Georgia upgraded their display and control system prior to the G-Day Spring Game and is fully debuting the system this fall for the 2018 football season.
Jennifer Liebschwager on 9/13/2018
Categories: Pro Sports and Colleges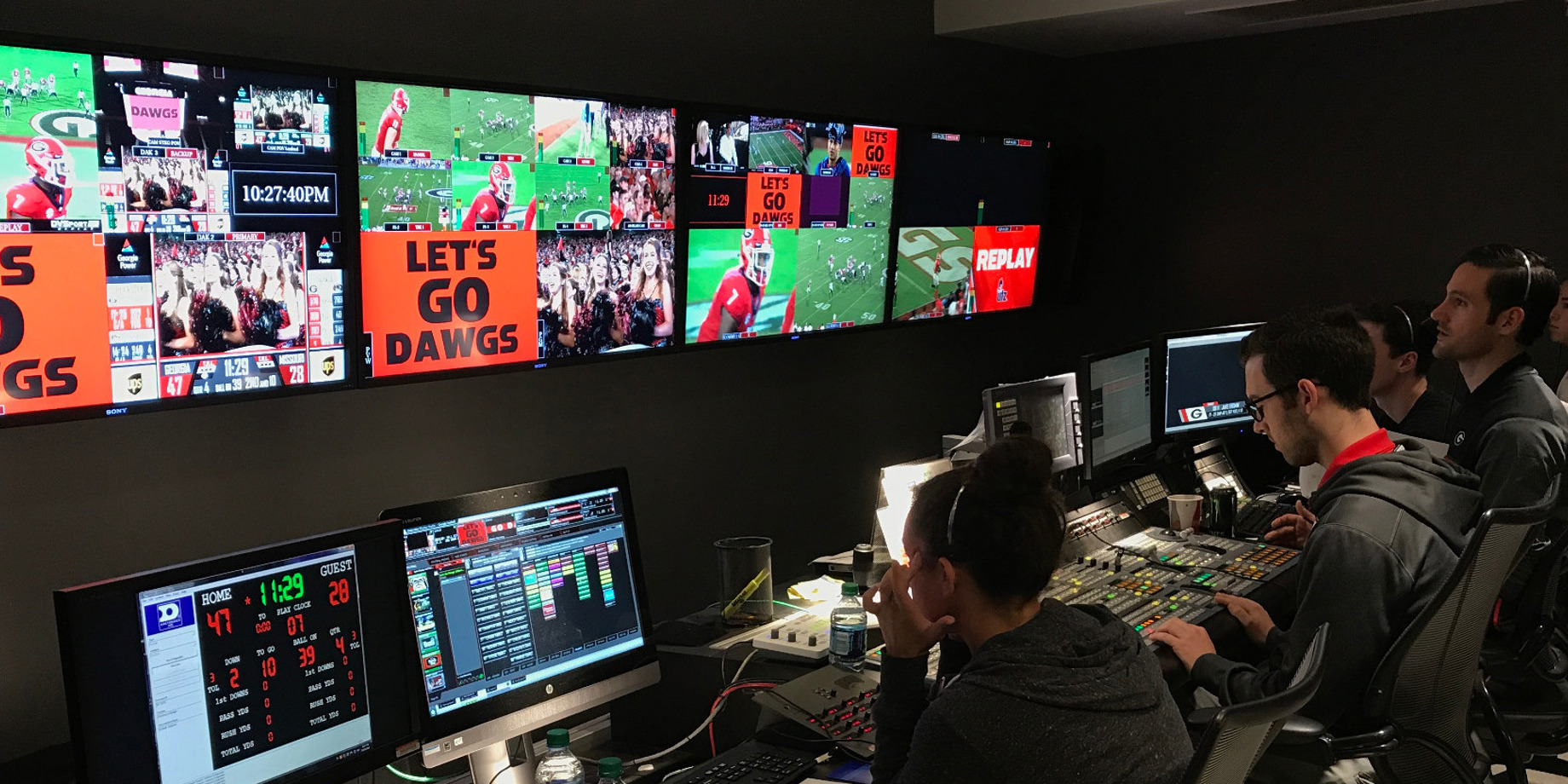 One major goal many production teams work towards is creating LED video display content that replicates the look and feel viewers see on big network sports broadcasts. At Sanford Stadium, an updated Show Control system provides more potential to show off cool content on the display.  Unlimited layering and keying enhance the overall production, allowing the production staff to build layers and key score bugs, fan prompts, and other elements over the top of video to deliver today's modern broadcast experience.
Some of the functionality at Sanford Stadium includes:
Key/fill and transitions between the different video looks and sources
Creating transitions from full video to a live squeeze back revealing the full canvas below
Of the Sanford Stadium control system, Mike Bilbow, assistant athletic director – digital and production, for the University of Georgia Athletic Association says:
"We're incorporating updated control features from Daktronics that will launch our game-day productions to the next level. Fans are going to get more of the content and transitions they're used to seeing on television, but they will be in the stadium experiencing the games live in front of their eyes; an experience that simply can't be replicated. We're thrilled to be able to engage our fans on a deeper level with the new functionality."
Here's a full list of the new control equipment used to accomplish these looks:
Dual DMP-8000 media players – allowing for enhanced functionality

Primary/Backup pair of DMP-8400's feeding the switcher with a Key/Fill for external keying. This is used for a scorebug, tombstone stats slabs and to overtake the full canvas for transitions and prompts
Primary/Backup pair of DMP-8500's for pixel accurate canvas downstream of the switcher connected directly to the VP-6000 video processor

Zone transitions – content moving in with a smooth motion
Playlist item duration for additional flexibility when building ad rotations
VP-6000 (Video Processor) transitions to switch between video looks and sources, enhanced with wipes and other transitions
VP-6000 (Video Processor) transitions from Full Video with Score Bug (DMP-8400) to a live squeeze back look revealing the full canvas below with a data/stat slab and other content
The Daktronics Show Control Trigger Widget was used to trigger many of these features from their Sony Switcher using the PBUS protocol
For the full overview of University of Georgia's upgrades, check out this press release.
Interested in adding similar functionality to your site? Contact Professional Services.
---