Top 4 Marketing Campaigns for Outside the Bowl
The modern sports experience isn't restricted to sitting on the bleachers. Although Jumbotrons and centerhungs dominate in-game fan engagement, it's becoming the norm for venues to add displays throughout the concourse to reinforce team messages. Indoor concourse displays provide a flexible digital medium in a prime location to continue the fan experience outside the bowl. Here […]
Jennifer Liebschwager on 12/16/2016
Categories: Pro Sports and Colleges
The modern sports experience isn't restricted to sitting on the bleachers. Although Jumbotrons and centerhungs dominate in-game fan engagement, it's becoming the norm for venues to add displays throughout the concourse to reinforce team messages. Indoor concourse displays provide a flexible digital medium in a prime location to continue the fan experience outside the bowl. Here are four ways sports venues use concourse displays to keep fans engaged:
1. PROMOTE CHARITIES AND HOLIDAY MESSAGES
Many teams highlight seasonal messages or charity campaigns by creating moments of exclusivity on all of their display signage to match a philanthropy or holiday promotion. Beyond a single moment during the game, you can put charity and holiday campaigns on concourse and concession displays to keep fans thinking about your special promotion throughout the game.
2. PROMOTE FUTURE CONCERTS AND OTHER EVENTS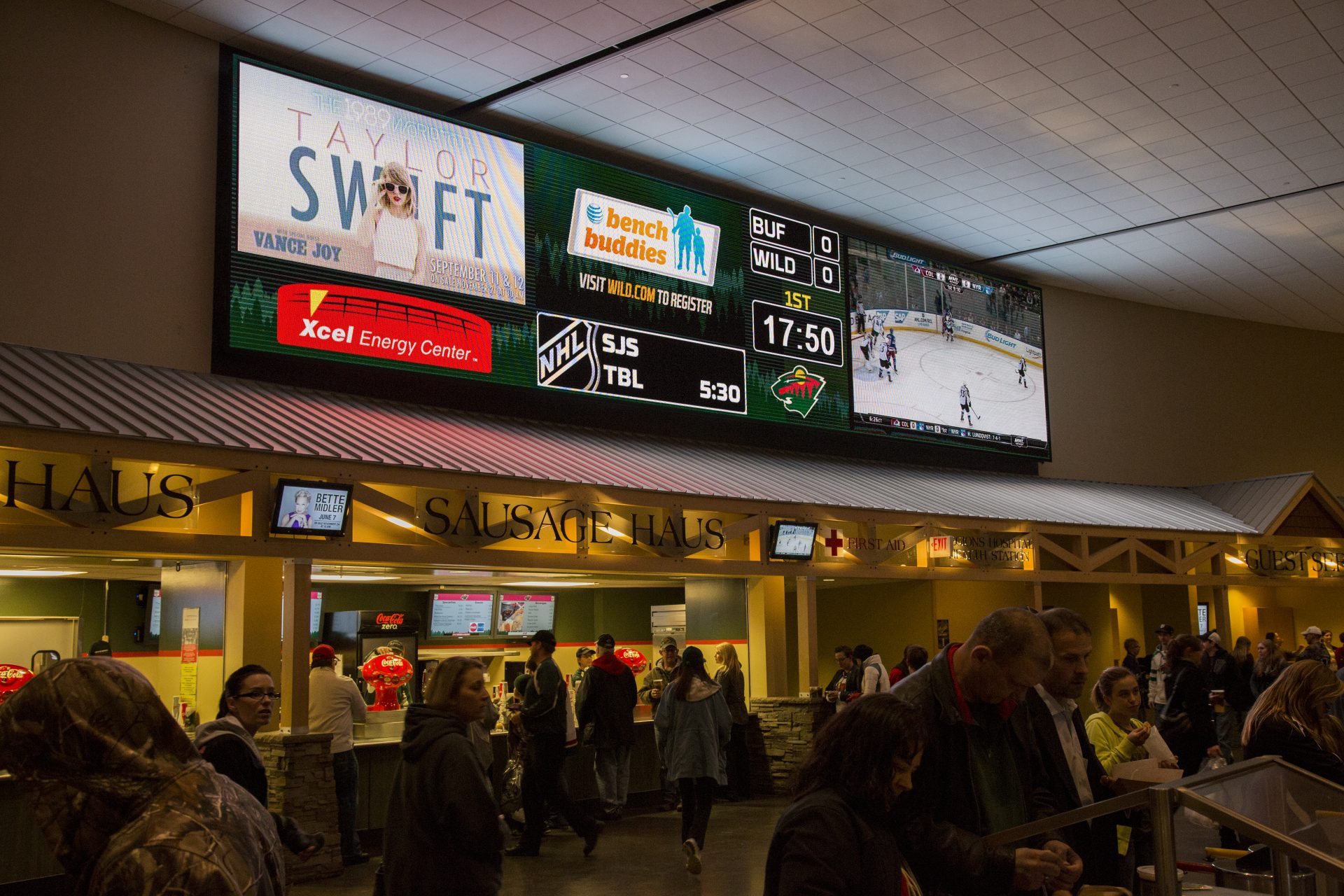 Promoting concerts and other off-season events to fans while they're having a good time in your venue can make them more excited to attend than learning about the event through social media or email. When fans are walking in the concourse or waiting in line at concessions, displays throughout the venue can invite them back to a future event.
3. MOMENT OF EXCLUSIVITY FOR SPONSORS
Showing synchronized content on all displays means you can promise every eyeball in the venue will be focused on only the sponsor's brand during the moment of exclusivity. If fans leave their seat to get a drink or snack? No problem, the message continues out into the concourse to engage them while they wait in the concession line.
TIP: Sponsor content draws more attention if, instead of looking like broadcast commercials, it ties in with team branding. If your advertising slots have several sponsors that run ads during the game, too many brand colors and slogans trying to grab attention can overwhelm your audience. Want to make your advertising look more like the rest of your gameday show? Our professional services can help. Learn more: http://www.daktronics.com/professionalservices
4. TEAM BRANDING
Everything fans see, hear or do should amplify their sense of being part of the team brand. With concourse displays, venues can showcase their current season campaign to fans entering the venue, finding their seat, standing in line for concessions or touring the venue. Venues can also highlight how fans are engaging with your campaign in real time by showing social media feeds on concourse displays.
Connect via LinkedIn
Subscribe to our blog
Get the latest articles on sports trends, new Daktronics projects and insider looks at our manufacturing and reliability lab. Sign up here: https://blog.daktronics.com/category/pro-sports-and-colleges/
---