What's New with the Jackson Polar Bears
In 2015, the Jackson High School polar bears in Massillon, Ohio installed a video scoreboard at Robert Fife Stadium. We interviewed Linda Sutherland, a Jackson High teacher who spearheaded the learning curve of operating the school's new display, shortly after installation. Now that 2 years have passed, we caught up with Linda to see how […]
9/20/2017
Categories: High School Sports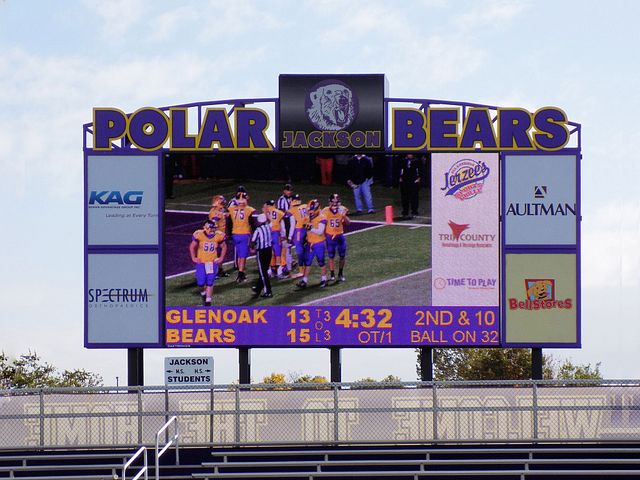 In 2015, the Jackson High School polar bears in Massillon, Ohio installed a video scoreboard at Robert Fife Stadium. We interviewed Linda Sutherland, a Jackson High teacher who spearheaded the learning curve of operating the school's new display, shortly after installation. Now that 2 years have passed, we caught up with Linda to see how they're doing.
Q: What would you say has been the most helpful resource for you?
A: The training. Although, repairs have always been taken of very quickly. That's important when you have events coming.
Q: What type of content are you running?
A: We do still images, video, commercials…we use Content Creator to make mini-slideshow PowerPoints, and use Google Docs to put statistics on the board.
Q: Anything you anticipate trying in the future?
A: We want to do more with our own video backgrounds and cheers. While we've created 1 or 2 cheers of our own, we've primarily used the content Daktronics provided for cheers.
Q: What would you say has been the biggest change since we last talked?
A: We now have students doing instant replays! The first two years, school personnel handled it, but we now feel our students have a good grasp of the process and are participating in it.
Q: What else are students doing for production?
A: They're tackling camera operations and using the tricaster.
PERKS OF THE VIDEO SCOREBOARD
Q: Have you seen any additional benefits from the board besides fan engagement?
A: It's really been a good way to bring together the community, the school's booster club, the school administration, the students, fans, parents — it's united our cause.
Q: Anything else you'd like to add?
A: We had a fun event, kind of a show and tell with our scoreboard once, with local surrounding schools. It was a chance for them to come look at it and ask us questions. It was helpful information for those who don't have displays and a chance for us to feature our display's capabilities and show the results of our investment.
What other questions do YOU have?
Follow our High School Sports Users group on Facebook to read up on what other schools are asking and post your own questions.
---