The Impact of Wayfinding Displays in Corporate Facilities
There's a saying that goes, "people will forget what you did and what you said, but they remember how you made them feel." For some corporate facilities, the main feeling people might remember from the visit is getting lost.   Although some people may enjoy wandering off the beaten path on vacation, when people are going to an important meeting at a new place, they want to make […]
Jennifer Liebschwager on 6/4/2021
Categories: Spectaculars
There's a saying that goes, "people will forget what you did and what you said, but they remember how you made them feel." For some corporate facilities, the main feeling people might remember from the visit is getting lost.
Although some people may enjoy wandering off the beaten path on vacation, when people are going to an important meeting at a new place, they want to make a professional, competent impression and part of this is quickly being able to figure out where they're going.
Strategically placed digital signage gives corporate facilities an easy way to dynamically update messages with the latest facility information to help create the best visitor and employee experience. When visitors can find their way easily, they're more likely to 1) come back again and 2) speak about their positive experience to colleagues and friends.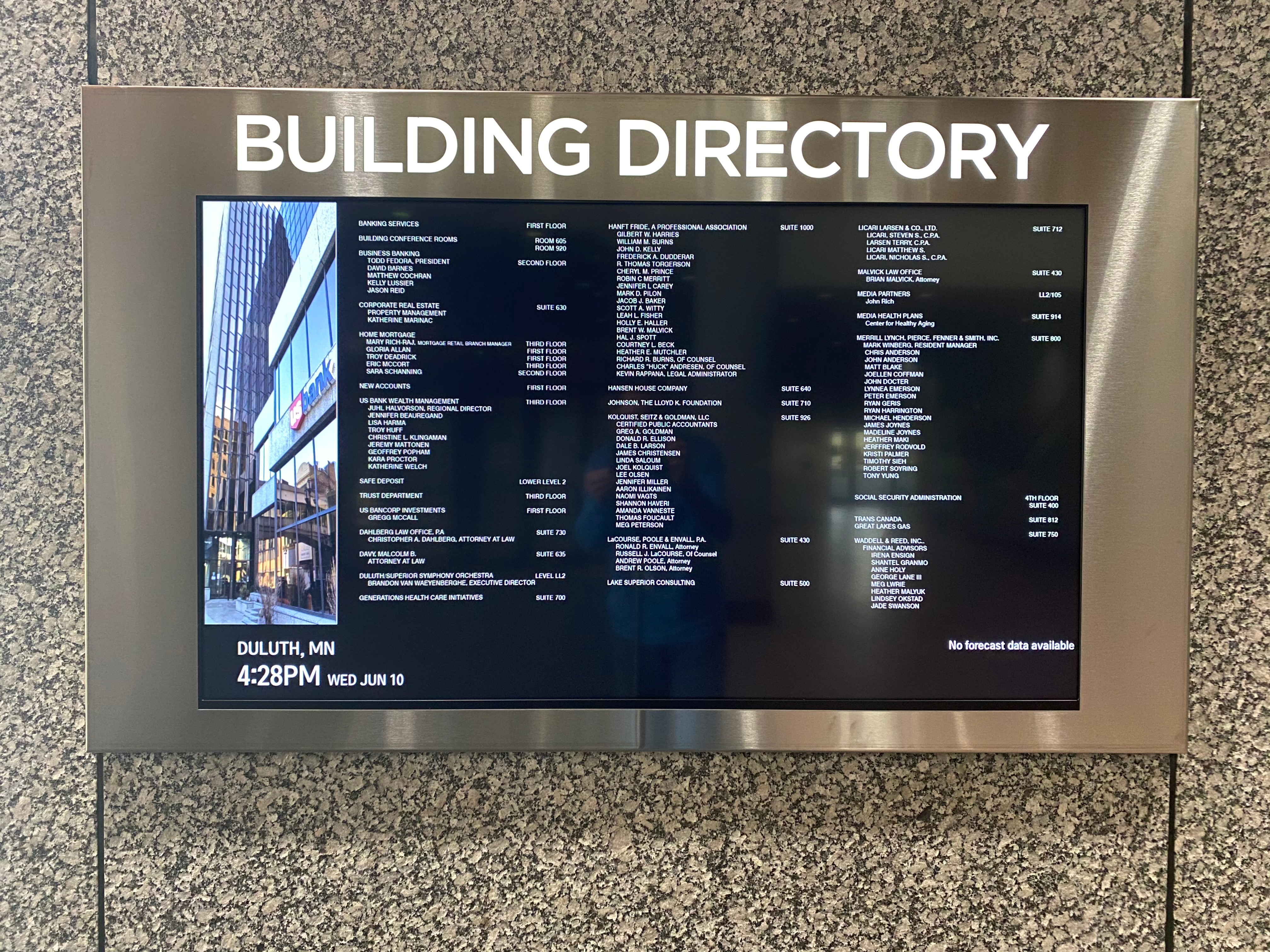 Where should we meet?
A corporate campus can be large and sometimes intimidating for visitors and new employees. Digital displays are becoming preferred over static signage as a more dynamic option to welcome them and ensure they get exactly where they need to go. Interactive touchscreen maps and other forms of digital signage provide a more engaging experience. In addition, touch-free voice activation technology can also allow them to ask your digital signage for directions to where they need to go.
Indoor Digital Displays: Fine pitch direct-view LED displays provide crisp clarity at very close viewing distances so people can clearly see map details and text.
Outdoor Digital Displays: LED Street Furniture can be positioned right nearby or on the walking path to provide eye-level directional guidance.
More than a map
Directional signage can provide much more than simple guidance. It can serve as a powerful marketing tool to guide and define the visitor and employee experience at your corporate facility.
Roll out the red carpet and customize signage to welcome visitors and easily personalize the physical space to who is visiting that day.
Demonstrate products and review important information on crisp, clear digital screens with accurate color reproduction.
Creating an inclusive experience
It's important for facility executives to examine directional signage to make the facility easy to navigate for everyone. The American Disabilities Act (ADA) mandates certain characteristics of signage to ensure the building is accessible by meeting height and depth requirements of the screen and considering visual impairments when designing content by making text and graphics high contrast and providing audio with messages. When crafting the experience of being in your facility, it's important to consider how everyone can be equally included in the environment you build.
Looking forward
Improving the corporate facility experience will be an increasingly important focus as in-person meetings become an option again. Digital displays can be a key part of a positive experience, ensuring your visitors and employees can remember concepts they learn, ideas they brainstorm and focus on building the business, not be distracted by how hard it was to get around the building.
Learn more about how corporate facilities are using digital displays across the campus in this brochure.
---