Size Does Matter: Content Creation & Display Dimensions
What are my display dimensions? What are the pixel measurements of my display?  What size should I create my content?  These are all common questions we hear quite often regarding content creation for LED displays. Content Requirements If you have already or ever plan to create content outside of Venus Control Suite, then you should […]
Daktronics Commercial Software Training on 7/6/2016
Categories: Venus Control Suite Training
What are my display dimensions? What are the pixel measurements of my display?  What size should I create my content?  These are all common questions we hear quite often regarding content creation for LED displays.
Content Requirements
If you have already or ever plan to create content outside of Venus Control Suite, then you should familiarize yourself with the content requirements first. Please click on the knowledge base articles below to read through our content creation guidelines.
What are the supported file types for graphics and images in Venus Control Suite?, DD3185677
What are the supported file formats and specs for video in Venus Control Suite?, DD3185674
You can find the complete list of supported file types within Venus Control Suite at any time by visiting the Media Library and clicking the blue Upload button.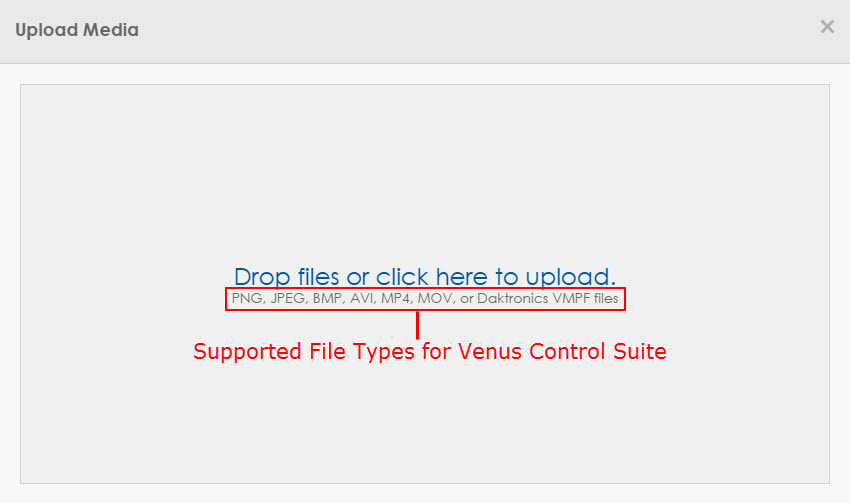 File Specifications
As you now know, Venus Control Suite supports several different file types, but as you just read, those aren't the only requirements necessary when it comes to creating content.
The DPI (dots per inch) needs to be set at 72 for the best results on a digital display. The pixel size should closely match your display. A good rule of thumb for creating or resizing graphics and animations is to not make them any larger than 3x the pixel dimensions of your display. For example, if your display is 48 x 112, then you will get the best quality by making sure any pictures or videos you import are no larger than 144 x 336.
You might be asking yourself, "Can I get a picture off the internet?" and "What if the picture I find is way bigger (more than 3 times) than my sign size?"
It is common for images that you find on the internet to have dimensions in the thousands because for the most part, they are high resolution. The larger the image, the more pixels that need to combine to fit onto the available display matrix. Thus, if you are starting out with an image that is more than 3x larger than your display dimensions, you will lose image quality and it will look blurry and pixelated.
Trainer Tip: It is possible to resize images using programs like Adobe Photoshop or other free programs like Pixlr or the Online Image Editor. However, stick with our rule of thumb and don't start with an image larger than 3x your display dimensions to ensure the best quality result.
How do I resize an image using Pixlr?, DD2452754
So, what size is my display then?
Now that you know how big an image or animation to start with, and how to resize them accordingly if need be, the only thing left to figure out is what size they need to be in the end!
You can find out exactly  the size (pixel dimensions) of your display within Venus Control Suite. Simply click on the Media tab in the Main Menu to visit the Media Library.
The media library is the central storage location for all of your content, but it is also the quickest way to find your display dimensions. Look on the right side of the page under Filters and click on the arrow next to Display Dimensions. This will show you the sign size of your display, or displays if you have more than one!
We hope you found this week's post helpful! Be sure to subscribe by clicking on the orange "Receive Email Updates" button on the right if you want to be notified whenever new blog posts come out.
Thanks for reading!
---