Record Attendance at the Daktronics 2015 Sales Expo
This year, Daktronics hosted more than 100 attendees from more than 44 sign companies. We're excited that people arrived from as far away as Anchorage, Alaska, (3,125 miles), Jacksonville, Florida, (1,564), Westfield, Massachusetts (1,507), and St.John's, Newfoundland (3,143). View what attendee Elliot Hord, St. Joe Sign, St. Joseph, Missouri,has to say about the Sales Expo. Some […]
9/23/2015
Categories: Sign Company News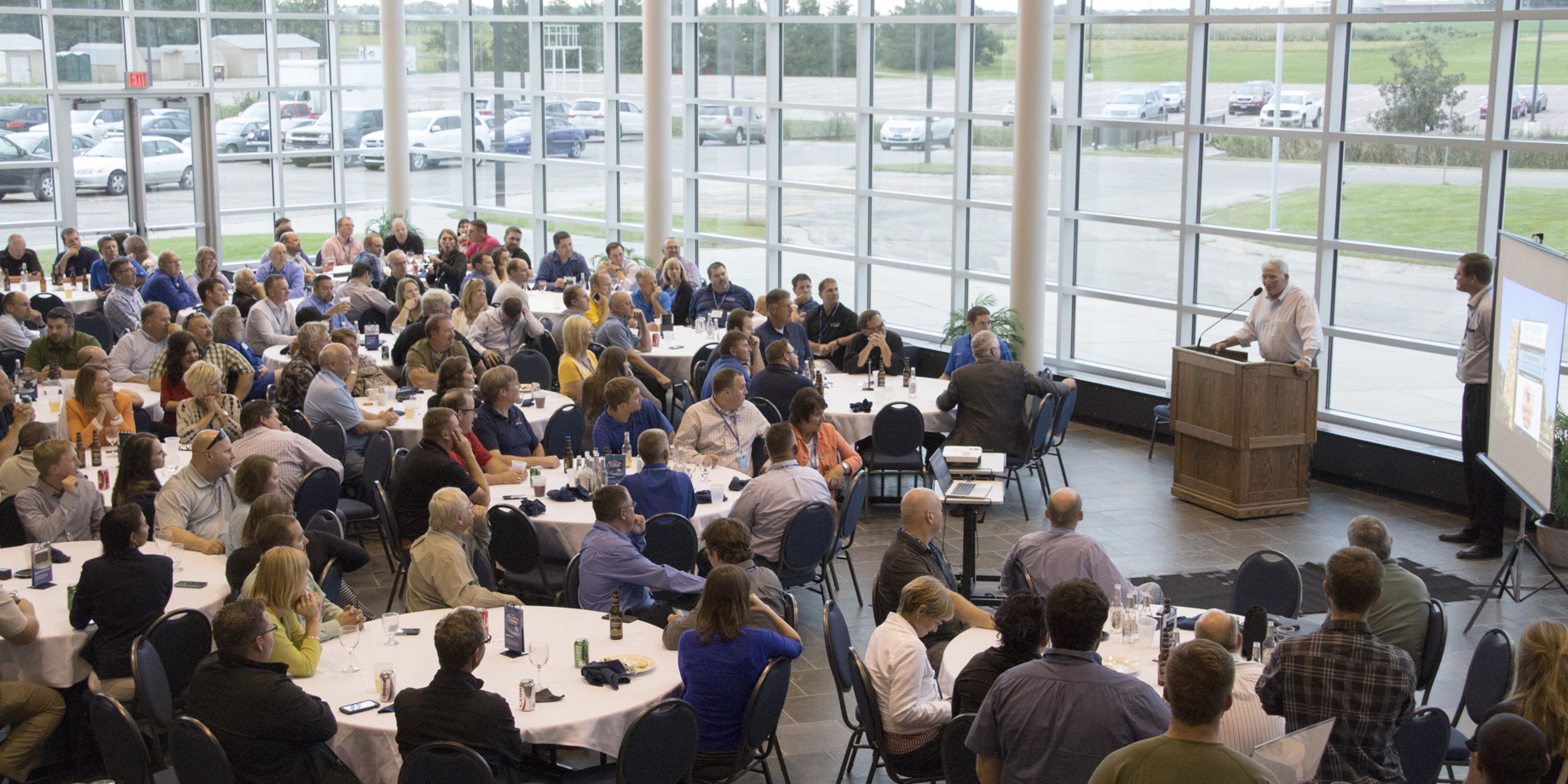 This year, Daktronics hosted more than 100 attendees from more than 44 sign companies. We're excited that people arrived from as far away as Anchorage, Alaska, (3,125 miles), Jacksonville, Florida, (1,564), Westfield, Massachusetts (1,507), and St.John's, Newfoundland (3,143).
View what attendee Elliot Hord, St. Joe Sign, St. Joseph, Missouri,has to say about the Sales Expo.

Some highlights from the 2015 Sales Expo:
We provided training on new products in the Galaxy® and Venus® lines, including the entirely new Galaxy® eCCB.
Vice President of Design and Development Brett Wendler talked about low-cost overseas competitors, drawing upon first-hand information from his visits to China.
We presented educational sessions about financing, customer service, and how to conduct an effective product demo.
Taylor Blanchett, Blanchett Neon, Edmonton, Alberta, took home a digital camera for winning the Sign Design Contest. She shared how Daktronics products and support helped make their project a success.
If you didn't make it this year, we invite you to visit us in Brookings, South Dakota, on September 29-30, 2016. Find many of the resources we talked about at the expo at
www.daktronics.com/signcompanies

Also, keep an eye on our web product pages for up-to-date information about the new products we launched.
Thank you for reading this post, and please comment on the Sales Expo. We'd love to get your feedback!
---