Let's Get Real #FeelTheReal
By now many of you have probably seen one or more of these ads from the OAAA's latest campaign targeting media planners and advertising professionals. A growing concern in the advertising industry is whether or not the advertising space clients are buying online is being viewed by either real people, or by "bots" meant to […]
11/10/2015
Categories: Out of Home Advertising
By now many of you have probably seen one or more of these ads from the OAAA's latest campaign targeting media planners and advertising professionals.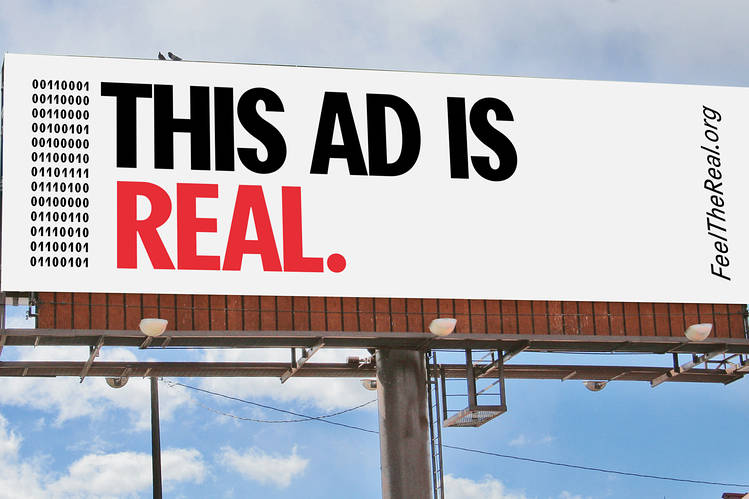 A growing concern in the advertising industry is whether or not the advertising space clients are buying online is being viewed by either real people, or by "bots" meant to boost ad ratings. The Outdoor Advertising Association of America (OAAA) decided last month that it was time for the outdoor industry to make the most of this growing fear.
While rolling out a campaign that is named "Feel the Real," the OOH industry is painting a clear picture. The only people that see ads in the OOH world are real people. The real world isn't a place that can have these rating booster bots placed to give clients false reports on advertisements.
This is the first time that the OOH industry has faced the fraud of online boosted views head on. When you think about it, online traffic "viewing your ads" and real world traffic that physically looks at your ads are two entirely different things.
Are you using this campaign to promote the effectiveness of OOH advertising?
If you want to read more about how OAAA is taking on the fraud of online ad reports, head over to www.feelthereal.org
Download the artwork here and get real: https://www.oaaa.org/FeelTheRealCreative.aspx
Follow on twitter: @FeelTheRealOOH
---