It's All in the Script
When fans attend a game, there's an energy from the players, the smell flowing from concessions and the content on the video display that makes a game day complete. Each part pieces together to make a memorable game day. What many people don't know is what it takes to make something like this happen. Anything […]
4/6/2017
Categories: High School Sports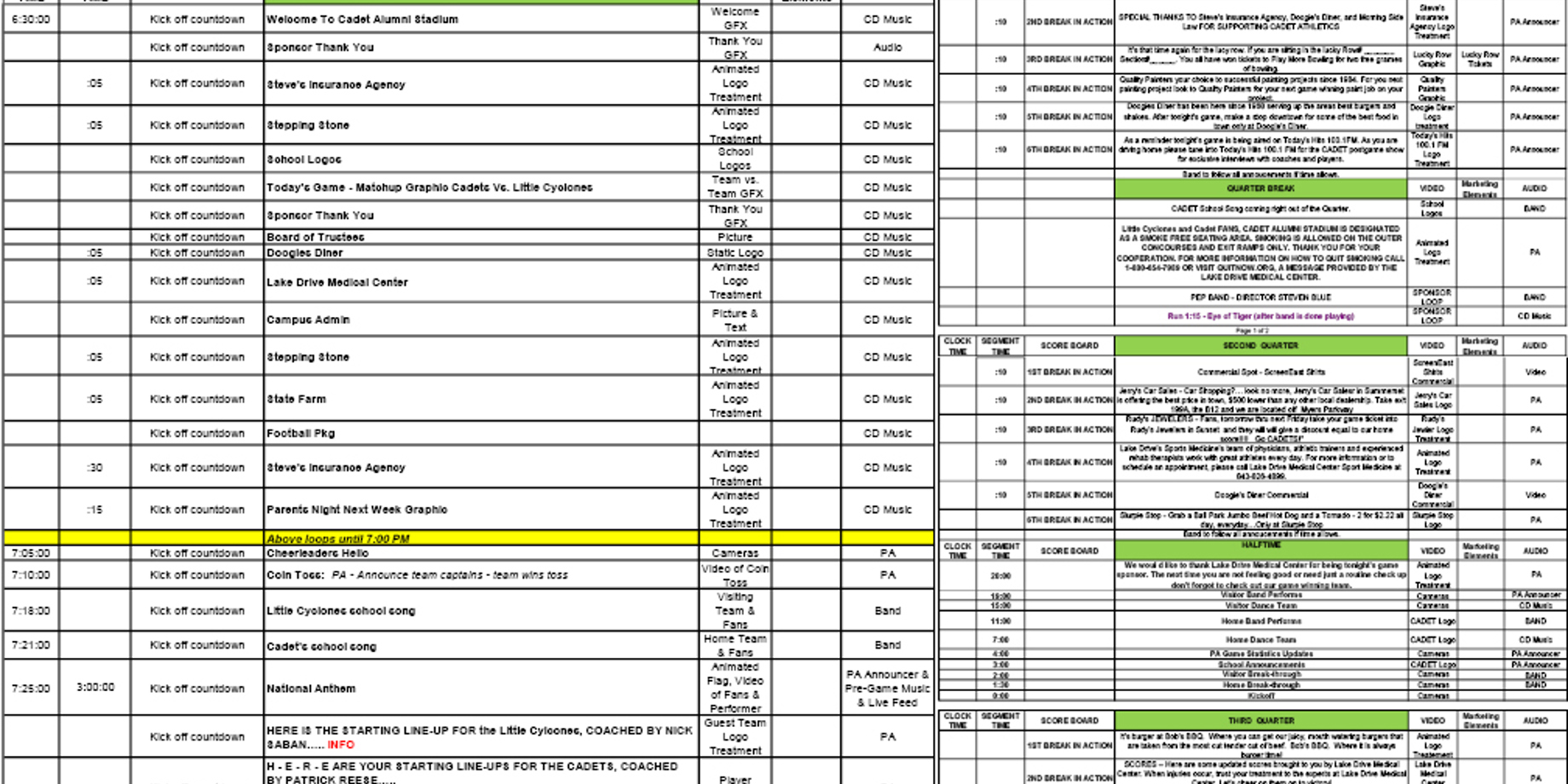 When fans attend a game, there's an energy from the players, the smell flowing from concessions and the content on the video display that makes a game day complete. Each part pieces together to make a memorable game day. What many people don't know is what it takes to make something like this happen. Anything and everything that shows up on the video display was created and carefully put together by someone. Let's dig a little deeper into this.
PRE-GAME
From the moment gates open to the initial kickoff, this space needs to be filled with something. This is a great time to feature players running onto the field, the band and cheerleaders warming the crowd up, local sponsor information and even an intro video your students put together for the team.
TIMEOUTS/BREAKS
You don't have a whole lot of time when it comes to timeouts or quarter breaks so this will be dedicated to shorter-lived content. This can include any on-screen promotions you have, school announcements, trivia to keep the crowd engaged or implement a fan cam to get them on the display.
HALF TIME
Many schools do half time differently so this will vary among schools. Most often, the school band and color guard come out to the field and perform. You can easily feature them on the video display using the live feed. When they're done, you can have content ready for raffles or a 50/50 drawing.
POST-GAME
If your school's team has a successful game, post pictures of the MVPs or the lyrics to the school song to celebrate! Game stats are always another option and an easy go-to. Any upcoming school events? Share dates and information on the display to let parents and guests know before they leave the game.
You and your students are not limited to these examples. There is so much you can do when creating a video game-day script. All you have to do it is put a little imagination and creativity into it and you'll be set. The most important factor is to have your content flow and be cohesive with one another, especially if you have multiple displays.
Stay tuned! We'll be having a game-day script contest where you can upload your script and vote for your favorite.
---