Find Help Fast! Using the About Tab
Ever heard of a Push Menu before? I hadn't either, until I first started using Venus® Control Suite!  A Push Menu is a hidden menu that slides out from either the left or right side of a website. You can push the otherwise hidden menu open by clicking on a menu icon. In this case, […]
Daktronics Commercial Software Training on 3/15/2017
Categories: Venus Control Suite Training
Ever heard of a Push Menu before? I hadn't either, until I first started using Venus® Control Suite!  A Push Menu is a hidden menu that slides out from either the left or right side of a website. You can push the otherwise hidden menu open by clicking on a menu icon.
In this case, the menu icon is going to be the Current User listed in the upper,right-hand corner of the Venus Control Suite software. By clicking on the Current User, it allows you to view and edit your User Profile, find help, and logout of Venus Control Suite.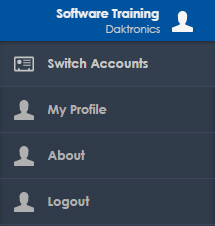 My Profile allows you to edit your user account information, including your password.
The About tab opens a wealth of information and support
The About tab, which is what we're focusing on today, provides links for you to:
Visit our website.
Read the Venus Control Suite manual.
Use our Knowledge base.
Submit a service request.
Request a callback from one of our software trainers (click on the Contact-A-Trainer link).
Provides the Daktronics support phone number.
Let's go over each of these resources and how you can use them to find help, shall we?
Visit the Daktronics website
The first resource in the About page is a link to the Daktronics official website, http://www.daktronics.com/.  You can find all sorts of information on our website like our history, product information, project photos and videos, customer stories, news releases, support resources, and so much more!
Looking for the operation manual?
Next up, we have a link for you to Read the manual.  By clicking on this link, you will open an Adobe PDF of the Venus Control Suite Operation Manual. The manual is updated often to include all the latest updates, features, and instructions about how to use them.  If you hold CTRL-F on your keyboard, you can search the entire manual for specific words!
Trainer Tip: A Google survey found that 90% of computer users don't use CTRL-F to search for a word. The reason? They didn't know such a keyboard shortcut existed! So how do you use Control F?  Hit the "Ctrl" key (lower left area of your keyboard) AND the letter "F" key at the same time (simultaneously). A little pop-up window will appear. Click on the "Find Next" button and your computer will automatically locate and highlight the word you are looking for.
Quick technical solutions
Our next support resource is a link to Search our knowledge base. The goal of our technical knowledge base is delivering technical solutions to you as quickly as possible. Our Knowledge Centered Support approach means this information comes straight from our tech desk to you as quickly as possible.
The best part about the link to the Knowledge Base provided in the About page, is that it only searches specifically for Venus-Control-Suite-related articles! Now, of course you can still search the Daktronics Knowledge Base for whatever you want, just remember sometimes less is more!  Be specific when searching by using only keywords, and make sure that you spell your words correctly, as well.
Get customer service help
The next support link provided allows you to Submit an online service request. For non-urgent needs, use this form to request assistance from Daktronics customer service. We make every effort to respond to these requests within one business day (Monday – Friday, 8 a.m. – 5 p.m. Central Time). In most cases, the response time is less than four hours.
Please note: Submitting this form will initiate a customer service request with Daktronics. It will be necessary for us to contact you in order to complete the request and create a case. Please provide valid contact information to ensure we can contact you quickly.
Questions about a software feature?
The final online resource made available in the About page is a link that gives you access to Contact a trainer directly.  This is a great resource for you if your equipment is working properly, and you have questions about how to use the features of Venus Control Suite.
The best part of the Contact a Trainer page is that it also incorporates the Knowledge Base. In fact, after you choose which software you are using, it will provide you with a list of the most frequently asked questions regarding that software, in your case, Venus Control Suite!
If you don't find the answers you need, one of our software trainers would be happy to give you a callback to assist you. The typical response time is less than four hours during Daktronics corporate business hours (Monday-Friday, 8 a.m. – 5 p.m. Central Time).
To schedule a callback by one of our software trainers, just click on "Schedule a Callback," fill out the request form, and choose whether you want us to email you or call you back. If you want us to call you back, you can choose when, either in the morning or the afternoon.  So, if you know you'll be tied up in meetings all morning, you can schedule us to call you back in the afternoon and be worry-free the rest of the day!
We hope you found this article helpful! If you enjoy reading our blog, then be sure to click on the orange "Receive Email Updates" button on the right side of the page to subscribe.
Thanks for reading!
---