Daktronics Event Production
When it comes to LED video displays − EVERY MOMENT MATTERS. On game-day, maximizing your display and the opportunities it offers by creating an engaging fan experience, is vital. Today's audiences have higher digital expectations than any previous generation. They expect engagement and entertainment at every moment. While it may be nice to have the […]
Daktronics Control Panel on 11/1/2016
Categories: Pro Sports and Colleges
When it comes to LED video displays − EVERY MOMENT MATTERS. On game-day, maximizing your display and the opportunities it offers by creating an engaging fan experience, is vital. Today's audiences have higher digital expectations than any previous generation. They expect engagement and entertainment at every moment. While it may be nice to have the best video displays in the conference, the display alone, is not enough.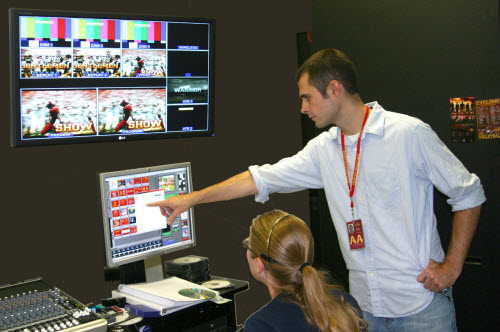 An on-site event producer, fully dedicated to planning and executing a scripted and coordinated game-day production makes for the highest quality presentation possible. An event producer is more than an operator. They are fully integrated into the athletics staff, have a full understanding of production equipment, and plan and execute the game-day choreography, saving you time and money.
Having an event producer with direct ties to your display manufacturer can save you time and headache on game-day. Daktronics Professional Services team offers Technical, Creative, Operational and Business solutions to take your game-day to the next level. Daktronics Professional Services provides complete game-day event production services, customized to achieve your goals. Our team will meet with you to determine your unique event production needs and develop your personalized solution.
Daktronics Event Producers are responsible for event production at:
Bell Centre
Iowa State University
James Madison University
MetLife Stadium
South Dakota State University
U.S. Air Force Academy
University of Florida
University of Georgia
Find more information about Daktronics Event Production here, or contact your local Applications Engineer pricing.
---