Counting down to the new year with your video display
Tick, tock, tick tock, the count down to the new year is here! Don't forget to do something special with your video displays to help your audience celebrate the transition to 2017. There are a few options for New Year's Eve messages, so plan ahead! The image below shows a simple countdown message. The process […]
Daktronics Control Panel on 12/27/2016
Categories: Pro Sports and Colleges
Tick, tock, tick tock, the count down to the new year is here! Don't forget to do something special with your video displays to help your audience celebrate the transition to 2017.
There are a few options for New Year's Eve messages, so plan ahead! The image below shows a simple countdown message. The process for accomplishing this varies depending on your system. 
Here are some examples of how to do this:
This also could be achieved with the new web page playback feature mentioned in this previous post.
For something different, consider showing an image of an analog clock on your display. This is occasionally done for baseball, but it could be used in other applications. The clock can be customized as needed.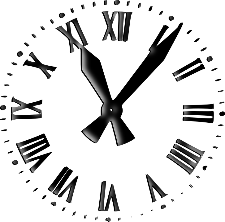 However, you choose, we hope your message will inspire those watching your displays to have a safe and joyful new year.
---