Content is King
Guest post by: Alesia Hendley, CFISD – Berry Center AV Operator At Cy-Fair Federal Credit Union (CF-FCU) Stadium, we like to keep the #CommunityOnlyBetter mission front of mind. Which means all entities contributing to the betterment of our community are friends of ours. Building relationships with our partners is how we establish trust and continue […]
11/17/2016
Categories: High School Sports
Guest post by: Alesia Hendley, CFISD – Berry Center AV Operator
At Cy-Fair Federal Credit Union (CF-FCU) Stadium, we like to keep the #CommunityOnlyBetter mission front of mind. Which means all entities contributing to the betterment of our community are friends of ours. Building relationships with our partners is how we establish trust and continue to grow our educational programs as a community. Our goal on game day is to create an exciting experience for everyone that enters those stadium doors.
We hand select our content based on the best ways to engage with our audience. What do the attendees want to see during the game? And how will you encourage crowd interaction? You want the energy during the game to remain at an all-time high. Let's dig a little deeper into how you can provide great content during the game.
1.) Community Sponsorships
One of the key reasons school districts invest in grand video displays is to see a greater return on investment. Obtaining the right sponsorships and building solid relationships with companies is a great way to start seeing that. Our sponsors are all a part of the Cy-Fair Independent School District (CFISD) community; they have businesses in the district that add value to the families here.
You can offer different sponsorship packages depending on how you have divided each portion of your video display screen using Daktronics content studio software. Some ads from your sponsors can be run at full screen and others can be placed on the side/bottom bar content area. At CFISD, we have a few different packages for our sponsors. The choice is up to the marketing team and the content creator of your video display.
2.) Audiovisual High School Programs
Many schools around the country have theater programs for children. Now, many high schools offer radio/TV broadcasting and film classes seeing that the technology and jobs are growing within these fields. Audiovisuals is working its way into high school programs and becoming recognized across the country. Find creative ways to get schools in your district involved.
Seeing one's work on the big screen can create greater opportunities for them as they grow into their own individual career paths. Not to mention, this will be a résumé booster before those students step into the real world.
3.) Crowd Interaction
Your video display can't be full of ads and videos throughout the whole game. What about what's happening right in the stadium? High school football is huge in Texas, maybe not so much in your neck of the woods, but I guarantee if you have some crowd interaction up on that video display, the community will continue to come back and support their favorite team. Instant replays are a great way for parents to see their children shine.
Another great feature is crowd shots. Sometimes we even have an opportunity to show both school mascots having a dance off to the bands playing. Then we will cut to a shot of the band and the sky dancers just having fun. Everyone loves it; it keeps the energy going even if a team is losing. Once the students from each school see they are live on the big screen, they immediately get excited again.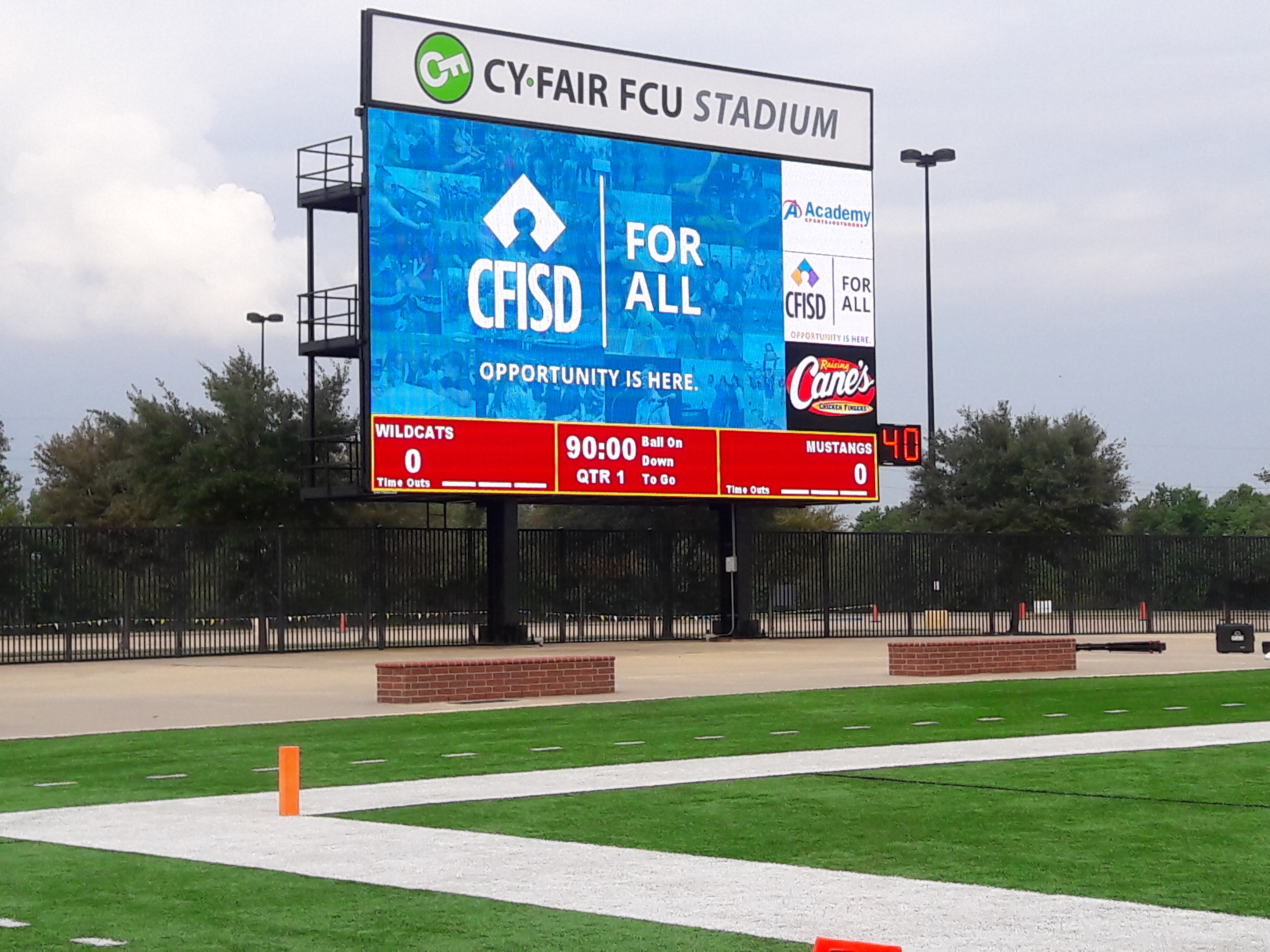 Whether you have a production team full of students or professionals, these are 3 focus points to be mindful of when picking content for game day. Keep the mission of the community and your school district front of mind and you'll be successful in delivering great content within your school district too.
---