Check Your Work, Part 3: How to Preview Content on Your Display
Welcome to the final part of our series about checking your work. If you haven't read the first two entries yet, we recommend taking a look before going any further: Check Your Work, Part 1: How to Preview Content in Content Studio Check Your Work, Part 2: How to Preview Content in The Venus 1500 Hub […]
Daktronics Commercial Software Training on 5/25/2016
Categories: Venus 1500 Training
Welcome to the final part of our series about checking your work.
If you haven't read the first two entries yet, we recommend taking a look before going any further:
Check Your Work, Part 1: How to Preview Content in Content Studio
Check Your Work, Part 2: How to Preview Content in The Venus 1500 Hub
Now that you're all caught up, let's begin, shall we? This week's post is going to be short and sweet!
The best way to check your work and make sure that it is up to your standards of quality is to actually look at the display itself.
We know that this may not always be possible. That is why we showed you so many other ways to check your work in our previous two posts. When it is possible though, for those of you who are close enough to walk outside and look at your display, or even look through your window to see it, we have a few pointers for you!
Minimum Viewing Distance
The minimum viewing distance can be defined as the closest distance at which the colors from an individual pixel begin to blend with the surrounding pixels. Pixel pitches vary a lot, so we included the graph below. When you check your content for clarity, use the correct viewing distance according to the graph.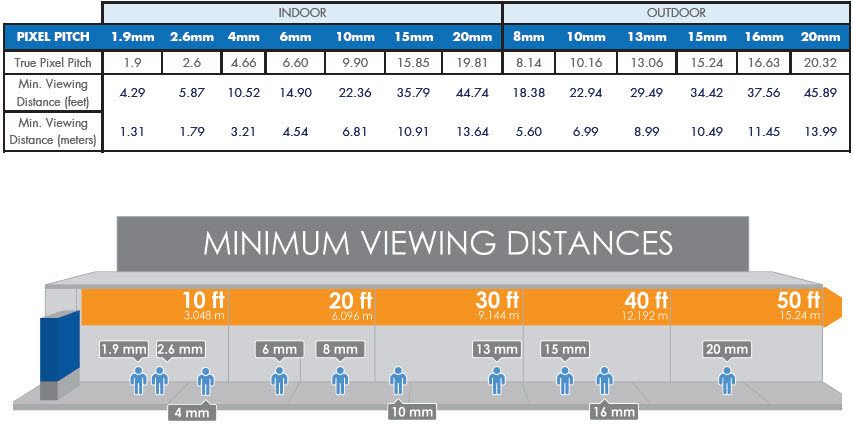 Maximum Viewing Time
It is important to define the viewing audience when choosing the size of your text. The character size depends on the traffic speed and optimal viewing distances of passersby.
The chart below will help you choose the appropriate character size based on traffic speed and viewing distance. The shaded areas represent acceptable exposure times.

When in Doubt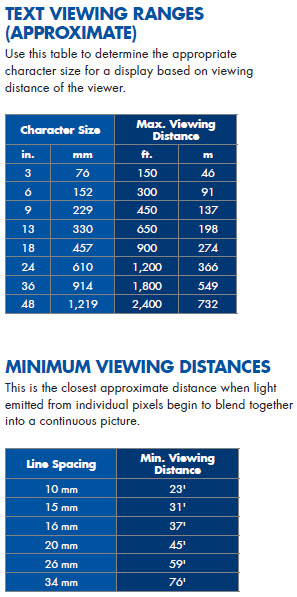 If all of this seems a bit too technical for you or you still aren't sure if your content is of the highest quality, then walk a mile in someone else's shoes!
What do I mean by that?
Walk where your potential customers walk when they see your display, drive by your display where your potential customers drive by it every day, and see how it looks.
If your text is large enough and you can read the message clearly, then you have created a quality message. If you used images or animations and they are clear and not pixelated or blurry, then you have created a quality message.
If you're looking at the chart to the right and wondering how to determine what your text size is, then be sure to use our Font Size Calculator.
Trainer's Tip: Remember, standing directly under or in front of the display isn't necessarily the view your target audience will have. So, like I said, put yourself in their shoes!
I hope you found this post, and this series for that matter, helpful! If you did, and you'd like to be notified when future posts are made, then be sure to click on the orange "Receive Email Updates" button on the right side of the screen.
Like we always say, thanks for reading!
---