Auto Dealer's LED Signs are Known for More Than Advertising
Fred Martin Motor Company has two large, very visible signs. In Barberton, Ohio, their Galaxy display soars over the freeway at their Fred Martin Superstore location on Barberton Road. The other LED sign, on Arlington Road in Akron, is also on the freeway. It's the largest sign in the area and the only LED sign […]
2/3/2020
Categories: Business & Community
Fred Martin Motor Company has two large, very visible signs. In Barberton, Ohio, their Galaxy display soars over the freeway at their Fred Martin Superstore location on Barberton Road. The other LED sign, on Arlington Road in Akron, is also on the freeway. It's the largest sign in the area and the only LED sign capable of showing graphics and animation. It serves their brand new Cash Only Cars as well as Fred Martin Nissan.
The signs serve their main purpose of advertising – they are seen by people in more than 200,000 vehicles every day – and they do their job well. But that's not the only way the Fred Martin team uses the LED signs.
"We also do community outreach," explains Operations Manager Cody Huff. "On days like Memorial Day and Veteran's Day, we dedicate our signs to veterans. We have people send in photos through Facebook, and we put up their photos and names to show our appreciation. Recently, we dedicated a lot of time to a local soldier who was lost in Iraq.
Huff says they are known for their signs in the area. While it was never the goal for their business to increase because of the service they provide on their displays, that has been the result.
"We put up sports scores, weather advisories, anything that keeps people up to date on what's happening in the community. You can't quantify that," says Huff. "A lot of people know us for our signs. People come in as much for our non-advertising messages as for our ads. Community service works well. That's not why we do it, but it does work that way."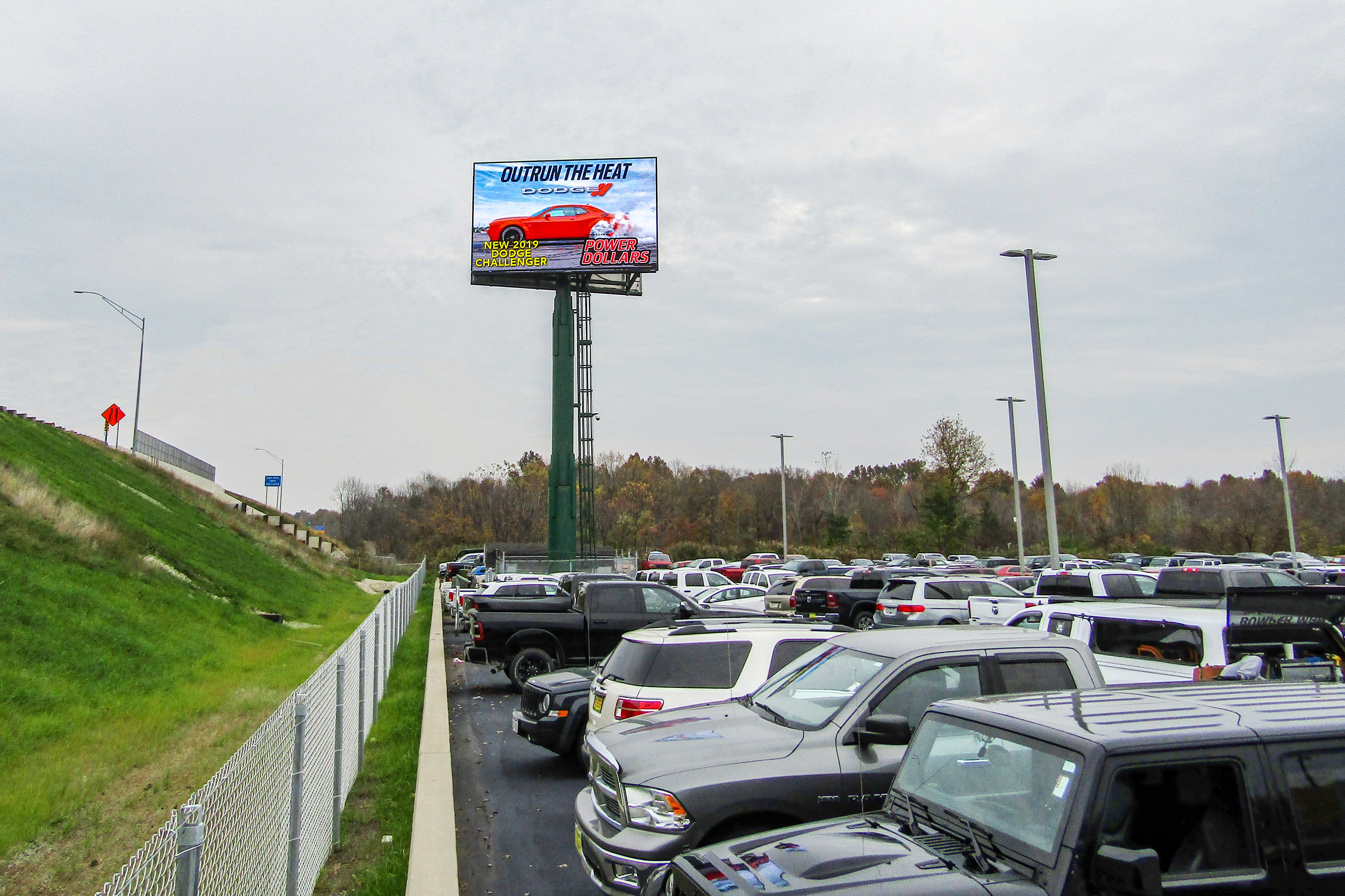 Advantages to being the biggest
The sign on Arlington Road is the largest ever in that area. It's primarily a business district, with car dealers, restaurants and shops. The large 19.3 x 30.5-foot high LED display replaced three signs for former businesses.
"People in the area were pretty perturbed that they didn't think of it first," says Huff. "It towers over every other sign. We have actually had other businesses approach us about advertising on our signs. We haven't done that," he laughs.
Both LED signs are controlled from one place.
"We have graphic designers who create the graphics and upload them to the signs," explains Huff. "We have different content on the signs, but we control both signs from our Barber Road location. It's really easy to use, even for someone with no training. I've even taking down ads that are out of date."
Their thoughts on Daktronics?
Fred Martin is a long-time Daktronics customer. In fact, this is the third time they've updated their signage with Daktronics. But Huff's thoughts are even better:
"We love Daktronics. You guys have been great to us."
---