6 Video Add-Ons: Help Your Booster Club Make Wise Decisions
Take your game day to a new level with these innovative ways to add-on.
7/19/2019
Categories: High School Sports
Booster Clubs meet at the beginning of each school year to set their goals and decide how they can support the student athletes at their school. You're liking discussing:
"How can we get more fans in the stands?"
"How can we generate money to pay for new things?"
"What can we do to help our student athletes perform better?"
Do you have a video display at your athletic facility? If you do, we want to offer you seven outstanding solutions to your boosters' questions. These video add-ons instantly create excitement, make money and improve your team's performance!
Team Spirit Content Package
We all know about the home-town advantage—so different from playing an away game. Use that advantage to pump energy into the players and hype up the fans. But, as you might already know, using the same digital content year after year can get stale. Purchase a new Team Spirit Content Package for an easy way to keep the home-field advantage fresh and exciting.
Daktronics.​com/teamspirit
Player Profile Templates
Your players put a lot of time and effort into their sport. Celebrate them throughout the year by displaying their profiles on the big screen. It's a great way to honor players' commitment to their team. Using a new Player Profile Template each year allows you to match the team-selected "theme" to their schedule cards, posters and banners to create a memorable experience for players, parents and fans. Have your students create a background to expand on the learning opportunity or purchase a template from our creative services team.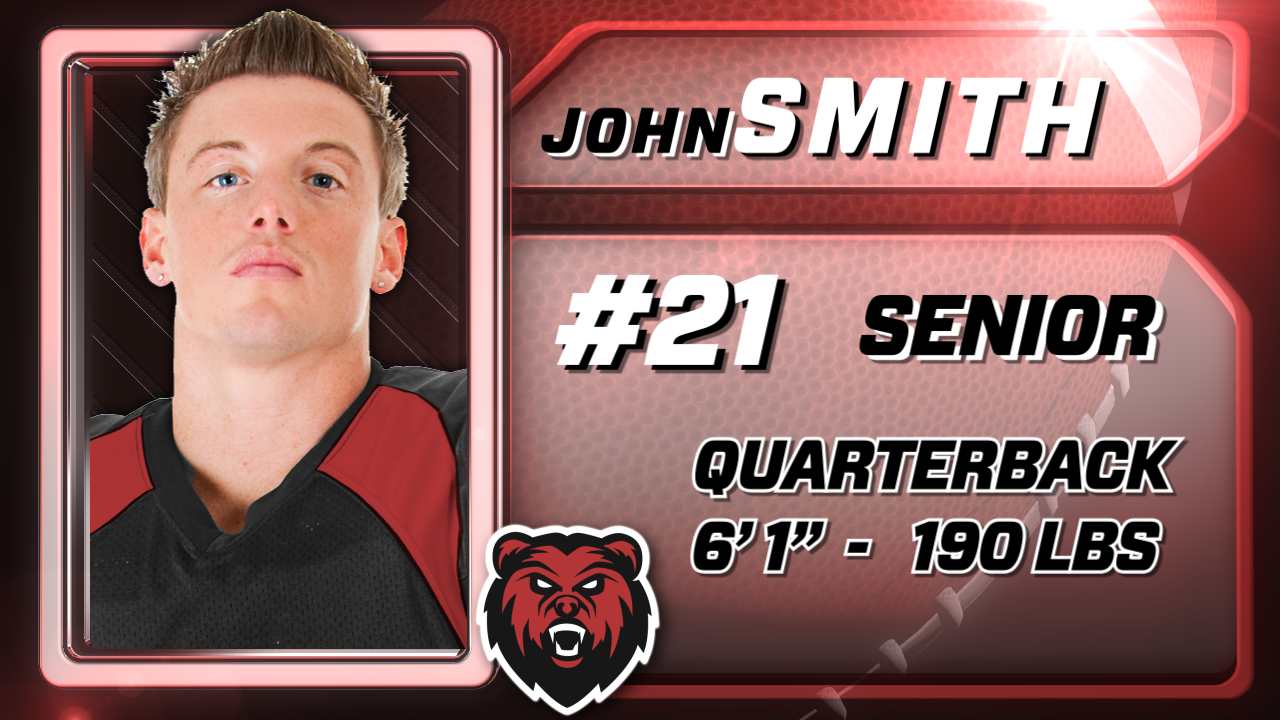 Interactive Games
The game may start at 7 p.m., but you can begin the show at 6 p.m.! Running interactive games on your video display is a great way to entertain the crowd. Attracting people to your events increases booster revenue. During the pre-game show, fans increase concession sales and buy 50/50 raffle tickets!
Mobile Light Show
Trigger hundreds of flashlights on your fans' mobile phones using your video display content. Think this is above your pay grade? Your boosters can sell a sponsorship that will show up on fans' phones and generate more money than the cost! Take your fans from being spectators to participants.
Event Production Consultation
Sometimes the biggest impact a Booster Club can make is to invest in what you already have and make it better. When your boosters invest in an Event Production Consultation, you'll capitalize on the benefits of your Daktronics system that you don't use today. The in-house Event Producers will train you on important skills, such as what camera angles are best for live production and how to find new spots in your script for sponsors. In the end, you will thank your Booster Club for taking the game-day atmosphere to a whole new level.
Additional Video Display Training
You may not be capitalizing on all your video display's features due to staff changes and new software features. Earlier in the list, we talked about boosters creating the home-field advantage and how a video display can help increase the value of playing at home. We offer you multiple levels of training to make your display the difference maker for the home team!
Daktronics.​com/Training
Check out all these options and more at www.daktronics.com/schoolcontent.
---