With A Little Help . . . Resizing Images
Learn all about choosing properly sized images for your LED display, as well as how to properly resize images to fit onto your LED display if they are too large.
Daktronics Commercial Software Training on 3/15/2018
Categories: Venus Control Suite Training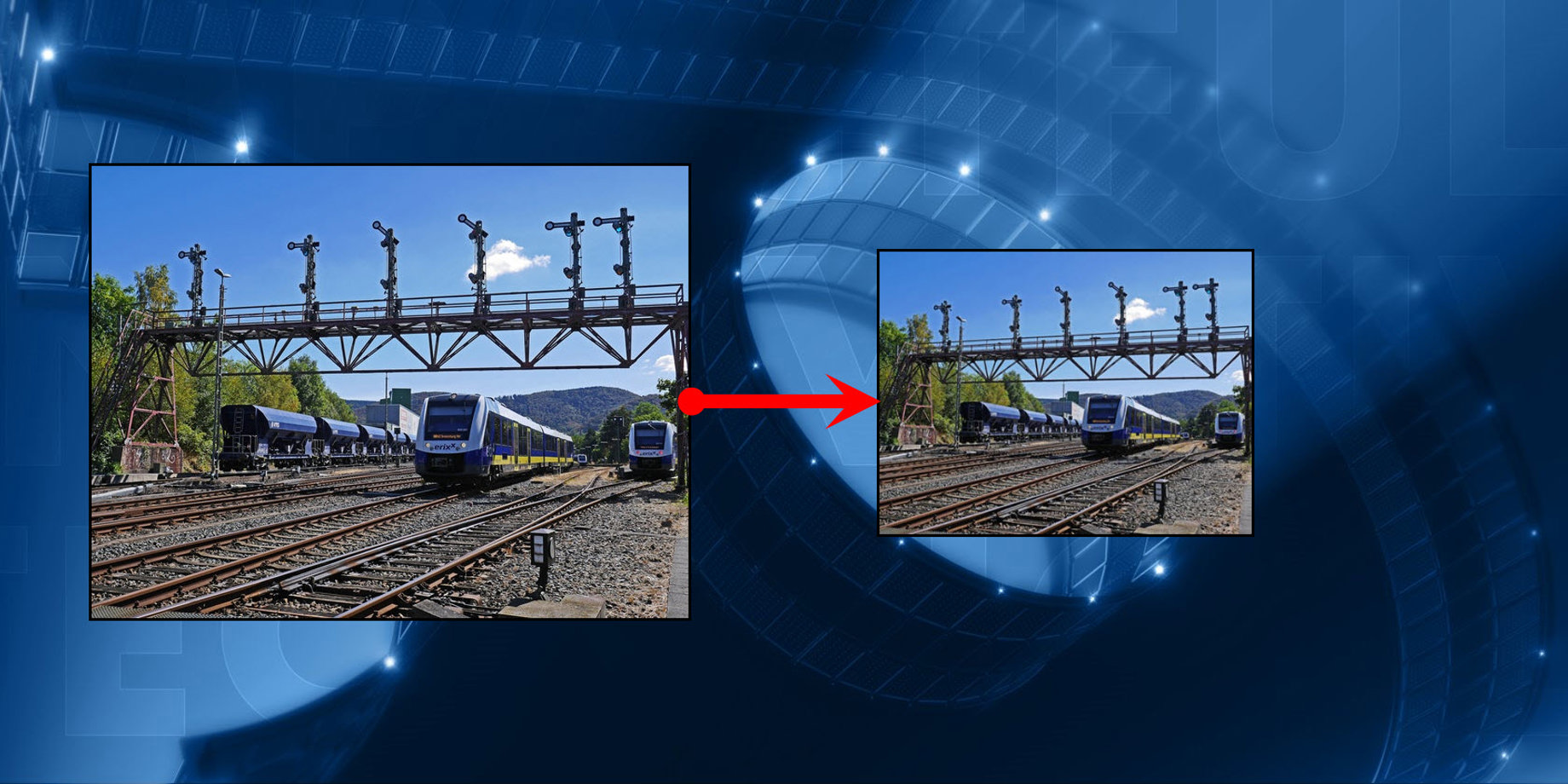 Have you ever wanted to put an image on your display, but it was too large? Have you ever imported a picture into a Web Presentation, added some text over it and later noticed that it appeared pixelated or blurry on your display?
If you answered yes to either of these questions, you will want to continue reading!
Today,  we'll review how:
To find correctly sized graphics for your display.
To resize graphics that aren't correctly sized to avoid distortion on your display.
You can find the pixel dimensions of your display so you know where to start.
Graphic Requirements for Your LED Display
When it comes to creating content for your display, you have 2 choices. You can create content within Venus Control Suite using the Web Compositor or Content Studio, which will ensure that your content is correctly sized.
The second option is to either create content using a 3rd party software program like Adobe Photoshop, or simply peruse the internet to find pre-created images. If you go with this option, you have to upload whatever you create or find into the Venus Control Suite media library before scheduling anything to play on your display.
The reason I bring this up is that when you schedule uploaded content to play on your display, Venus Control Suite will automatically resize it so that it fits onto your display size. This is good and bad.
It is good because if you have an image only a few pixels different from your actual display dimensions, you don't have to spend time resizing it yourself to fit. It will still look good on your display.
Trainer Tip: Are you concerned about someone publishing incorrectly sized content on your display? It could happen if you have multiple users with the ability to upload, create and schedule content.
You can fix this problem by enabling Playlist Validation. Playlist Validation ensures that only pixel-perfect graphics can be played on your display. Learn how to enable this feature by reading the blog below.
However, it can also be bad because if you start out with an image more than 3 times larger than your display dimensions it will have to shrink down so much that all the pixels will squish together.  This can cause image degradation leading to poor image quality.
This is why your images might look blurry, fuzzy and pixelated out on your display.  Therefore, if you have a sign size of 48 x 112, you should never use any pictures that are larger than 144 x 336 to ensure you maintain the best possible image quality.
Finding Graphics for Your LED Display
You're probably wondering right about now where you can locate these hard-to-find graphics. Well, I have some good news for you. They aren't that difficult to find! We provide 3 different options for you to choose from below.
Daktronics Creative Services
Our Creative Services team here at Daktronics has created hundreds of graphics for you to choose from for all our standard display sizes! You can find these graphics by visiting buy.daktronics.com and looking through the Content Packages and Building Blocks sections.

The best part is, most of the graphics are 100% FREE! If you are unable to find the content you want because your display size isn't listed or because you want something more customized created specifically for you, then you can work with our Creative Services team to request custom content. This website should always be your first stop when you are looking for content for your LED display.

We have previously blogged about the amazing backgrounds and graphics elements put together by our Creative Services team. We highly recommend reading NEW Building Blocks Help You Create Better Content For FREE to learn more!

Google Image Search

Typically when you search for an image on Google, most of the results provided will have dimensions in the thousands, which are way too large for most displays.

However,  a feature within Google Image Search allows you to look for pictures with your exact display dimensions!  For our example, we will say that we are searching for pictures of trains.


When we get to our image results, we are going to click on Tools. From there a new row of options will appear. Click on Size and then choose exactly…

At that point, an Exact size window will open, allowing us to type in the exact pixel dimension of our displays. In this case, we will type in 48 x 112 and then click Go.


If those results aren't what you are looking for, remember you can search up to 3 times your display size. Keep in mind that you do need permission to use any images you find, unless they are free stock photos.

Pexels Speaking of free stock photos, this brings us to our third option. Pexels is a website that we stumbled across which provides high quality and completely free stock photos to help content creators all over the world.

The best part about Pexels is that you can search for images by pixel dimensions.  Once you arrive at www.pexels.com you can type in what you're looking for into the search bar. We're going to stick with trains again!

Once we get to our search results, we will click on one of the pictures that we like to open a large preview of it for us.

Next, we will click on the arrow to the right of the green Free Download button, which lets us type in our display dimensions. From there all we have to do is click Download, and we will have it!

Resizing Graphics for Your LED Display
Let's say, for whatever reason, you absolutely cannot find an image you want in your display size. Then what? It's time to resize the image you want!
Remember, like we said before, if you absolutely must resize an image, try not to start out with an image that is larger than 3 times your display dimensions to maintain the best possible image quality.
If you aren't sure what your display dimensions are exactly you're in luck, because we posted a blog previously that shows you how you can figure that out.
As far as resizing goes, we've also got you covered there! Check out the links below for step-by-step instructions about how to resize images to fit your display dimensions.
Here are some additional resources about creating and resizing graphics that you may find helpful in your future content creation endeavors:
We hope you found out some new, helpful information this week. I know I personally found out something new about myself; I apparently love trains!
If you do enjoy our blog and find it helpful, be sure to click on the orange "Receive Email Updates" button on the right side of the page to subscribe.
Thanks for reading!
---