Venus Control Suite Makes Finding Help Easy
Are you new to Venus Control Suite? Trick question! We all are! Whether you're a software genius or just learning how to use a computer, we all can use a little help sometimes. It's a good thing for us that it's so easy to find in Venus Control Suite. User Menu The User Menu is […]
Daktronics Commercial Software Training on 4/6/2016
Categories: Venus Control Suite Training
Are you new to Venus Control Suite? Trick question! We all are!
Whether you're a software genius or just learning how to use a computer, we all can use a little help sometimes. It's a good thing for us that it's so easy to find in Venus Control Suite.
User Menu
The User Menu is a push menu found in the upper right-hand corner of the Venus Control Suite software. All you have to do is click on your Account name or the user icon.


Doing so will push open the menu. In this menu you have a few different options, like switching accounts, changing your login credentials, and logging out.
About Panel
However, today we will be focusing on the About panel. When you click on About it will open up a new page.This page contains a ton of helpful information and links.
The first thing you will notice at the top is a link to the Daktronics website. By visiting the Daktronics website, you can find some very helpful resources like the Venus Learning Center and our blog page.You can also find out about the latest products we offer!
Right below that link, you will find the phone number for Daktronics Support.We have software trainers available to provide phone support Monday through Friday from 8:00 a.m. to 5:00 p.m. CT. This is a free service, and we are always happy to help you!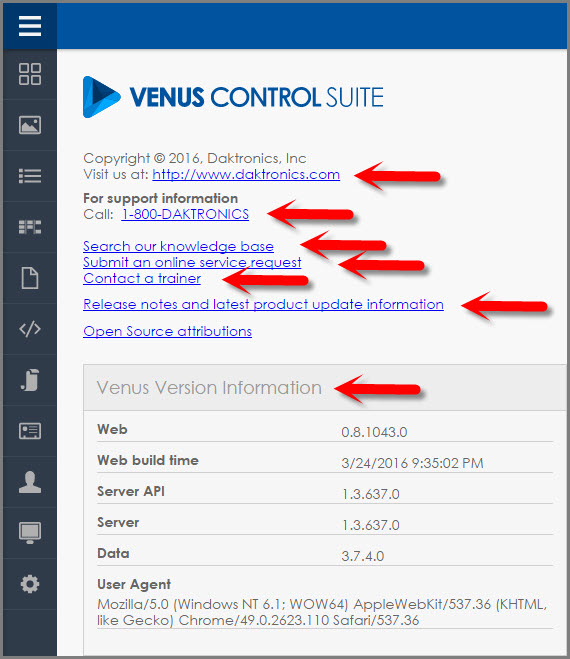 Online Assistance
The next section gives you an option for self-help and two options to reach out to Daktronics for assistance online. If calling in for help on the phone isn't your thing or doesn't fit into your busy schedule, we understand! That's why we give you the option of requesting help via an online request.
All you have to do is choose between contacting customer service or contacting a trainer. Once you have decided, just click on the appropriate link to fill out and submit the form.
It's quick and easy and allows you the option of an email or callback from us.You can even choose when you want the callback. So if you know you're going to be busy all morning, you can request that we call you back in the afternoon.
Self-Help
If you prefer to do things yourself, then our Knowledge Base is the tool for you! The Knowledge Base is full of articles giving you step-by-step instructions about how to use the software and all of its features. Also, find articles to help you resolve issues when you see error messages or experience any difficulties with your Daktronics equipment.
Below the Knowledge Base link, you will find the "Release notes and latest product update information" link. If you click on this link, it will tell you what the latest updates are and show you where to find them in the software. There is also a section under that showing  the version you are using. It's a great place to stay up-to-date with your new software!
Trainer Tip: When you are finished with the User Menu, you can click on your account name or the user icon again to push it back out of view until next time.
If you found this post helpful and enjoy reading our blog, then be sure to click on the orange "Receive Email Updates" button on the right side of your screen.
Thanks for reading!
---