Using EANS Funds to Improve Educational Technology with Daktronics
If your school has access to EANS funds, consider using them on a Daktronics display in your sports facility to provide unparalleled opportunities for students. Or install them throughout your school campus to communicate with your community.
8/1/2022
Categories: High School Sports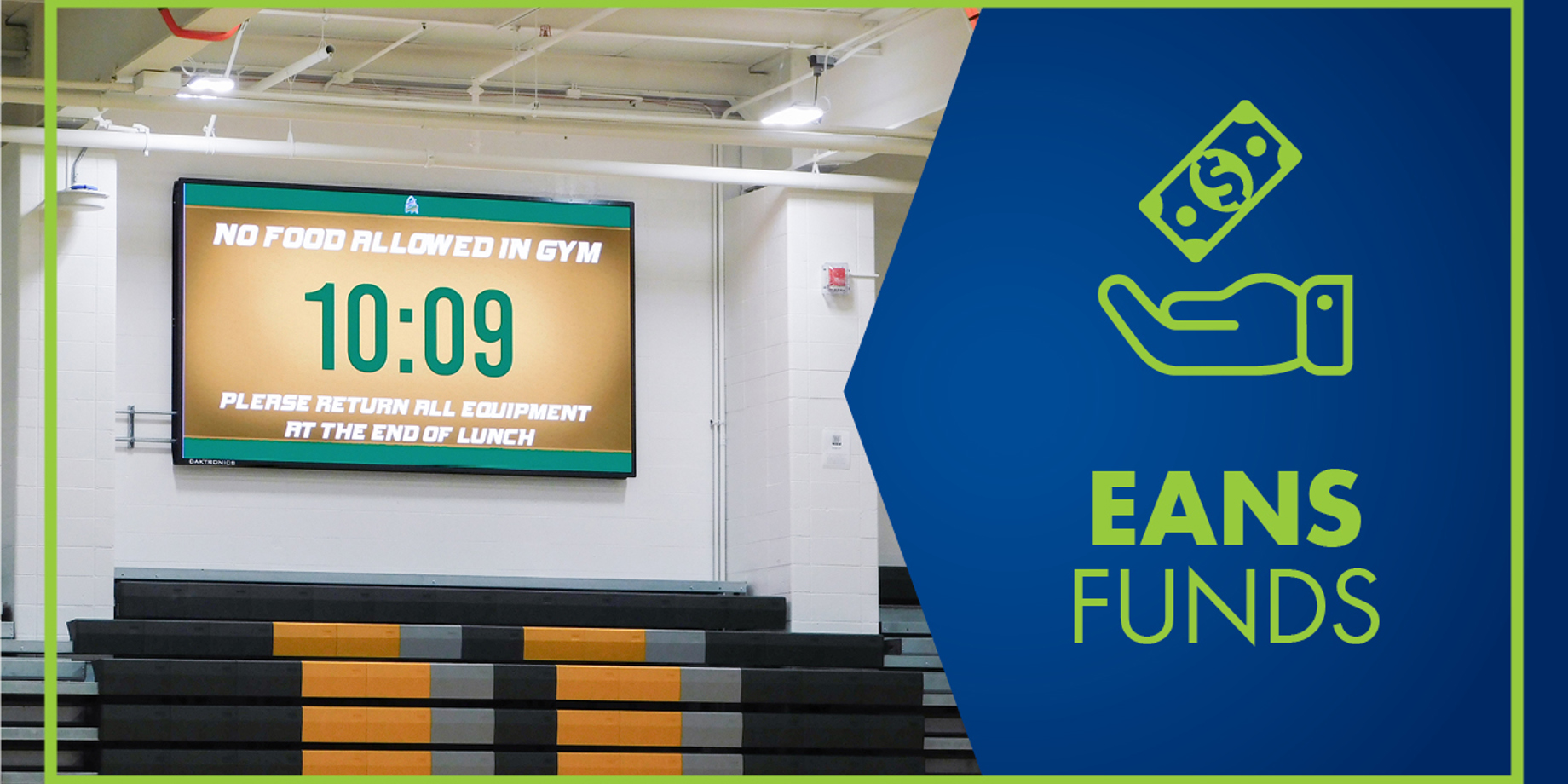 EANS, or the Emergency Assistance to Non-Public Schools, is a fund designed to help non-public schools address the impact of COVID. Governors across the country can access funds to distribute to those schools based on financial need.
"The Coronavirus Response and Relief Supplemental Appropriations (CRRSA) Act, 2021 provides $2.75 billion for the Emergency Assistance to Non-Public Schools (EANS) program, which is part of the Governor's Emergency Education Relief (GEER) Fund. Under the EANS program, the Department will award grants by formula to each Governor with an approved Certification and Agreement to provide services or assistance to eligible non-public schools to address the impact that the Coronavirus Disease 2019 (COVID-19) has had, and continues to have, on non-public school students and teachers in the State."
Schools that want to provide additional student opportunities and improve communication with students, parents, teachers and the community can benefit by paying for a digital display with available EANS funds. Daktronics displays fall under the category of "education technology."
With a digital display, school districts can communicate upcoming events, news, cancellations or evolving school restrictions. A Daktronics digital display can also provide students with education and opportunities they can't find anywhere else.
Learn more about DakClassroom – including the Daktronics Event Production Curriculum, Show Control Classroom Edition and Crew Connect – on our website.
You can learn more about the requirements and restrictions for using EANS funds in the FAQs of the Office of Elementary & Secondary Education website.
Setting a precedent
Aletheia Christian Academy in Pensacola, Florida, is a K-12 Christian school with 240 students. When they reached out to Daktronics sales representative Kody Thompson, they started exploring the prospect of using EANS funds for communication purposes.
Aletheia wanted to install a digital display in their gym to aid in communication and education. For example, the school uses their gym for religious worship services, and they wanted to show music on the display. They hoped to play instructional videos to lead students during fitness classes, as well as using it as a visual aid during educational assemblies and parent meetings.
They also planned to offer the Daktronics Event Production Curriculum and to encourage students to use Crew Connect during their college and career planning.
To use their EANS funds, they submitted the quote and a short description of the ways they want to use their digital display. They were approved quickly, and now have the first indoor digital display in Northern Florida.
Current states approved to purchase Daktronics
In Florida, they work through a company called ClassWallet, a distributor of EANS funds. ClassWallet is currently working with eight states, and Daktronics has been approved in four states at the time of this writing:
Arkansas
Florida
Indiana
South Carolina
Each state handles EANS funds in its own way, so we encourage you to contact your state administrator about how to go about using your EANS funds to improve communication with the public while providing new opportunities for students.
---