Hosting the CAA Men's Basketball Tournament at James Madison University: A Q&A with Event Producer Katie Windham
A conversation about hosting and event production for the CAA college men's basketball tournament at James Madison University with Daktronics video displays.
Justin Ochsner on 3/5/2021
Categories: Pro Sports and Colleges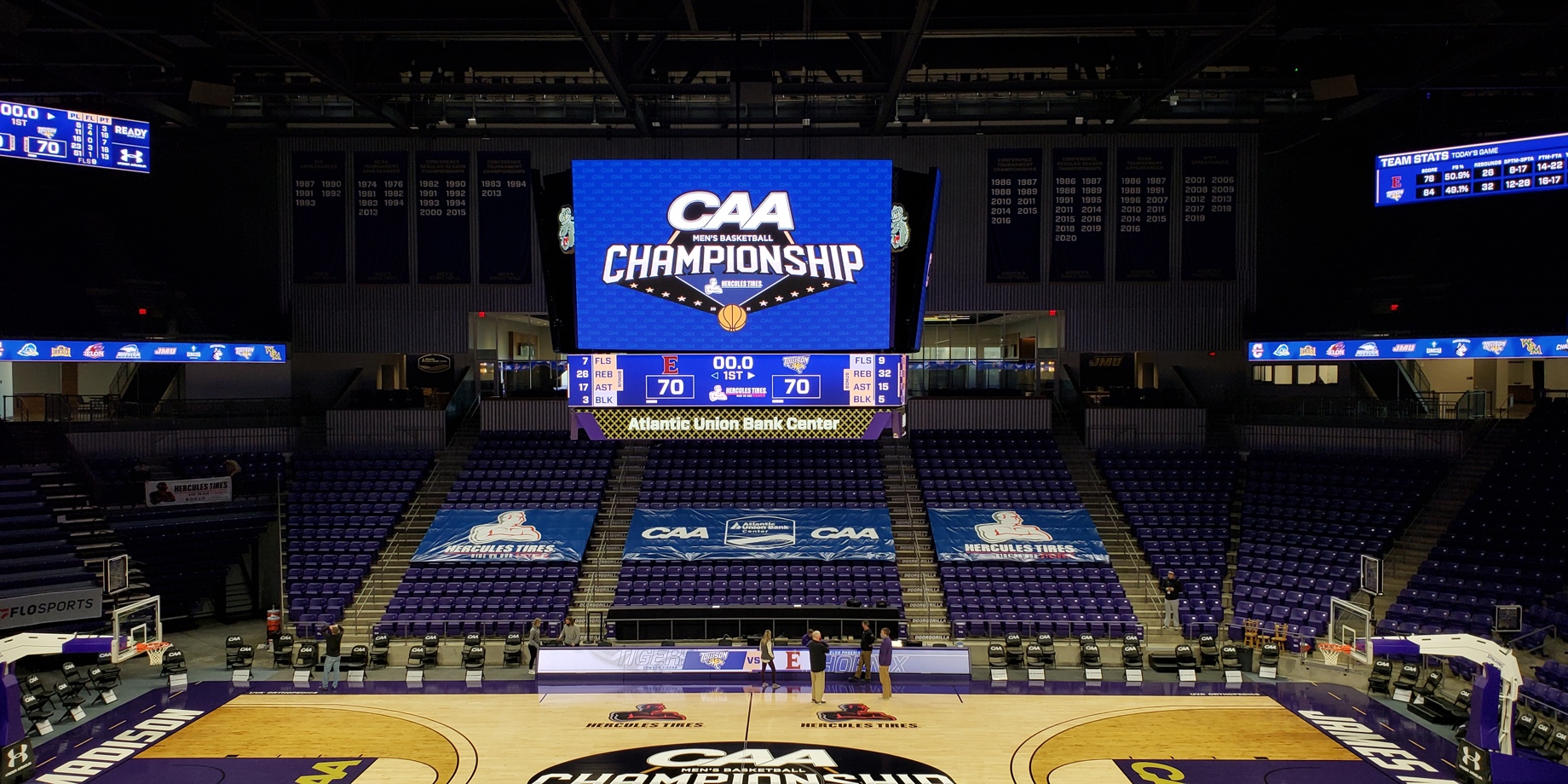 We all know March as a month of madness when it comes to college basketball. Throw in a new venue with new equipment and a pandemic and you're getting closer to what's currently happening on the campus of James Madison University this weekend. In the depths of preparation and show run-throughs, Daktronics Event Producer on campus at JMU Katie Windham took a few minutes to share what's going behind the scenes for this four-day tournament.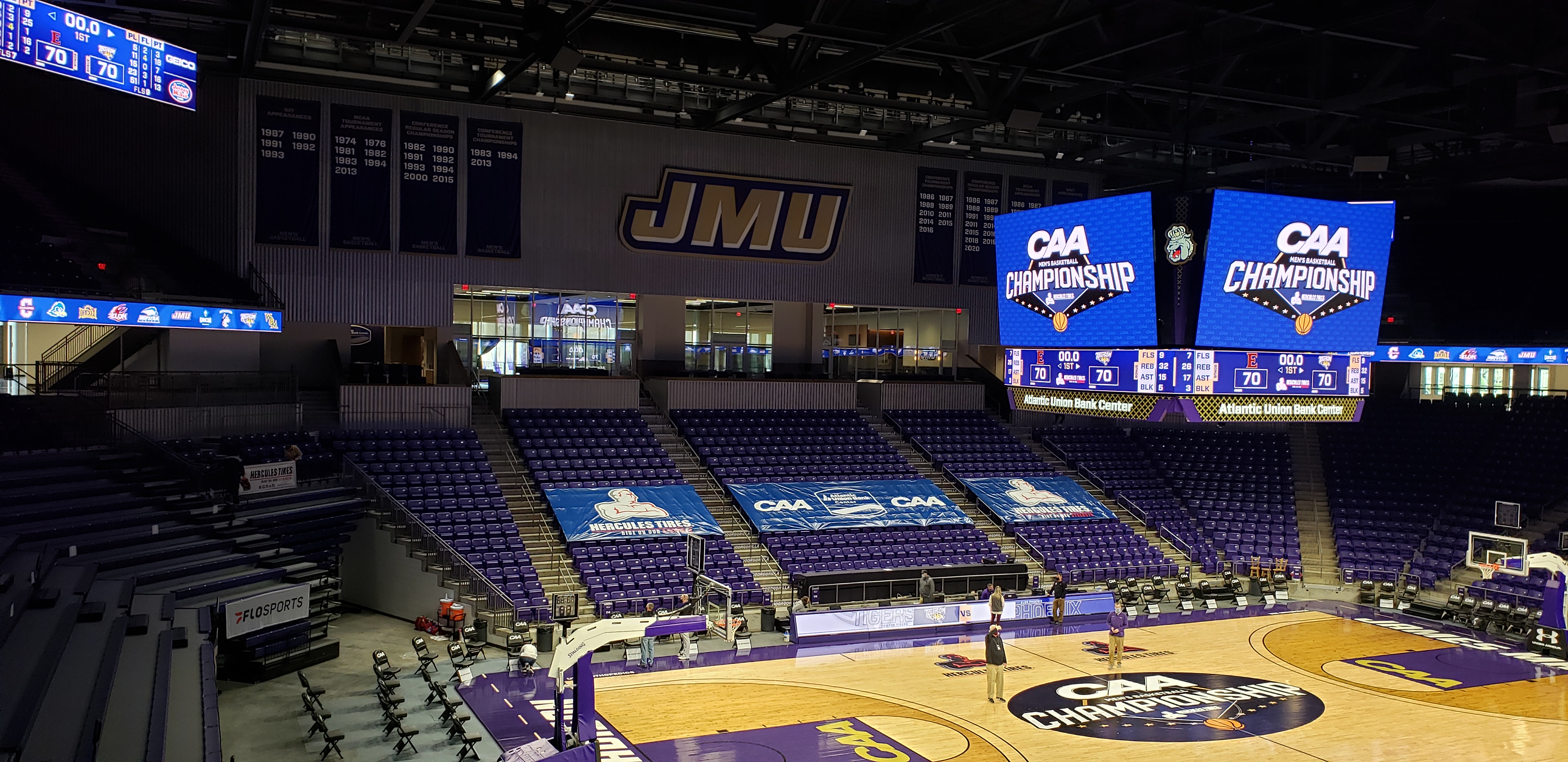 Q: Hey Katie! Could we start by sharing the details of the tournament this weekend?
A: Hi Justin! We're pretty excited at JMU as we're hosting the Colonial Athletics Association (CAA) men's basketball tournament at our new home, the Atlantic Union Bank Center in Harrisonburg, Virginia. The tournament tips off tomorrow, March 6, with two games followed by four games on Sunday, two games on Monday and the championship on Tuesday.
Q: What's it like to be the event producer for an event like this?
A: It's exciting and stressful at the same time! There are a lot of things to think about that are different from a regular season home game. The hardest part is remaining neutral. We're used to sharing plenty of JMU specific content and cheering on our team, but this is the conference's tournament so we have to be sure we're supporting both teams during each game. When it comes to content, we're still doing some of the things we would normally do, but for all 10 teams. We're sharing team specific intros, headshots for everyone and warmup content. We're also showing replays differently as we need to show the live action on both ends of the court we can't jump directly to a replay as would have more flexibility to during a regular season game.
Anyone who's been behind the scenes in the production room during a tournament knows how intense it can be. It's a grind but it's also very exciting!
Q: Maybe this is one of the big questions of the time we're living in right now but we have to ask, will there be fans in attendance this weekend?
A: Yes, but in a different capacity that we're used to at tournament time. We are limiting the attendance to 250 people to follow our state and local government regulations. So, friends and family of each team and those people on the player pass list will be allowed to attend.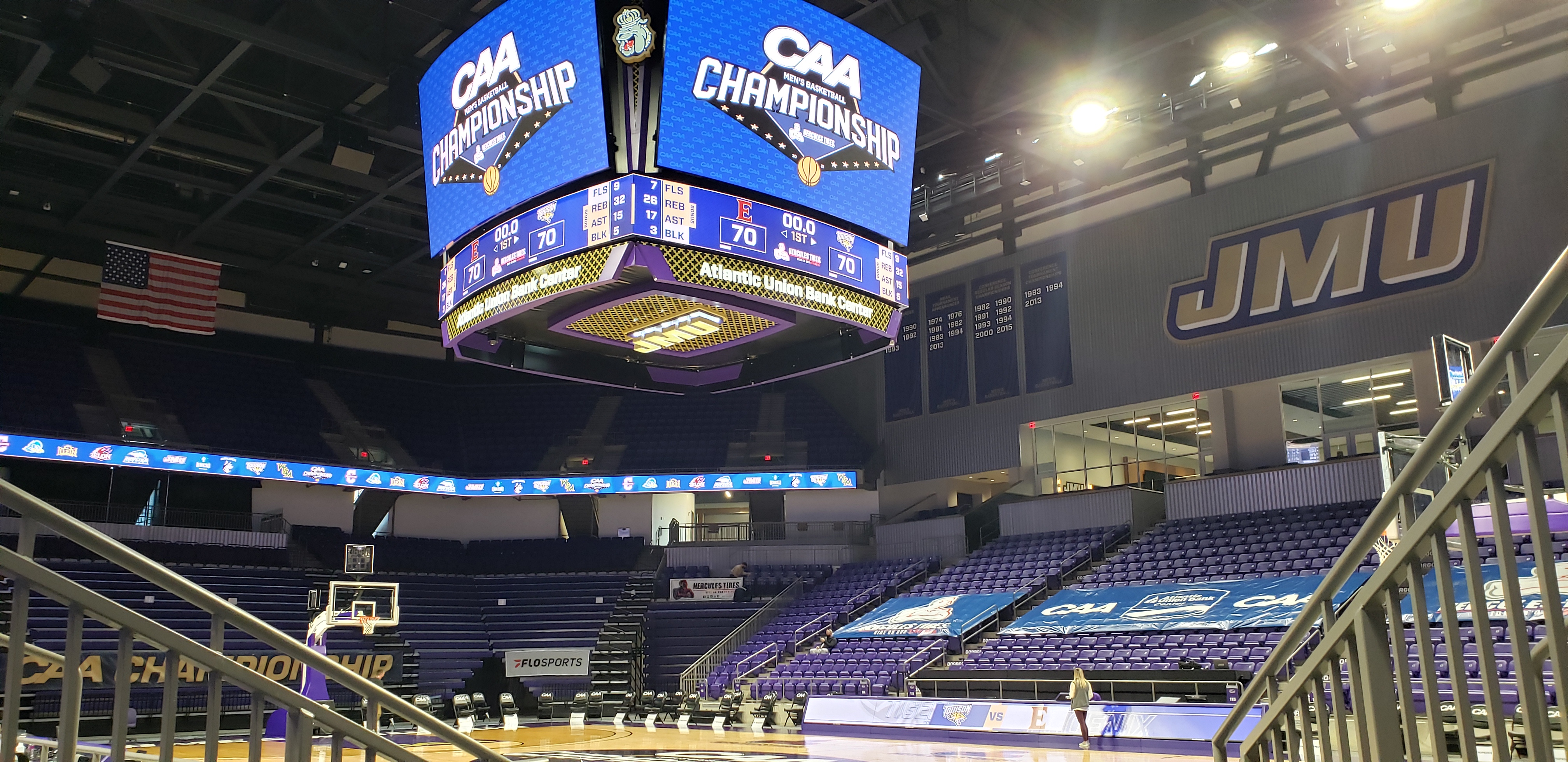 Q: To follow that up, when did you host the first event in the arena with your new display system?
A: Ahh, it's a day I remember very well – November 25th, 2020. It was the first day the NCAA opened up and allowed games to be played. We took full advantage and hosted both men's and women's basketball games that day. Then we ended up doing five games in seven days as we were pretty excited to open our gorgeous new venue.
Q: So you've had a few months to sort of get used to the new arena and system inside. What can we expect during the tournament?
A: Yes, it's been nice to use our new system and learn some of the cool things we can do within the venue. But when it comes to the tournament, again, this is the CAA's event which means we'll be doing things a little bit differently. I mentioned all the differing content we'll have to use to represent all of the teams and players, but one awesome thing that has made my life a little bit easier is our content templates from Daktronics Creative Services. I'm able easily change colors and logos within these templates to give each team their own content. And working with the system for a few months, I know how all my files need to be set up so they show correctly on all the displays and adjusting everything for the tournament has been pretty seamless.

Since we have to represent each team equally, we won't get to use our full-blown introduction pieces or those that pull all of our auxiliary displays into the content experience due to the complexity of pulling that all together for each team. But we'll still get to show off our centerhung and our light show. Something that's new is our lighting triggers. Putting the triggers together, we worked hard for this integration and it's very big for the back end production side of things. We're no longer coordinating two people to push two buttons at the same time. Instead, I'll be pushing one button and everything will happen. Again, it's less stress for me and marketing but the intent is for the fans not to notice that difference in workflow. They will still get the same awesome experience.
Q: For James Madison University, what does it mean to host the tournament?
A: It's huge! In general, hosting a tournament is a big deal. But this year, for our JMU men's team, they've gone from worst to first in the conference and enter the tournament as the #1 seed with home court advantage. That makes this extra exciting for everyone at JMU. It's the best you could ask for in a tournament situation. The last three games of the tournament will be on CBS Sports Network and getting to show off our fancy new arena on television is awesome!
Thanks to Katie for taking some time out of her busy day to give us some background information on what it's like to work behind the scenes at a conference basketball tournament and sharing everything about the CAA men's tournament at JMU's new Atlantic Union Bank Center. To read about all the new technology Daktronics installed in 2020, here's a link to the news release with more details. Thanks for reading and enjoy the tournament!
---