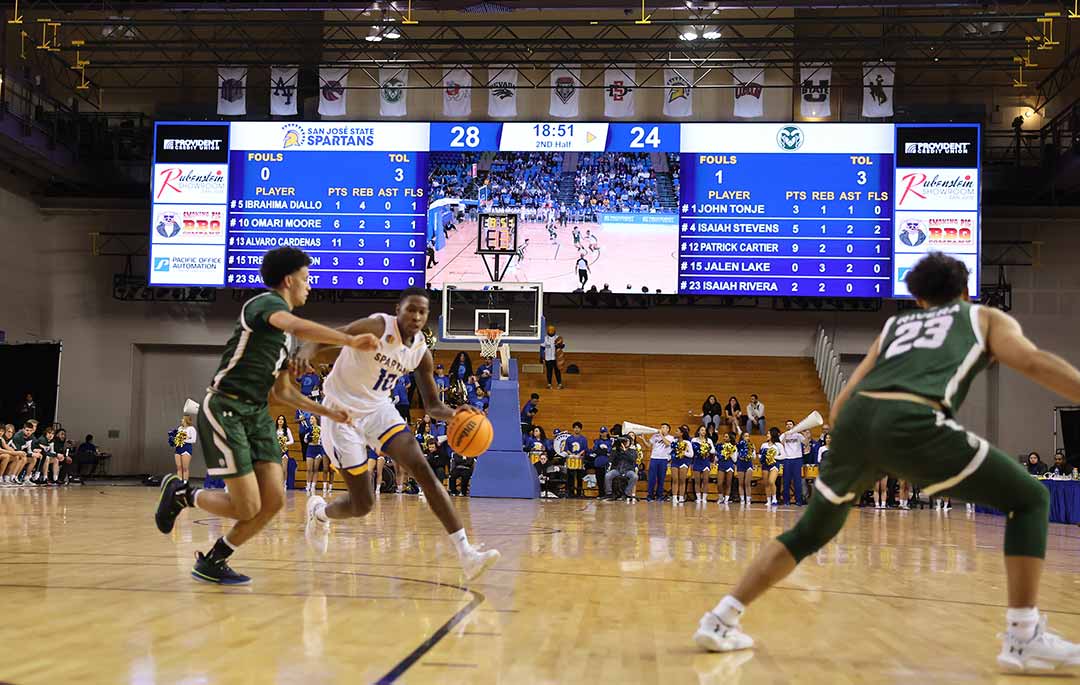 San José State Athletics Partners with Daktronics for Largest Video Display at a Collegiate Basketball Facility
The Spartans launched the new video board in 2022-23 for basketball and women's gymnastics
BROOKINGS, S.D. – June 8, 2023 – To deliver the largest LED video display in a collegiate basketball facility, Daktronics (NASDAQ-DAKT) of Brookings, South Dakota, partnered with San José State University in California. The project was completed in the fall of 2022 and entertained audiences for the 2022-23 basketball and women's gymnastics seasons.
"We are so pleased with the new Daktronics video board enhancement that was recently installed in the Provident Credit Union Event Center on the campus of San José State University," said San José State Director of Athletics Jeff Konya. "The fact that it is the largest surface area video board in all of college athletics is a triumph in and of itself but it certainly assists in producing first-class game-day environments for the sports of basketball and gymnastics."
The massive end wall display measures approximately 15.5 feet high by 75.5 feet wide and will feature a 5.9-millimeter pixel spacing to deliver crisp, clear imagery to fans throughout the arena. The display is capable of variable content zoning allowing it to show one large image or to be divided into multiple zones. Those zones can then show any combination of live video, instant replays, up-to-the-minute statistics, graphics and animations, and sponsorship messages.
"Daktronics is excited to work with San José State University to create a state-of-the-art event center that will be a destination for fans and students alike," said Eric Cain, Daktronics sales representative. "The video boards will be a key part of the experience and will help to create a memorable atmosphere."
In addition to the main display, San José State also received two marquee displays and five courtside scorers tables. Each scorers table measures approximately 2.5 feet high by 10 feet wide and features 5.9-millimeter pixel spacings. These displays offer the opportunity to highlight sponsors throughout events while also providing supplemental information, statistics and graphics that fans crave.
Outside the venue, one marquee display will feature 10-millimeter pixel spacing and will measure 3 feet high by 61 feet wide and the other display will feature 8-millimeter pixel spacing and will measure 7 feet high by 12 feet wide. They will each connect with audiences as they arrive at the venue or pass by and can share current and upcoming event information, sponsorship messages, and other athletics and campus announcements.
Daktronics also included a complete Show Control solution. This industry-leading control system provides a combination of display control software, world-class video processing, data integration and playback hardware that forms a powerful yet user-friendly production solution. For more information on Show Control, visit www.daktronics.com/show.
In addition to the equipment installation, San José State will also receive a content package that will be produced and delivered by Daktronics Creative Services.
Daktronics has grown with the sports industry from the company's beginnings in 1968. Today, the company has LED video display installations at hundreds of colleges and universities across the United States. For more information on what Daktronics can provide for the collegiate market, visit www.daktronics.com/college.
About Daktronics
Daktronics helps its customers to impact their audiences throughout the world with large-format LED video displays, message displays, scoreboards, digital billboards, audio systems and control systems in sport, business and transportation applications. Founded in 1968 as a USA-based manufacturing company, Daktronics has grown into the world leader in audiovisual systems and implementation with offices around the globe. Discover more at www.daktronics.com.