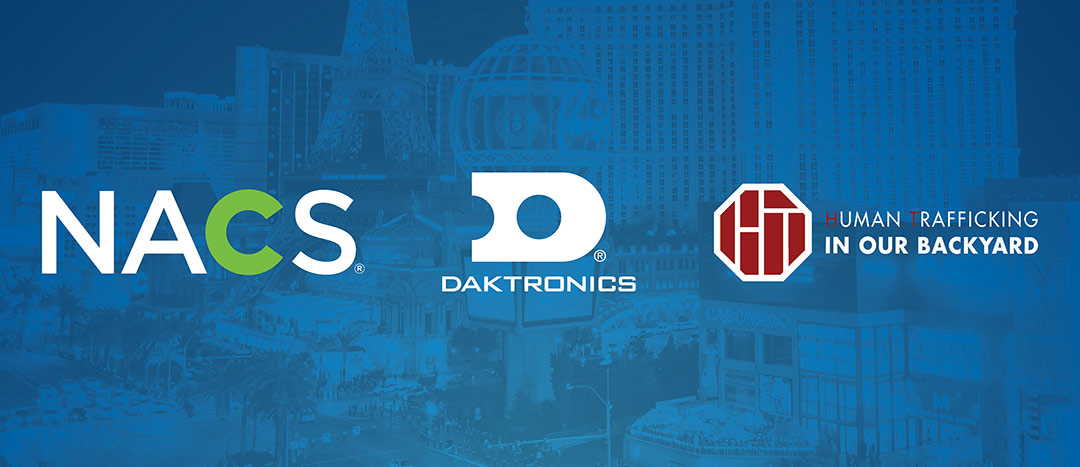 Daktronics Showcases Convenience Store Trends at NACS
Digital drive-thru menu boards and community awareness feature strongly in complete digital solution
BROOKINGS, S.D. – Sept. 27, 2022 – Convenience stores around the United States are looking for new ways to improve the customer experience and increase sales. One solution that's trending is digital drive-thru displays. C-stores interested in this technology can see it in person at the Daktronics (NASDAQ-DAKT) booth at NACS October 1-4 in Las Vegas.
"Convenience stores that want to expand sales of their food service program can benefit from digital drive-thru menu boards," says Daktronics Marketing Strategist Jess Bern. "Daktronics has provided indoor and outdoor digital signage in the c-store industry for many years, and we are excited to provide the new drive-thru solution. At NACS, we are giving people in the industry a chance to see it in person before they invest in the technology."
While the convenience store drive-thru is a fairly new concept, there are some large chains experimenting with it in the push to drive more business. Rather than simply filling their cars, customers can benefit from the convenience of a drive-thru.
Digital drive-thru boards are only the latest in the digital offerings from Daktronics. C-stores benefit from complete digital solutions, including FuelightTM petroleum displays, streetside Galaxy® LED displays, indoor LED and LCD signs, Venus® Control Suite software for simple content control and more.
Content to raise awareness
Convenience stores with digital signs can use them for more than increasing revenue. They can also provide messaging and services to their communities with local alerts such as emergencies, disasters and missing children.
At NACS 2021, Daktronics formed a partnership with the organization Human Trafficking: In Our Backyard. To help their efforts to raise awareness and recover missing children, Daktronics created free content for any business with a digital sign, whether or not that sign is from Daktronics.
C-stores that want to make a difference in their communities can learn how to download this digital content at the Daktronics booth. You can also pick up materials about joining more than 30,000 convenience stores supporting the In Our Backyard organization. You can learn more at https://inourbackyard.org/our-impact/convenience-stores-against-trafficking/#partner, or contact Child Trafficking Survivor and Executive Director Cheryl Csiky at Cheryl@inourbackyard.org.
Find Daktronics at NACS Booth #5966.
​About Daktronics
Daktronics helps its customers to impact their audiences throughout the world with large-format LED video displays, message displays, scoreboards, digital billboards, audio systems and control systems in sport, business and transportation applications. Founded in 1968 as a USA-based manufacturing company, Daktronics has grown into the world leader in audiovisual systems and implementation with offices around the globe. Discover more at www.daktronics.com.
Safe Harbor Statement
Cautionary Notice: In addition to statements of historical fact, this news release contains forward-looking statements within the meaning of the Private Securities Litigation Reform Act of 1995 and are intended to enjoy the protection of that Act. These forward-looking statements reflect the Company's expectations or beliefs concerning future events. The Company cautions that these and similar statements involve risk and uncertainties which could cause actual results to differ materially from our expectation, including, but not limited to, changes in economic and market conditions, management of growth, timing and magnitude of future contracts, and other risks noted in the company's SEC filings, including its Annual Report on Form 10-K for its 2018 fiscal year. Forward-looking statements are made in the context of information available as of the date stated. The Company undertakes no obligation to update or revise such statements to reflect new circumstances or unanticipated events as they occur.