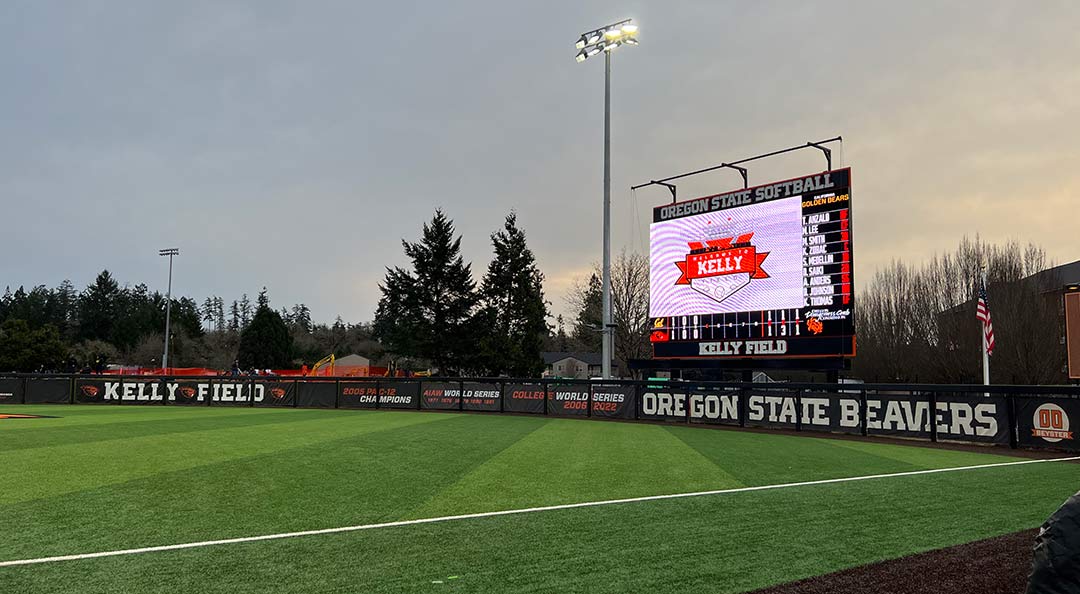 Daktronics Installs Largest Video Display for Softball in Pac-12 at Oregon State University
Nearly 735 square feet of digital canvas installed at Kelly Field
BROOKINGS, S.D. – Mar. 23, 2023 – Daktronics (NASDAQ-DAKT) of Brookings, South Dakota, has continued a partnership with Oregon State University to design, manufacture and install the largest LED video display for softball in the Pac-12 Conference at Kelly Field in Corvallis, Oregon. Installation took place in March to be ready ahead of the Beaver softball season swinging into action on March 17.
The new video display in right field measures approximately 20.5 feet high by 36 feet wide and features a 15HD pixel layout to deliver crisp, clear imagery with wide angle visibility to appeal to Beavers fans in any seat. It incorporates industry-leading environmental protection to ensure it operates as expected in the Oregon outdoor elements.
"This display is an amazing enhancement to the game-day experience for Beaver Softball and their fans," said Brady Jacobsen, Daktronics regional sales manager. "We're excited to once again partner with Oregon State University to deliver this new visual presence on campus for their athletics program."
To provide fans with all the information and statistics they crave, the display is capable of variable content zoning. This allows it to show one large image but to also be divided into multiple zones to show a combination of content at the same time. This can be live video, instant replays, graphics, animations or sponsorship messages.
Daktronics will also be including a complete Show Control solution. This industry-leading control system provides a combination of display control software, world-class video processing, data integration and playback hardware that forms a powerful yet user-friendly production solution. For more information on Show Control, visit www.daktronics.com/show.
In addition to the equipment installation, the Beavers will also receive a digital content package to be produced and delivered by Daktronics Creative Services to help bring their display to life and entertain their fans.
Daktronics has grown with the sports industry from the company's beginnings in 1968. Today, the company has LED video display installations at hundreds of colleges and universities across the United States. For more information on what Daktronics can provide for the collegiate market, visit www.daktronics.com/college.
About Daktronics
Daktronics helps its customers to impact their audiences throughout the world with large-format LED video displays, message displays, scoreboards, digital billboards, audio systems and control systems in sport, business and transportation applications. Founded in 1968 as a USA-based manufacturing company, Daktronics has grown into the world leader in audiovisual systems and implementation with offices around the globe. Discover more at www.daktronics.com.