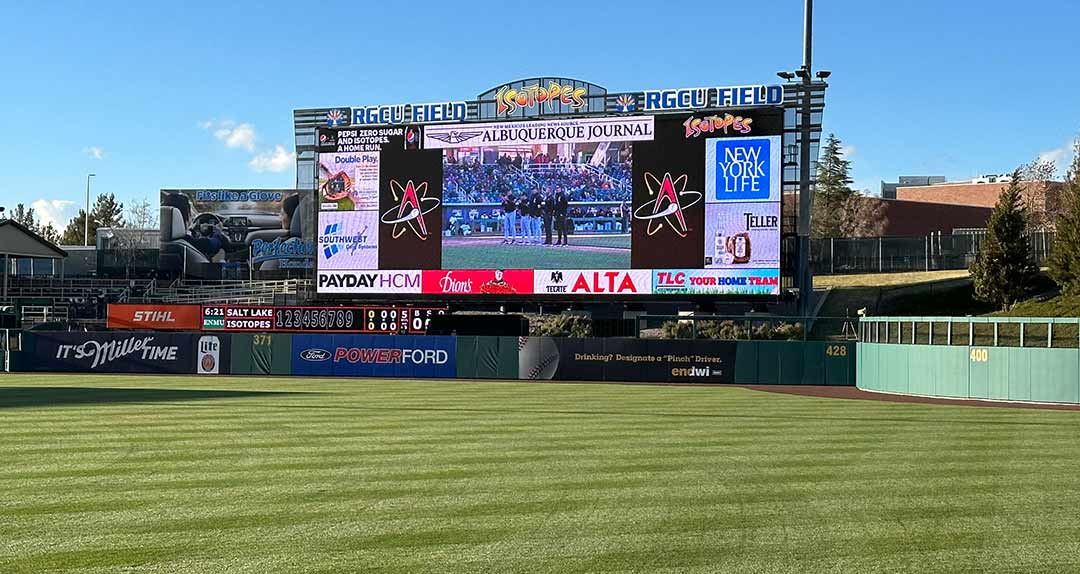 Albuquerque Isotopes Bring New LED Displays to Game-Day Experience from Daktronics
Outfield video display and out-of-town display installed inside Rio Grande Credit Union Field at Isotopes Park
BROOKINGS, S.D. – June 1, 2023 – When fans attend baseball games at Rio Grande Credit Union Field at Isotopes Park in Albuquerque, New Mexico, they are welcomed by two new LED displays that were designed, manufactured and installed by Daktronics (NASDAQ-DAKT) of Brookings, South Dakota, for the Albuquerque Isotopes. The displays were installed late in 2022 and are entertaining and informing audiences at events held at the ballpark.
"The fan experience at Isotopes Park will now rise to an unprecedented level," said John Traub, Isotopes vice president & general manager. "Of all the improvements we've made to the facility over the years, this is the most outstanding."
The new main video display and structure, one of the largest in the minor leagues, measures nearly 35 feet high by 110 feet wide and features a 15HD pixel layout to deliver excellent image clarity and contrast to fans throughout the ballpark. It is capable of variable content zoning allowing it to show one large image or multiple zones of content ranging from live video and instant replays to statistics, game information, graphics and sponsorship messages.
"With new technology at Isotopes Park, every event will have an extra element of excitement and these LED displays are there to deliver a wow factor the entire time," said Rusty Lenners, Daktronics sales representative. "The staff with the Isotopes has been extremely professional and accommodating throughout this entire process and we couldn't be more excited to see this project come to fruition for their team and their fans."
The out-of-town display measures nearly 5 feet high by 51 feet wide and features the same 15HD pixel layout. This display shares out-of-town scores and league-wide updates to keep fans informed of what's happening around the league during the game happening before their eyes.
Both of these displays incorporate industry-leading environmental protection to ensure they operate as expected in the outdoor New Mexico weather.
Daktronics will also be including a complete Show Control solution. This industry-leading control system provides a combination of display control software, world-class video processing, data integration and playback hardware that forms a powerful yet user-friendly production solution. For more information on Show Control, visit www.daktronics.com/show.
About Albuquerque Isotopes
The Albuquerque Isotopes are the Triple-A affiliate of the Colorado Rockies and play in the Pacific Coast League. Entering their third decade in Albuquerque, the Isotopes have drawn nearly 11 million fans since their inception and led the PCL in average attendance in 2022. The Isotopes have ranked in the top 10 attendance leaders in Minor League Baseball in every year of their existence.
About Daktronics
Daktronics helps its customers to impact their audiences throughout the world with large-format LED video displays, message displays, scoreboards, digital billboards, audio systems and control systems in sport, business and transportation applications. Founded in 1968 as a USA-based manufacturing company, Daktronics has grown into the world leader in audiovisual systems and implementation with offices around the globe. Discover more at www.daktronics.com.