Safety First! Use Your Display to Create a Safe Environment
Digital signs quickly spread information about severe weather, missing persons, and other emergencies.
8/28/2020
Categories: Out of Home Advertising
Everyone knows that LED displays are great advertising mediums. You see them in front of most businesses as you drive through a town, but LED displays have so much more to offer than simply boosting sales.
Take advantage of the mass communication capabilities of digital signs by alerting your community about any present dangers or important announcements. Doing so builds a loyal following within your community.
Public Health Information
Throughout this pandemic, communication is even more important in everyday life than usual. Regulations and daily routines are changing almost daily, and keeping everybody on the same page can be a difficult task.
Whether its sharing business hours and regulations or providing simple reminders for wearing masks and using hand sanitizer, an LED display is an easy way to reach your community.
Weather Emergencies
Let everyone know when severe weather is moving into your area. Whether its telling people to seek shelter from a tornado, to drive slowly through a blizzard, or to evacuate for a hurricane, a digital sign can spread the message to hundreds of people in a short amount of time.
Even a simple heads up that it is likely going to rain later could help somebody out. These types of alerts prepare people for inclement weather and keep everybody safe.
Missing Person Alerts
Losing a child or elderly loved one is a scary time, and LED display owners can help by advertising Amber and Silver Alerts. This lets many people know to be on the look out for those people and any kidnapping threats.
Another use of an LED display could be to announce when a fugitive is on the loose. Each of these examples will give your community a sense of safety and unity.
Using IPAWS
Daktronics Venus Control Suite software enables your display to include Integrated Public Alert & warning System (IPAWS) in your content. Watch this video to learn how!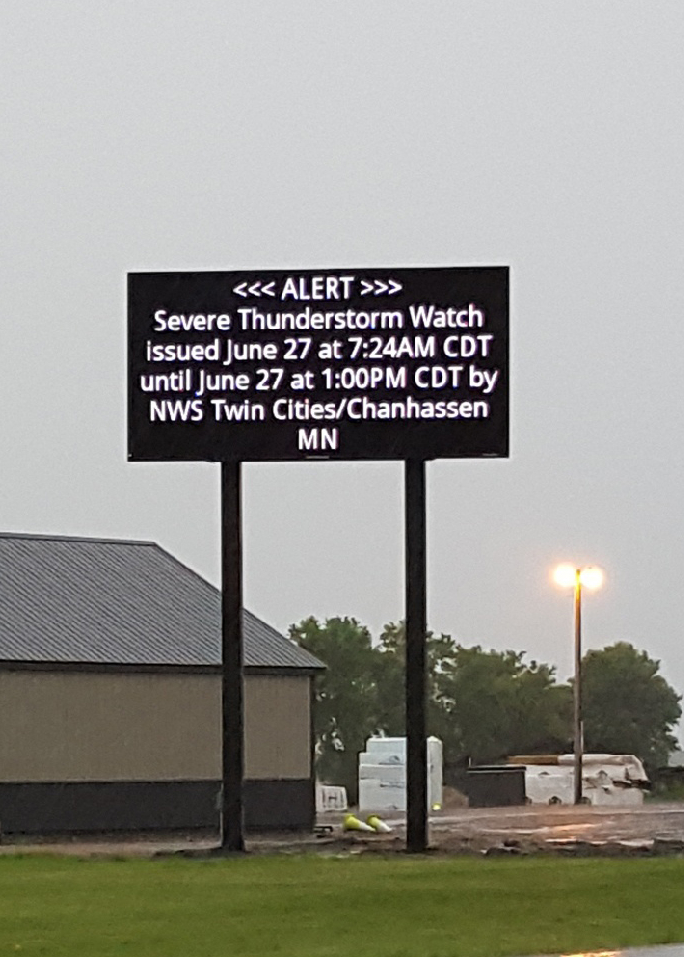 Mixing in emergency alerts to your content playlist is an easy way to care for and connect with your community on a deeper level.
Also learn how to prepare your display for severe weather, check out this post: Displays and Extreme Weather Events.
---