Creating an Immersive Environment: The Digital Experience Tour
LED technology can play an integral role as airport facilities around the world continue to embrace immersive and architectural video experiences. Creative content and LED technology come together to blend entertainment and information, giving airport facilities the ability to immerse passengers and become unique destinations.
7/28/2022
Categories: Transportation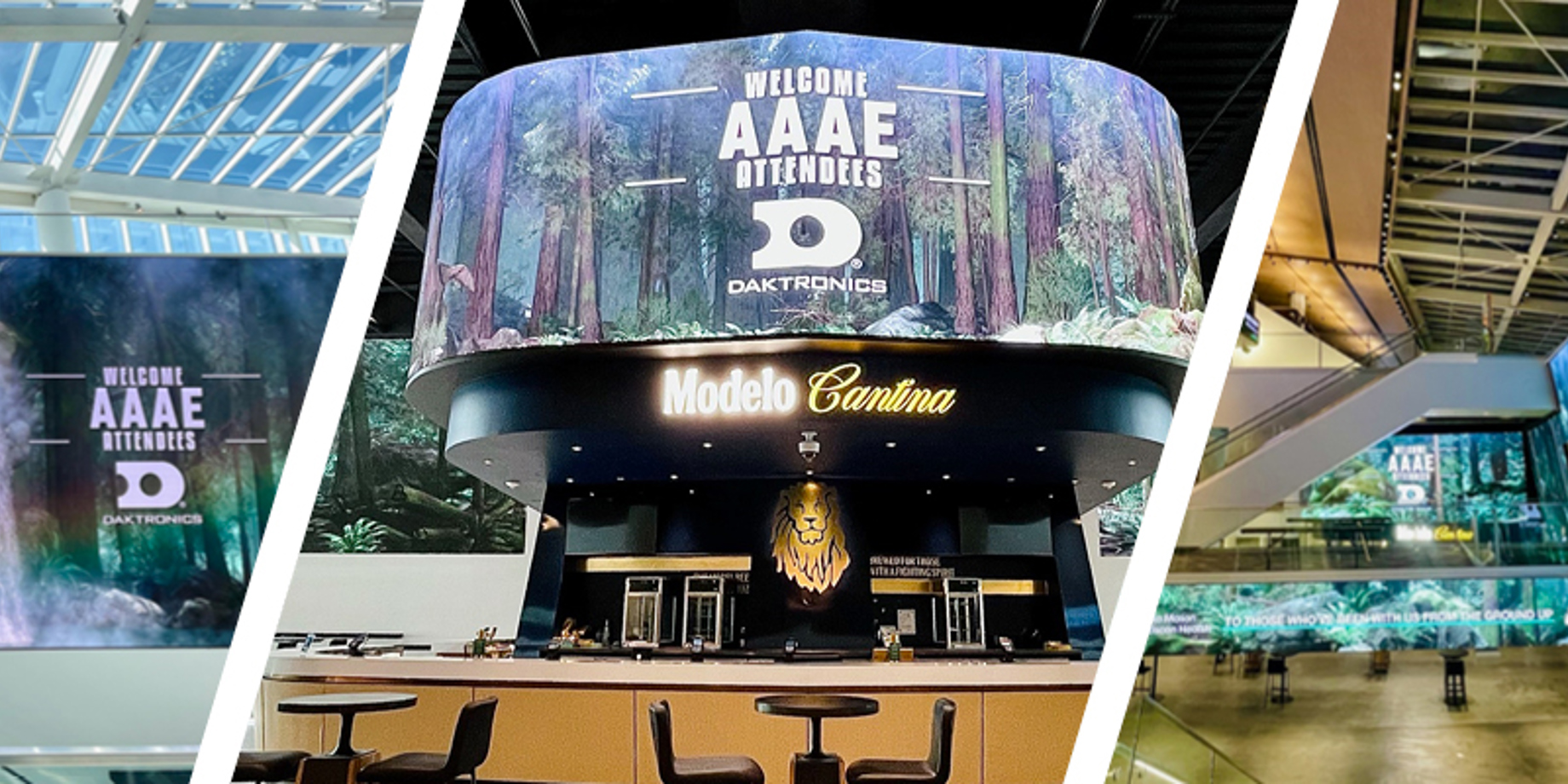 The Daktronics airport team traveled to Seattle, WA for the AAAE (American Association of Airport Executives) Conference & Expo. During the conference, we invited our airport industry colleagues to a private event at Climate Pledge Arena – our very own Daktronics Digital Experience Tour.
Climate Pledge Arena opened in 2021 with one of the most unique and extensive integrated LED systems at a public venue. The facility features dual hanging displays with seamless edges, the first and only trapezoidal, three-sided main video displays in the US. Immersive and dynamic content created by Daktronics Creative Services is featured throughout the entire facility, including a forest environment as well as an underwater environment for Seattle Kraken fans. A total of 224 LED displays are installed in and around the facility, totaling 28,000 square feet of LEDs. That's more than 145 million pixels!
Visiting Climate Pledge Arena got us up close to these large format video displays and various installation configurations.
From the AAAE post-conference reception at the Seattle Aquarium, our attendees climbed aboard our Daktronics Digital Experience Tour bus and headed up the road to Climate Pledge Arena. As we walked in, the atrium instantly transported us to an immersive underwater environment. Sea creatures swam across the walls. Scuba divers explored the coral. A whale passed over our heads on the ceiling display.
As we dove deeper into the facility on the two-story escalator, we watched the sea creatures swim past. At the bottom, we entered the Modelo Bar featuring a sign with customized "Welcome AAAE Attendees" messaging – created by Daktronics Creative Services exclusively for our event – layered over the aquarium content.
Our Digital Experience Tour provided a behind-the-scenes excursion throughout Climate Pledge Arena. Here is a recap of what we saw along the way, along with ideas about how airports could use this technology: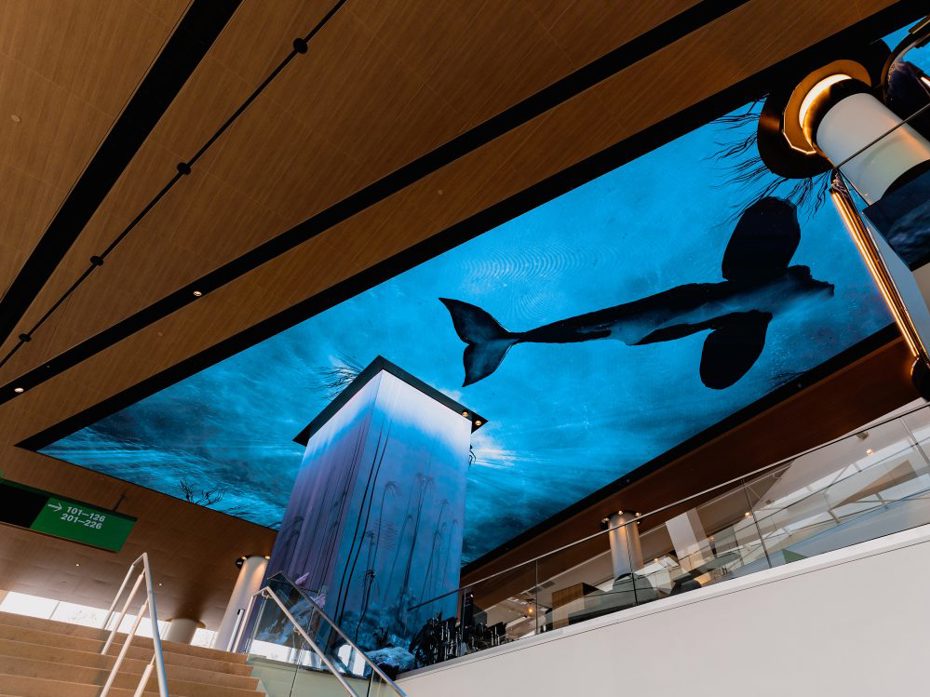 Atrium
Column and ceiling displays
Create a 360-degree customer experience that stands out as a highlight of traveling. Brand your destination partners and overlay wayfinding or flight information.
Modelo Bar
Eye-catching food and beverage area
Set food and beverage areas apart with large-scale LED elements that are impossible to miss, or draw travelers in with images of menu items.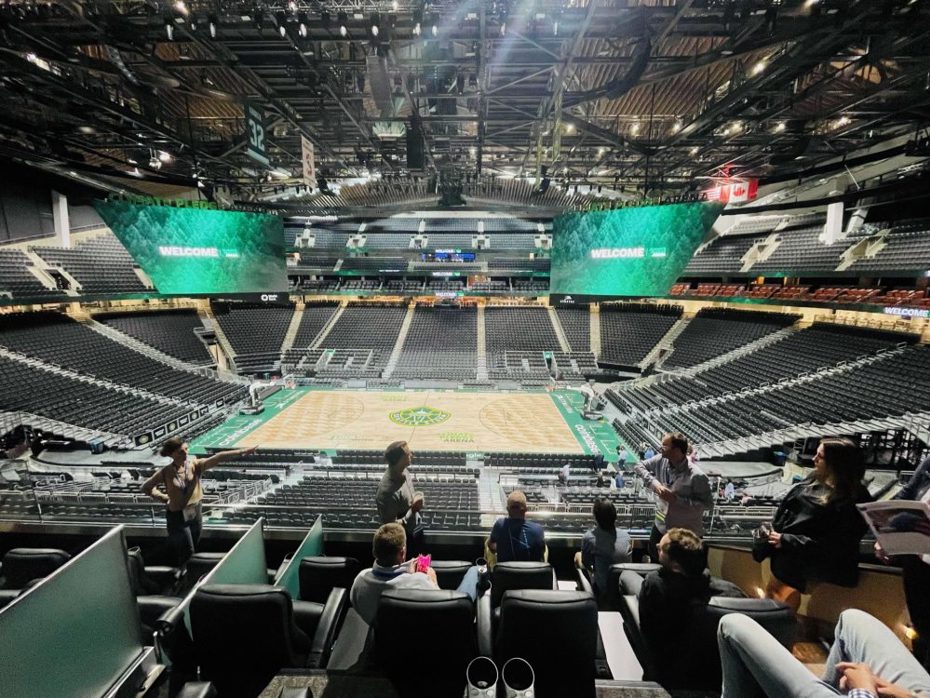 Centerhung Displays
Trapezoidal shapes with multiple angles
LED technology can adapt to architectural structures, creating seamless imaging across sharp angles, rounded edges or any unique shape.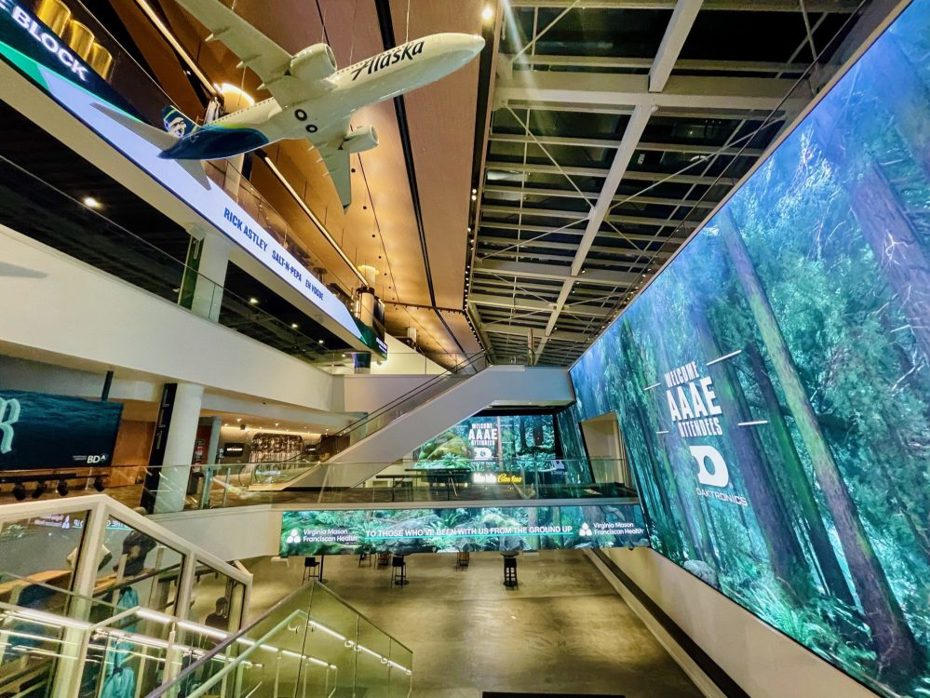 Picture & Living Walls
Large-scale experiential digital displays
The pairing of architectural materials with an LED wall fills a massive space in an elegant way. This application can mix flight and navigation information with dynamic elements from your digital environments.
---
The Wrap-Up
Our group ended the tour back at the Modelo Bar, which features an excellent view of the atrium, which had now transformed to a lush forest environment. Deer walked through the woods. Plants swayed in the wind. A waterfall roared and cast a rainbow across the scene. If you looked closely, you could even spot Sasquatch lurking in the trees.
Everyone who took part in the Daktronics Experience Tour was inspired to fly high with digital. When you are ready to raise your airport to the next level, Daktronics invites you to explore our advanced LED technology.
---