Create Breathtaking Borders in Content Studio
Do you realize that after celebrating Independence Day (The 4th of July) that we are almost half way through summer?!  I guess when they say, "Time flies when you're having fun!" they weren't joking around!  You know what other saying is also true?  "The early bird gets the worm."  And now is the time to […]
Daktronics Commercial Software Training on 7/5/2017
Categories: Venus Control Suite Training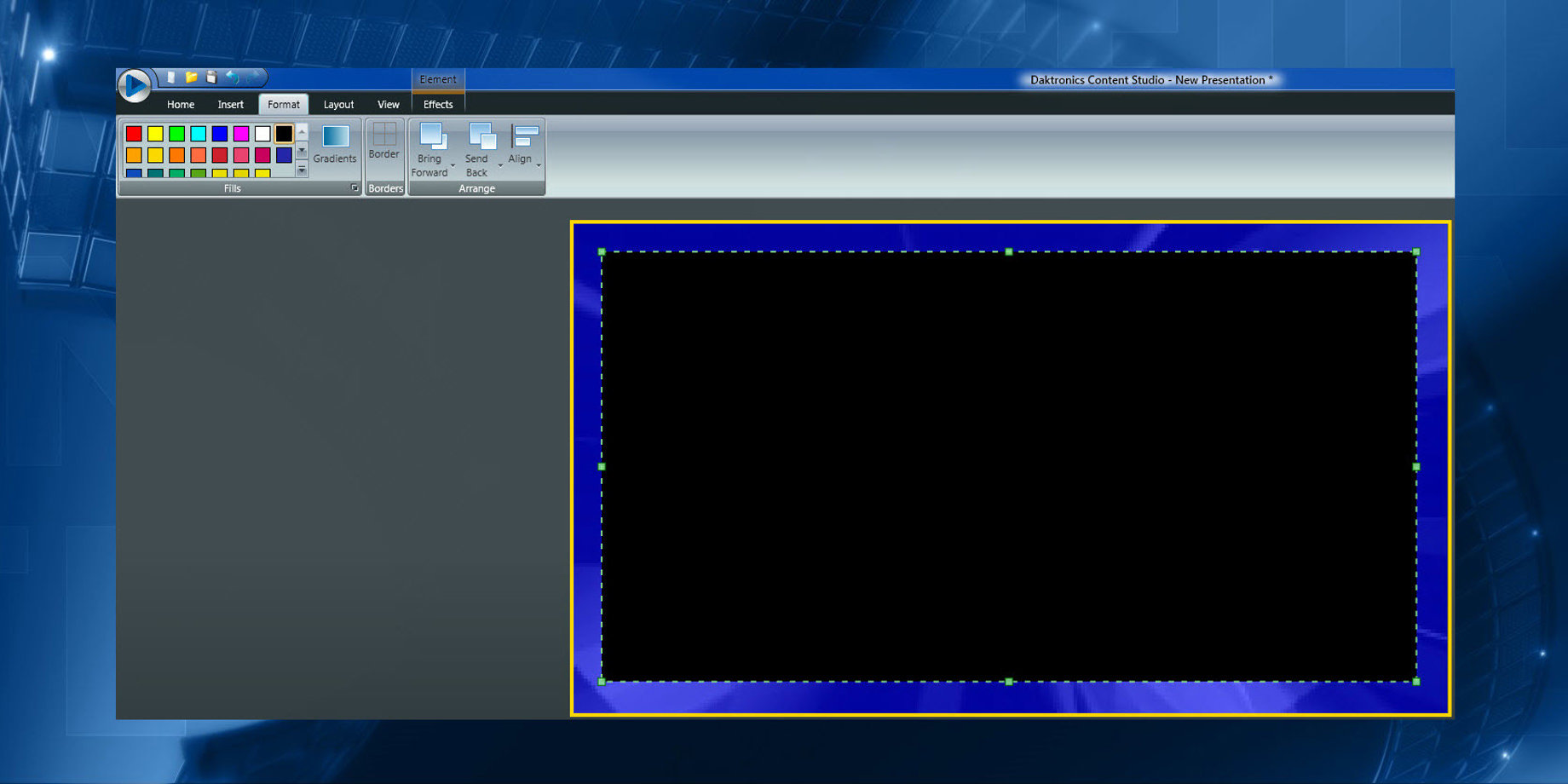 Do you realize that after celebrating Independence Day (The 4th of July) that we are almost half way through summer?!  I guess when they say, "Time flies when you're having fun!" they weren't joking around!  You know what other saying is also true?  "The early bird gets the worm."  And now is the time to start preparing for. . . back to school!
So, we're going to show you how to create some breathtaking borders on your display!
Back to school facts
Did you know that, a Google/Ipsos Research study conducted in 2013 found that most students and parents begin researching potential purchases by the end of July?
Back to school shopping has become the second largest revenue generator for retail companies.  As such, per ad tracking form Ace Metrix, TV ads for back to school shopping start airing in July, that's right, this month! In August, back to school ads will begin airing much more frequently as retailers will begin pushing special deals and new style ideas for the upcoming school year.
With this information, you now know that the earlier start advertising your goods and/or services, the bigger the "worm" you will get!
Even if you don't specifically sell school supplies, you can still take advantage of the situation. Think about all the families that will be out and about during the school year, and how many activities their kids will be attending.  They will need new clothes for concerts and plays; snacks and other foods for lunches, potlucks, and fundraisers; sporting gear for athletic activities; new technology to help with homework; and of course traditional school supplies, such as pencils and notebook paper.
Know Your Audience
Try to think outside of the box! If you live in a college town you could advertise grocery delivery to dorms and apartments, a cleaning service for their new (or old) apartment, eyeglasses to help see the chalkboard from the back of the room, or even a snazzy new phone case!  The sky is really the limit!
Remember, teachers also purchase supplies and snacks for their classrooms, so try advertising to them specifically! Grandparents are an often overlooked group.  Most grandparents shop for their grandkids frequently, so try to get them in the door!
Did you know that Facebook has many senior citizens logging in on a regular basis?
Speaking of which, if you and/or your business are on Facebook, you should advertise that out on your display. Sometimes people don't have the time to stop in and shop, but if they see you're on Facebook then they can look you up at home and plan a return trip if they like what they see!  Remember, you want to keep your potential customers thinking about you as much as possible!
Trainer tip: Did you know that you can get a FREE Facebook ad from the Daktronics e-Commerce website?  It is included in the "Social Media" content package along with content for Foursquare, Pinterest, Twitter, and YouTube.  Simply, click here for instructions on how to begin the order process!

How to create breathtaking borders
Let's talk about how to get people's attention when they pass by your display, shall we? To do this, we are going to import a background image from the Media Kit into Content Studio, place a textbox over it, fill in the textbox, and type our message. Easy as pie, right?!
Import an image from your Media Kit by following: How do I import images or videos into Content Studio?

We recommend using a piece of content from the "Textures" category/folder, but any image will do if it's no more than 3 times larger than your display dimensions.



Add a text box to your layout by following: How to use Text Boxes in Content Studio.

Stretch the text box out over your image, but leave enough room along the outside edges so that your image will look like a border.


Click outside of the text box and a green border will appear. Now, click on the Format tab and choose a color to fill in your text box with.

We recommend using a dark color for your background and light colored text for the best possible contrast, which will help people read your message clearly.


Click back into the text box and you will see a blinking cursor. Go ahead and type your message out now.

If you want to use multiple different fonts, let's say for different lines of text, then simply click and drag additional text boxes over the filled in area.


Preview your message by using the Preview buttons, and then Save your message within the application menu or by clicking on the floppy disc icon in the upper left corner.

When previewing, we recommend using the Layout Zoom Bar to zoom down to 100% to see the true clarity of your message as it will appear on your display.

You've done it! You've created a one-of-a-kind message with a breathtaking border! Get it scheduled out to your display right away so you can be the first to get noticed for your back to school specials!
Trainer Tip:  The Daktronics Creative Services team recommends creating these borders for displays that are 48 pixels high or larger.  You can also find some really cool and FREE content packages that have backgrounds with borders at our e-Commerce site!
Keep it Fresh with the Free Media Kit
At the very least, avoid recycling summer imagery and instead use fall themes for your creative content. As we head into the last few weeks of summer, make sure you have enough creative to keep things fresh. You can find seasonal themed content, as well as educational content in your FREE Daktronics Media Kit.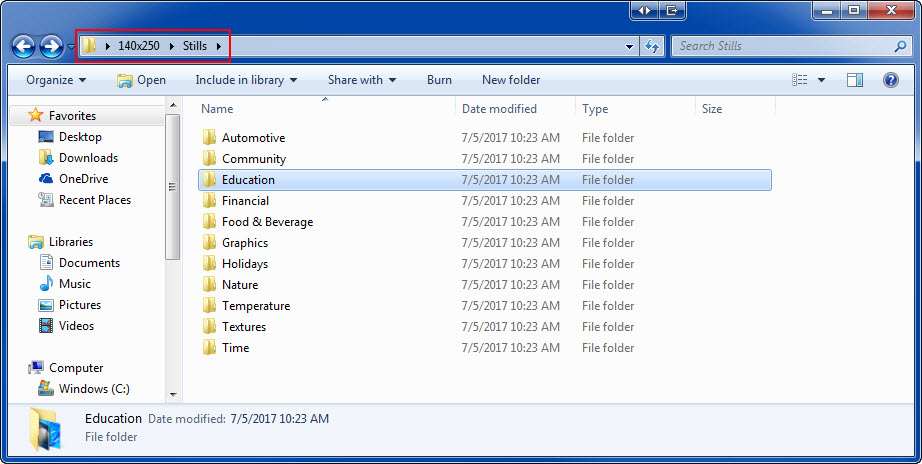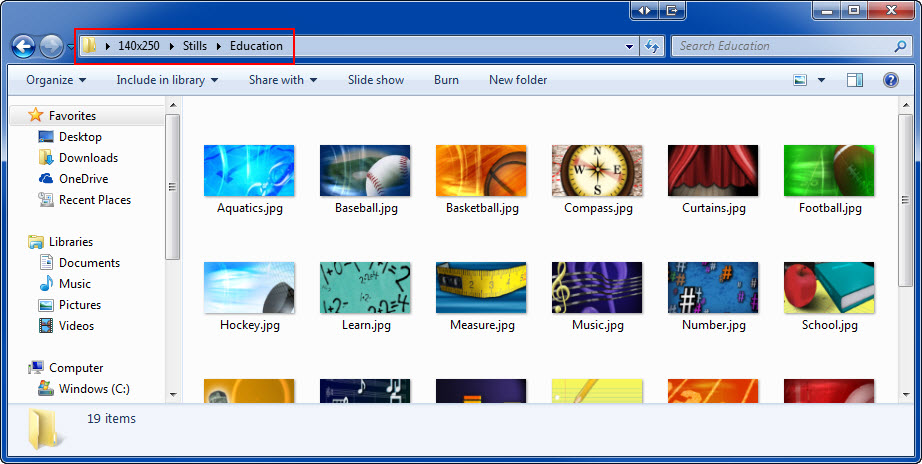 Unfortunately, if your display size is 16 pixels high or smaller, there is no media kit or content package.  There are not enough pixels on these displays to ensure quality images, textures, and logos.
We recommend text-only messages, built in Content Studio or the Venus Control Suite Web Compositor to best optimize your display technology.  Typically, we offer the full media kit for displays that are 32-pixel high or more.  However, we may be able to provide limited media kits for 24-pixel high displays.
Thank you
We hope you found this blog helpful. Be sure to click on the orange "Receive Email Updates" on the right side of the page so you never miss a blog post!  Thanks for reading!
Related Knowledge Base Article: How to Download the Venus Control Suite Media Kit.
---