8 Themes Schools Are Embracing
With the constant ebbs and weaves of the school system, a few emerging themes are really gaining traction in schools around the country.
4/16/2020
Categories: High School Sports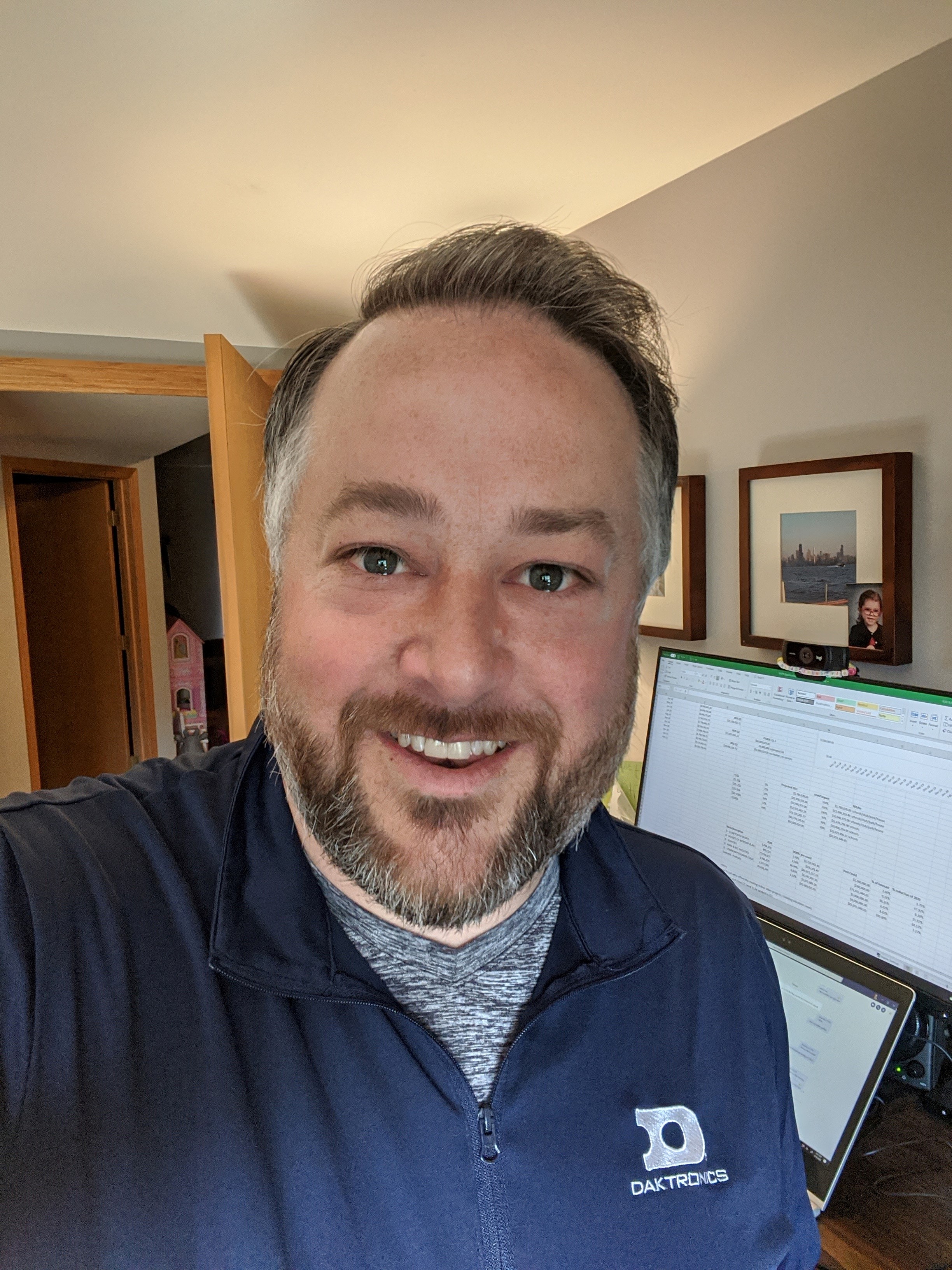 As the High School, Park, and Recreation Market Manager at Daktronics, Kyle Sydow has been having conversations with athletic directors, coaches, and staff members from every role at schools across the country. In these conversations, he noticed a few common themes in their requests and interests worth sharing.
1. Curriculum that makes "career-ready" students
High school sports are great opportunities that prepare kids for future careers – they teach them to set goals, work in teams, and be a leader. Often, my conversations with school administrators turn to discussions on new programs that provide "non-athletes" with the opportunity to learn the same skills.
That's why we created a pre-made curriculum ready for use in the classroom. Schools all over the country are using our curriculum to create career-ready students with experience and skills working with Daktronics systems used in high schools to professionals sports teams.
When our customers purchase a Daktronics video display, we provide an optional, comprehensive curriculum to teach students the real-life skills of event production. These students work as a team to hit deadlines and put on just as much of a show as the sporting event they are producing!
---
"The curriculum piece that (Daktronics) brings to our students is fantastic; that was what put us over the top to go with Daktronics."
Scott Holler, Athletic/Activities Director, Oak Creek High School
---
2. Audio systems that celebrate success
When I talk with parents about what they enjoy in high school sports, it pulls at the heart strings. They like to see their child work hard and be recognized for their success.
One thing they don't like is when an audio system can't highlight a job well-done.
Good, reliable audio systems are a huge part of providing your fans and players with an enjoyable experience. Daktronics speakers feature speech intelligibility, which helps the crowd clearly understand the announcer, even in noisy game environments.
A lot of schools have difficulty finding speakers that are suitable for their outdoor baseball and softball fields. So, we created the SS200 to withstand crazy weather conditions while working flexibly with limited space.
---
"We absolutely love our Daktronics sound system. Everyone has raved about how much of an improvement it is over the old system."
Kevin Porter, Athletic Director, Madison Lafollette High School
---
3. Stress-free control systems
Many scoreboard and video display operators are telling me how relieved they are to control their boards with the same technology they use every day: cell phones and laptops. Our control systems are so easy anybody can do it, which makes it easier for schools to find volunteers to score events.
DAK Score Mobile scoring App
Imagine controlling your scoreboard from anywhere in the gym with the touch a finger. The DAK Score app makes this a reality, implementing a wireless device to change the score and start-and-stop the clock. This simple app is great for low-level sports.
All Sport Pro
All Sport Pro is a software that works for any sport and controls both a static digit board and a video board with one device. This simplifies gameday operation by cutting back on the amount of equipment you need and saves time and money wasted on repairing and replacing controllers.
Another great feature of All Sport Pro is the option to choose the level of operation for different situations. Operators can range from beginner, running a few graphics with a tablet or laptop, to advanced, putting on a full-blown show with animations and videos by adding Show Control.
Show Control
We provide a complete solution that is powerful enough to run the biggest events in sports, yet easy enough that over 1,000 high schools across the nation use it today. Both standard and custom configurations are available to fit any level of experience or production workflow.
Be ready for the next big thing with Show Control's always advancing features. With 100+ improvements released every year, Show Control helps you seamlessly integrate trending technology and execute your creative ideas faster.
---
"Show Control is the most used control system at the college level and what we have here at UW Oshkosh. When we see high school graduates coming to our school with show control, they are much more desirable than students that have experience with other systems."
Daryl Sims, Athletic Director, UW Oshkosh
---
4. TV systems to connect with students
An administration member I find myself talking with more than ever before is the school district's Communications Director.
Most schools have a series of TVs throughout the hallways and classrooms. Let's say you have 5 TVs in your school to promote events, achievements, or other announcements. If you have multiple schools in your district, it adds up! Many schools are learning it's hard to keep the information up-to-date and accurate.
The importance of the organization and scalability of these TV Networks has really come to light. We created an easy-to-use system for our customers to help high schools get their digital messaging delivered at the right time, in the right way.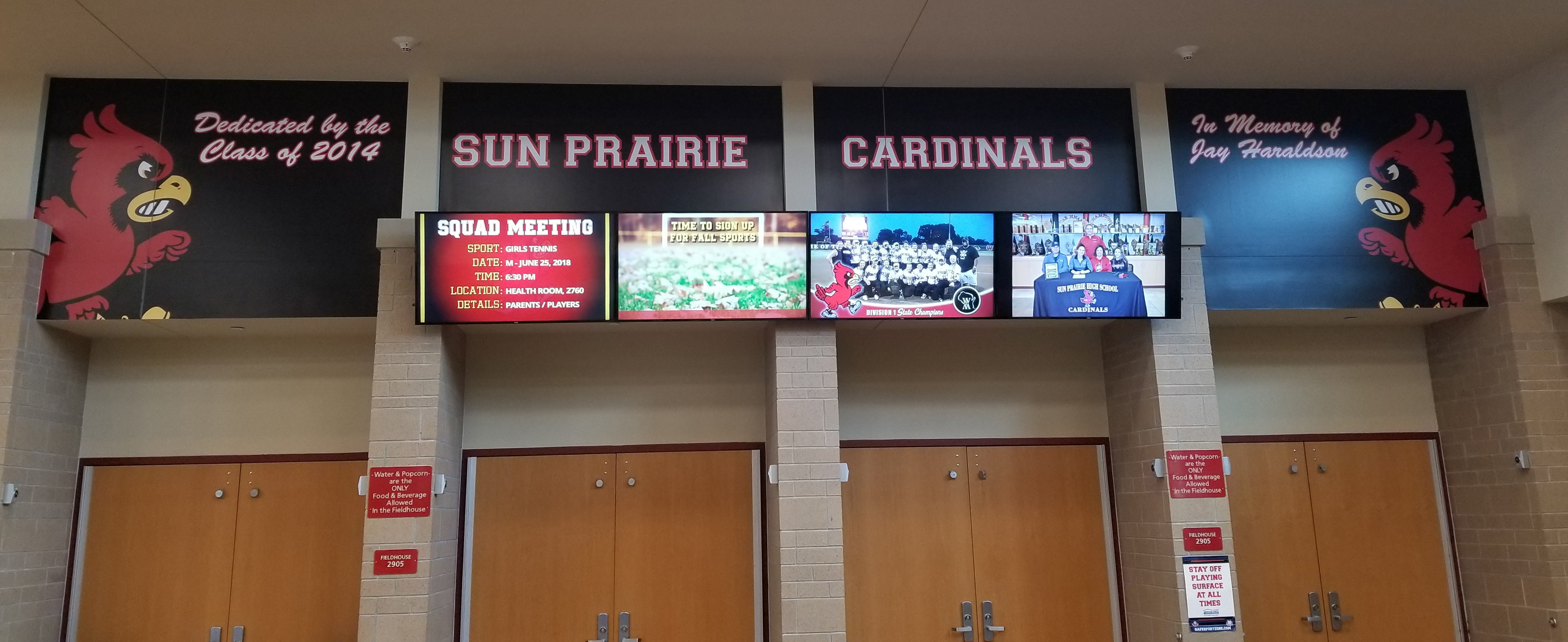 5. Video Summits for interactive learning
We know some of the best resources are the people who use our products regularly. To get these people in touch with one another, we created events for Daktronics video customers to share their favorite tips-and-tricks for our equipment, software, and services.
Learn from your peers and keep up with production trends for high schools at our video summits. These sessions challenge your game day potential and introduce you to new ideas and techniques.
Daktronics is going to keep the conversation going even if we can't meet in person. You can still get all the information you need to make the most of your Daktronics video display on our online platform. Join us for five interactive sessions, where we will share new and recommended. Then, stay with us for virtual networking on trending industry topics. Reach out to your local sales contact for more information.
---
"At Video Summit, you have resources besides just Daktronics.
Other people in the same industry become a resource, too."
Jason McConnell, Video Board Operator, Waunakee High School
---
6. Content packages specific for high schools
Beginning event production is overwhelming for many high schools, and creating your own graphics and animations can be a daunting task. If you, like many schools, don't have content ready right away, we are here to help you out.
Daktronics creative team designed content packages specifically for high school sports so your video board is ready for game day immediately after installation.
Choose from a library or have Daktronics personalize our content with your school colors, logo, and mascot.
---
"Daktronics supplied us with a lot of graphics for us to start with."
Michael Logan, Audio/Visual Instructor, Prosper ISD
---
7. New, better video technology
Buying a video board for your school is a big decision – we know you need a high-quality product to get the biggest bang for your buck.
When choosing Daktronics, you receive a video board of the same caliber as professional and college sports teams. Afterall, they are made under our roof right here in the US.
Through extensive testing, Daktronics LED displays continue to exhibit better-quality images and maintain that quality over longer periods of time. We constantly strive to make our displays better and provide high schools with the best video boards possible.
Lincoln High School in Sioux Falls, SD and Platteview High School in Springfield, NE recently enhanced their facilities by installing our latest 3.9 millimeter indoor video displays.
---
"I wanted to get the highest, biggest video scoreboard in Ohio,
so the next size up would be at a college."
Chuck Jaco, Athletic Director, Perrysburg High School
---
8. Multiple funding sources
When I visit schools, one of the biggest concerns about investing in an LED display is the cost. The price can seem out-of-reach.
However, it is possible to raise enough money to pay for the board and even exceed that amount to bring money back into your program. And unlike most third-party sports marketing businesses, when you partner with Daktronics, you keep all the money you raise – no commissions, no fees.
Here are few easy ways to help you pay for your video board:
Aside from your regular game day content, can you guess what else a high-quality video board is good at displaying? Ads.
As soon as you get your board installed, local businesses will be knocking on your door and fighting for ad space and airtime. For most high schools with a video board, sponsorships brought in enough money to pay for the whole project and then some.
All the money you earn after paying off your board is 100% profit to your school.
---
"The Daktronics Sports Marketing decision made fundraising and implementation of our video board a very easy process."
Jerry Buti, Athletic Director, Defiance High School
---
Just like you lease printers, computer, and other school equipment, you can lease a scoreboard.
With leasing, you can choose a payment schedule that works best for your situation. Making monthly payments, you can preserve your funds and have more time to raise money.
Applications are approved quickly, usually within 48 hours, so you can get started as soon as possible. You don't even have to make a down payment with our leasing option.
Ease the stress of investing in a video board by purchasing through a cooperative purchasing agency. A separate company handles the bidding process for you, and no other authorization is needed to complete the purchase.
Take advantage of a 10% discount offered to purchasing co-ops to save you substantial time and money.
The Daktronics Difference
Whether it's finding time in your schedule to install a new scoreboard and learn to use it or being too busy during a game to deal with technical difficulties, you will pay – one way or another – for a cheap product.
Settling for a cheap for product has direct consequences. They break down more quickly and produce low-quality images. Buying high-quality displays with proven reliability covers costs for issues that arise later with cheaper products.
How much is a stress-free gameday experience worth to you?
---
"Daktronics set themselves apart on a price standpoint for a high-quality product. We didn't want the cheapest product available. We want a display that will last."
Mitch Holmgren, Athletic Director, Deer Creek-Mackinaw High School
---