Take a Tour of the Venus® 1500 Learning Center
People often ask if we have any free online training videos for the Venus® 1500 software. The answer is, of course, yes, we do! Welcome to our tour of the Venus 1500 Learning Center! Today I will be your guide, so please follow along and pay attention, and don't touch anything! All joking aside, today […]
Daktronics Commercial Software Training on 9/6/2017
Categories: Venus 1500 Training
People often ask if we have any free online training videos for the Venus® 1500 software. The answer is, of course, yes, we do!
Welcome to our tour of the Venus 1500 Learning Center! Today I will be your guide, so please follow along and pay attention, and don't touch anything!
All joking aside, today you will learn about all the Venus 1500 Learning Center benefits and how you can take full advantage of this free resource.
Many of you have probably heard about the Venus 1500 Learning Center, and some of you may have even visited it. For those of you who are new, just think of the Learning Center as a self-guided training website with free videos to watch and .pdf documents with step-by-step instructions.
Finding the Venus 1500 Learning Center
The easiest way to find the Venus 1500 Learning Center is by using our friendly URL. Just open a web browser and type the following web address into the graphical control element address bar, also known as the location bar or URL bar.
www.Daktronics.com/Venus1500Learning
Also find the Venus 1500 Learning Center by visiting Daktronics.com. On the top of the page, click on Support and another menu will appear.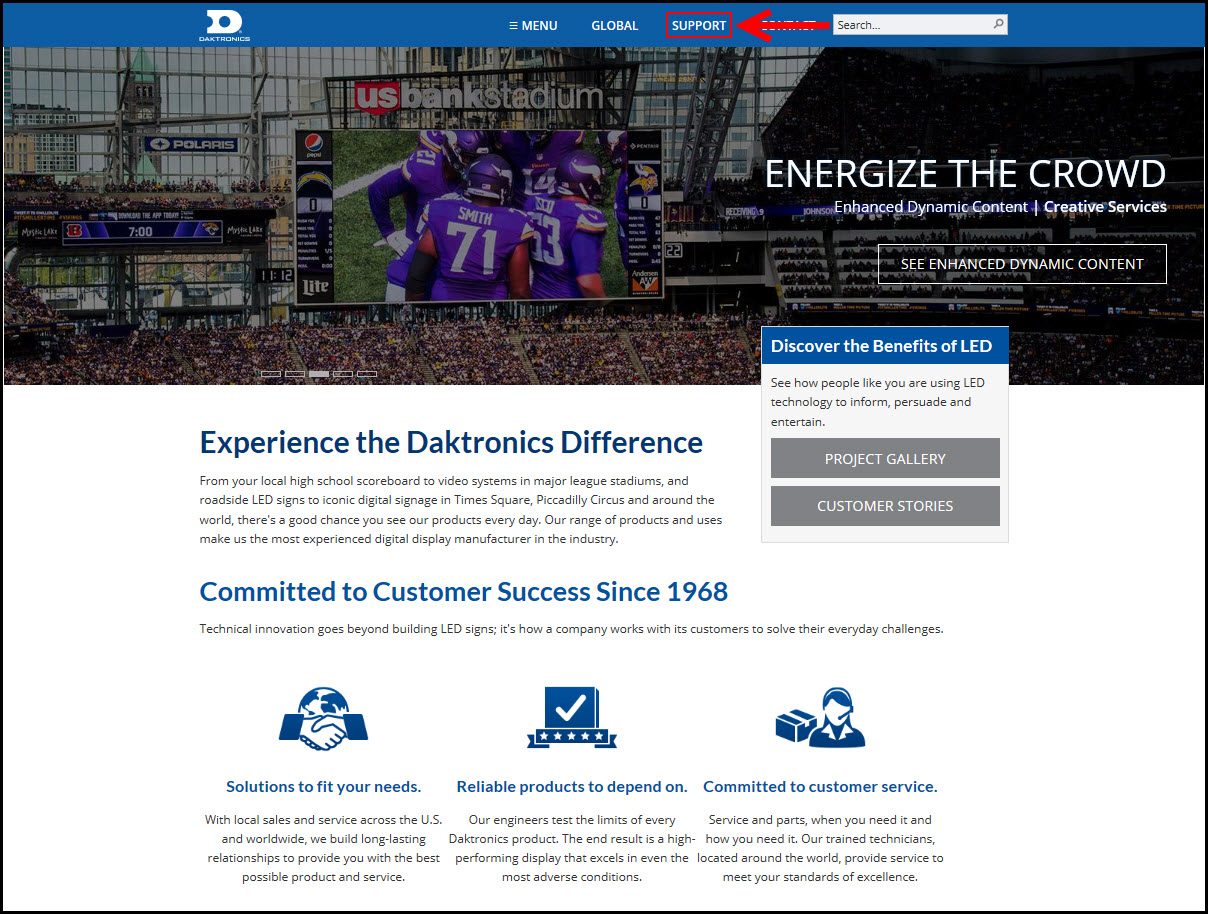 In that menu, click on Training, which will direct you to all the available training courses and resources. Towards the middle of the page, you will see a section called Venus 1500 Control Software Software Training.
Within that section, click the link that says View FREE Online Training Materials. Clicking on that link will take you to the Venus 1500 Learning Center!
Now that you know how to get to the Venus 1500 Learning Center, let's look at how to use it! Choose from ten sections, with the most basic training materials starting on the top of the page. The farther down the page you scroll, the more advanced the training materials will become.
Welcome
At the top of the page, the Welcome section gives you an introduction. It also provides a link to get help using the software if your equipment is not working properly.  Also, we provide additional training options should you feel you need them after finishing all the FREE resources!
Below the Welcome section, the "Jump To" section includes links to all ten sections. Choose the training materials you want to see. Simply click on the link you are most interested in to go directly to that section.

Getting Started
The Getting Started section does just that! It teaches you how to get going when you first start using Venus 1500. Tutorials with step-by-step instructions explain everything from launching your software to creating your first message, and everything in between.
Several videos walk you through all the things you need to do when you first install Venus 1500, such as registering your software, connecting it to your display, and downloading your free media kit!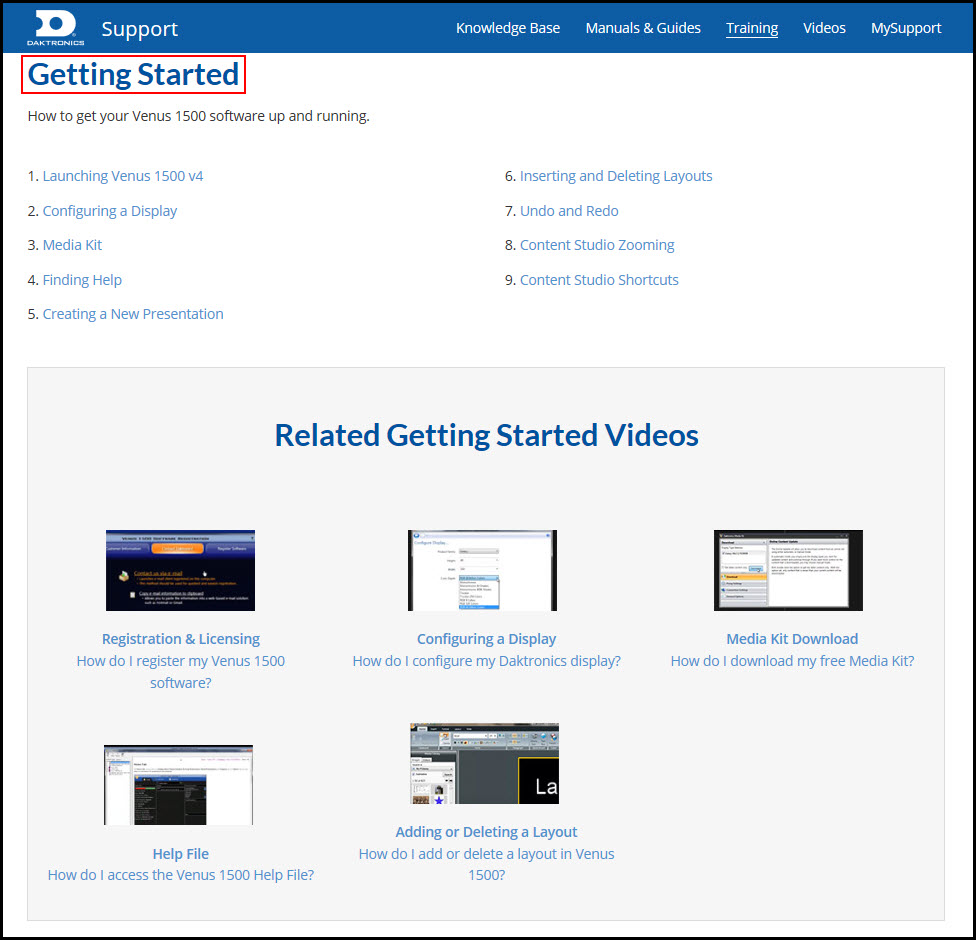 Venus 1500 Hub
We have previously posted about the Venus 1500 Home Tab features, but today, we'll learn how to see what is happening on the message display for a quick reference.
Inserting & Editing Text
Inserting and editing text are both key components to creating a message for your Daktronics display. This section will show you how to insert text boxes and where to find symbols and special characters. You will also learn how to edit existing presentations, copy presentations, and even spell check your message before you save, so you never send out a misspelled word to your display!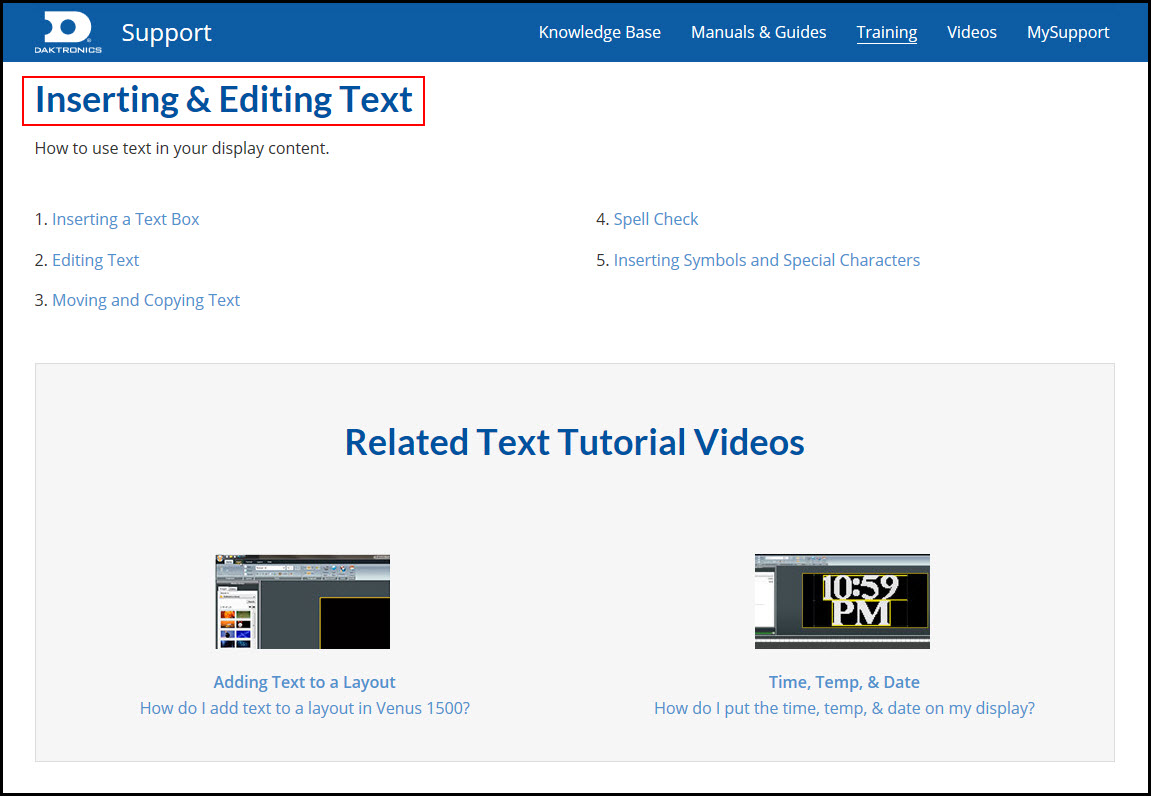 Formatting Text
Formatting your text is what you do if you want to change the font size, style, or color. It is critically important that you choose large, bold fonts that are easily read from different viewing distances so people passing by can see your message clearly and read it easily.
This section will walk you through how to choose different fonts, change your font size, change your font color and even how to copy your formatting choices from one layout to another. It will also teach you about the features of True Type fonts.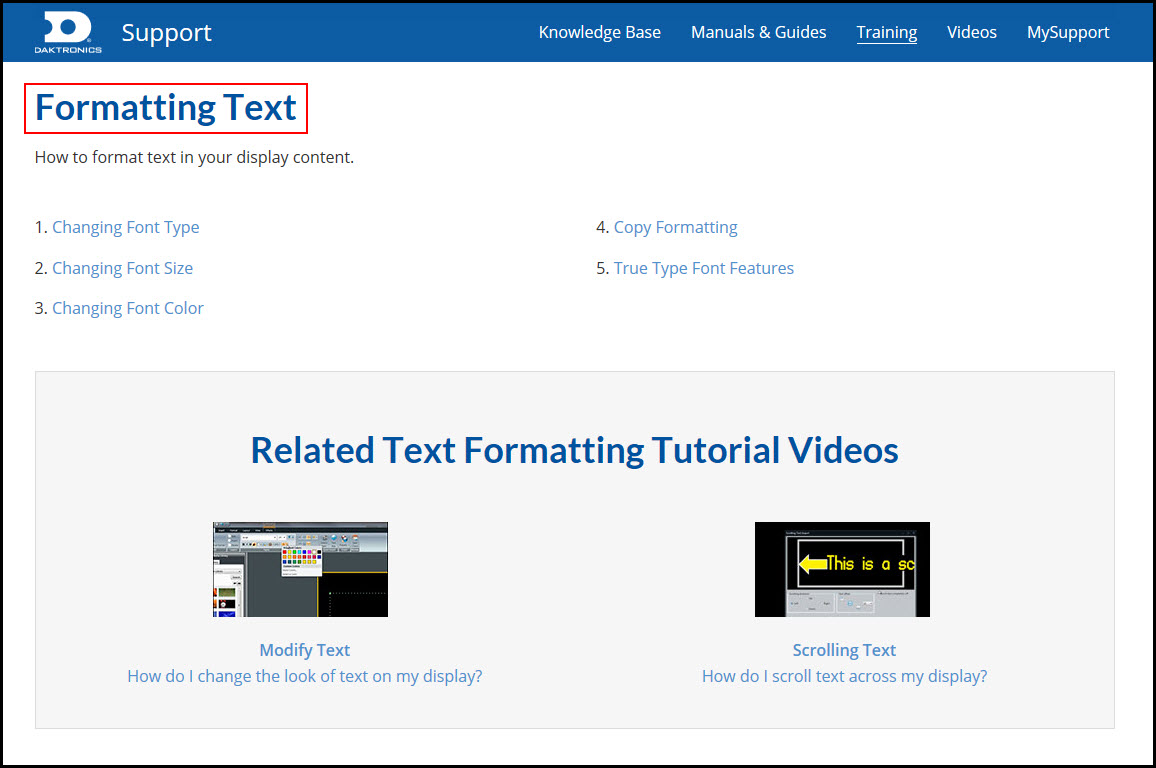 Working with Multimedia
Multimedia consists of Venus 1500 software graphics and videos. This section will show you how to use your Media Library, import graphics, and videos, how to edit multimedia, and even where you can find additional content for your Daktronics display!
Working with Objects
Objects can be many things, such as text boxes, graphics, or videos. Learn how to align those objects within your layout so that they are legible and not just scattered randomly or overlapping.

Transition Effects
Transitional effects allow you to add movement to your messages before they fully appear on your display. Transitions add style to your messages and also make them more noticeable.
This section will show you the different ways you can apply transitions to your content and even how to edit transitions.

Scheduling
Now that we have created content, imported content, and saved our content, the final step is to send it out to our display for the world to see!
This section will show you everything you need to know about scheduling. It covers from which schedule mode you should use, to printing a copy of your schedule for your records. Most importantly, learn how to publish your schedule out to your display!
Advanced Operations
As I mentioned earlier on, the farther you move down the page, the more advanced the sections become. This section is the definition of advanced, going through your Content Studio Options, explaining how to crop videos and graphics to fit onto your display size, and even how to create Scrolling Graphics.
If you're up for the challenge, this section is definitely worth checking out. You'll be doing things you never thought you could do after going through these tutorials!

RSS, Atom or XML Feeds – GalaxyPro Series GP4 Display Only
As the header says, this section is only for those of you who have GP4 and higher display models. You will also need to have Venus 1500 V4.20 or higher installed on your computer.
This section will show you how to create data feeds, weather forecasts, sports scores, news updates, and stock market information in Content Studio to play on your display.
Additional Resources
At the bottom of the Venus 1500 Learning Center you will find some additional resources. If you are reading this, then you obviously already know about the Venus 1500 Blog, but below the link to our blog you will find some very helpful information.
By reading the Updating Software section, you will find out how to download and update Venus 1500 V4.
By reading the Computer Replacement section you will find out what to do if your Venus 1500 V4 computer ever crashes, and how to get back on track with a new computer.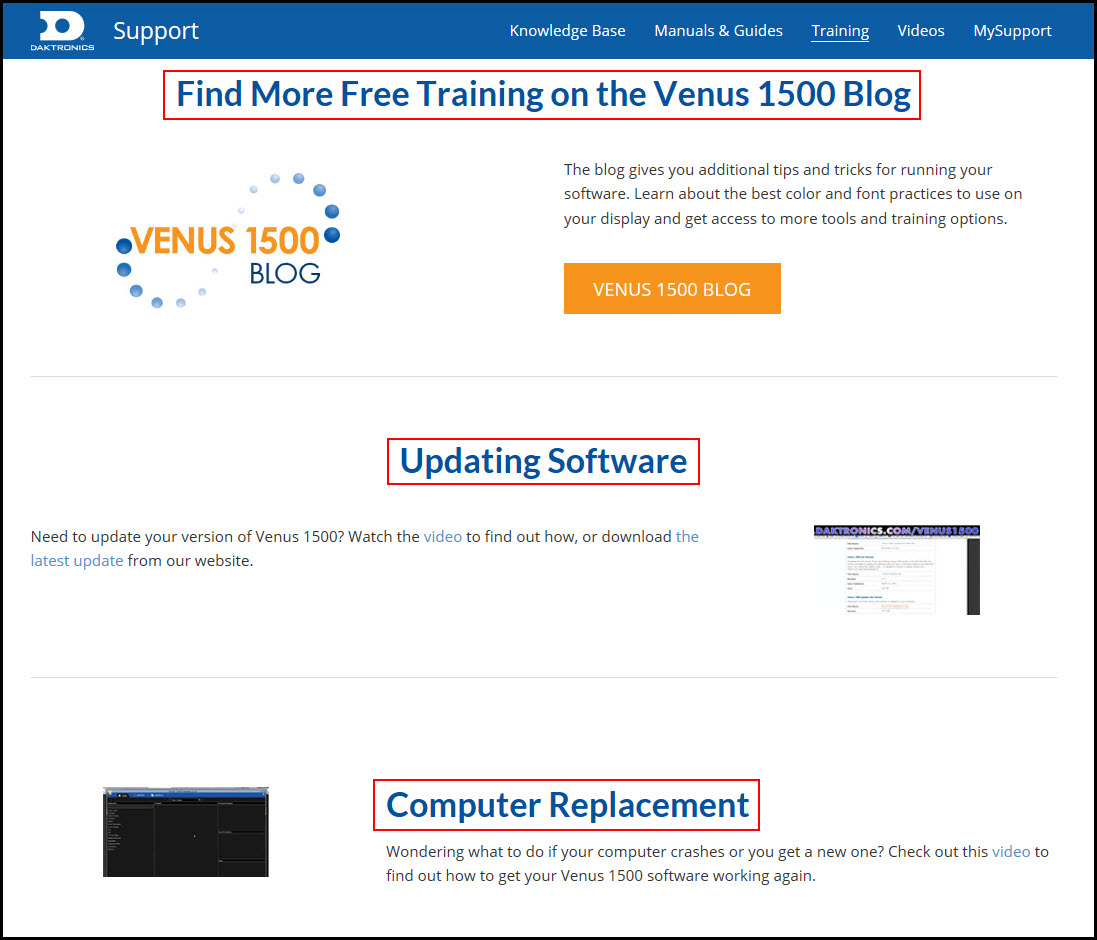 We hope you find this information helpful. Use this FREE resource if you ever need a refresher on the software, or if you would like to learn about features you've never tried before.
Thanks for reading!
---