Practice Makes Perfect
The football players practice for game day and so should the production crew. Crater came up with a game day challenge to get them fully prepared for a crazy game day.
11/22/2017
Categories: High School Sports
When your students run your video board, their opportunities for education are endless. So many moving parts go into each production that there's sure to be a job they feel naturally fits their skillset. Because much of the Daktronics equipment on the high school turf is the same as what the pros use, the content possibilities are endless. So, how do you put all this into play while getting your crew ready for game day?
Line 'em up — it's practice time!
We've been following Crater High School out of Oregon for a few years, keeping track of their A/V program and the creative ways they're educating their students while getting the most out of their investment. They've made their A/V program into its own team, dubbed "CESPN," complete with matching jackets to outfit the crew. Recently, teacher Mike Rogan decided to put the students in a head to head competition against the clock to practice and see how prepared they are for game day.
Rogan split the class into a few teams, each having one day of class time to show their stuff. The goal was to give each student 8 minutes to complete a task.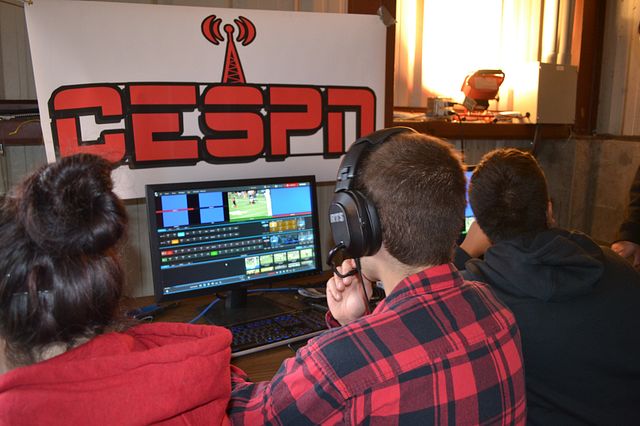 Positions included:
– camera operators
– show control
– instant replays
– running animations
– producer
All the equipment needed to be set up and turned on — including the scoreboard and controller — and the studio needed to get up and running.
Fun fact: the location of their operations room does not have visibility of the field, so students are literally flying blind. They rely solely on the content their camera crew catches that shows up on their screens. No pressure, right?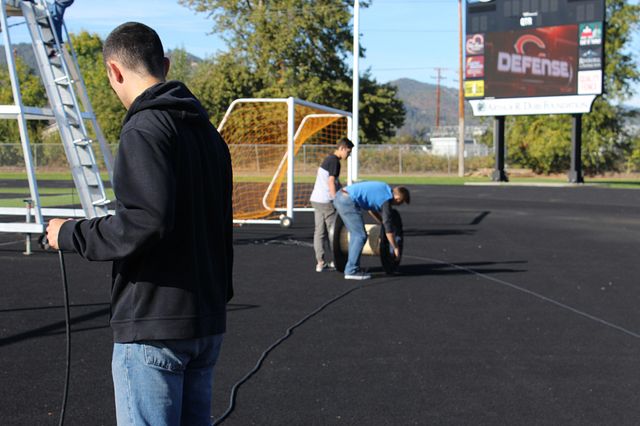 Students who were not being timed that day helped with the team's cables, as well as provided live action for the cameras to capture for instant replays. They ran sporting goods up and down the field for cameras to follow.
According to Rogan, most kids love running the cameras, especially capturing instant replays, but it's hard work. "I'm always looking to see who can handle them because they're heavy. We need someone to capture the coin toss, film the student section and to be really steady at catching live action because those football players move fast! It's hard to hold up for a quarter or even a half."
"Every student has their different skills and strengths and operates differently," Rogan explained, "and that comes out at times. Some are naturally good at giving direction and others bark orders and find out that doesn't work, so you have to learn to keep your cool under pressure."
Another part of leadership is being prepared for anything, including foul weather. "We had the kids put rain jackets on the cameras with the rainy weather we've been having. It's difficult to do in optimal conditions, so it's a skill they need to learn."
What did the kids think of the drill? Rogan said, "They saw a challenge and tackled it head on. We had a crew of mostly seniors last year who have since graduated, so we are training quite a few freshmen this year who are new to the program, but very enthusiastic. I had a few kids come back for a second year of the class who displayed incredible leadership. The kids have to give up being part of the crowd on Friday nights to do this."
"We also have had a few graduates come back to help out on game days, too, and have paid them for their time and to help train the underclassmen," he continued. "It's great to see them return and share their experiences. They'll talk about how colleges use the exact same equipment as us and how this is a career path these kids can follow if they want to. The kids themselves realize this is a marketable skill, which I love. It doesn't get better than that."
Want to see details on the equipment Crater has?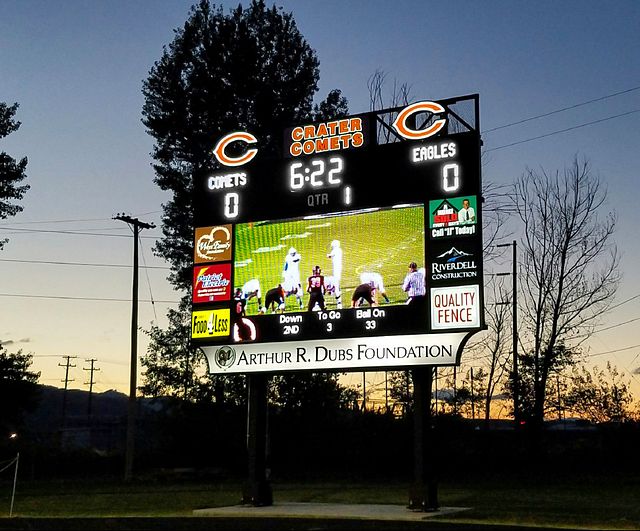 ---