Building a Partnership with Automation Arts and Daktronics
Digging into Daktronics' partnership with Automation Arts, an AV Integrator based in Milwaukee.
Justin Ochsner on 8/4/2020
Categories: Pro Sports and Colleges
Matt and I sat down with Shaun Trudell, owner/president of Automation Arts, and Ron Moore, Vice President of Automation Arts, to talk about recent projects we have worked on including the Milwaukee Bucks' Mecca Sports Bar.
Justin: Shaun, can you start by giving us a little rundown of Automation Arts and what you do there?
Shaun: Automation Arts is a commercial and residential audio-video integrator. We have been around for about 25 years. About 8 or 9 years ago we changed ownership and really started focusing more on the commercial side of audio-video. So, we do everything from design-build, in-house programming, engineering, service install – top to bottom.
Matt: How did you guys hear about Daktronics and how did you start working with us?
Ron: In 2016, the Milwaukee Bucks had put together a plan to build the new Fiserv Forum and a new training center for the team. Shawn and I got involved with the team on the training center and we did that project with them. We worked with a large construction firm, a rep for the Bucks called CAA Icon. So, when the idea came around for the entertainment district, we started talking to the team president about a large sports bar that we will talk about a little bit later called the Mecca Sports Bar and Grill. During that conversation, we got introduced to Tony Mulder and Brock Wallen from Daktronics, and that's really where the partnership was born. 
Matt: Have you heard of Daktronics before that meeting?
Ron: Yeah, we've heard of Daktronics. We have seen them in Lambeau Field and, obviously, with the Milwaukee Bucks, so we knew what Daktronics did. I guess kind of knew what they did. We knew you guys made jumbotrons and scoreboards and things like that. So that was really all I knew at that time about Daktronics. 
Shaun: I would say too that it was probably one of those scenarios where we didn't realize that you guys worked with integrators and small AV companies. You think of Daktronics as kind of the leader in the sports world from jumbotrons to scoreboards. You see them everywhere from High schools to any sports stadiums you go to. So, it was interesting to get to know the other layers that Daktronics has to offer. 
Justin: With learning that side, what did you notice that Daktronics does kind of differently than others that are out there?
Ron: From my experience, working with the team that I have worked with for the past couple of years from Daktronics, it's that these guys are our friends. We work so closely with them and having them make multiple trips out here to meet with us on-site and make sure the project is going as planned. From the commissioning side, we have worked with a few of your commissioners out here. We see the same people, which is what I really enjoy about working with Daktronics. We are not getting one person one time and another person the next. We've been with the same two people for the last three years. That's really the difference that I see. It's the real personal touch that we are given by Daktronics. 
Justin: Maybe we can jump into some recent projects that we've worked on together. What's the most recent install you can tell us about?
Ron: We are working with a local manufacturer right now. Last year, we hosted a technology night here at Automation Arts in Milwaukee. This company that I was working with at the time, they wanted to do a 2×5 55-inch panelized video wall. We talked to Daktronics and asked if you could bring a video wall to our show that we could show our clients. You guys had a mobile case with a 1.9mm video wall solution that you brought up for the night. We happened to have the decision makers for this project there that night and they saw that 1.9mm pixel pitch video wall and they ended up switching from the 2×5 to a true 16×9 1.9mm video wall. It was a great opportunity to install something that you don't see very much in the Midwest. And the client is just blown away at the added value that they feel it brings to this customer experience. They feel they are going to get a real return on their investment because of it.
Matt: I'm curious, do you guys run into that a lot? I have dealt with demos and find that many people don't understand what LED is capable of. They can see pictures, but there's something about seeing the technology in person that has a different effect.
Ron: Absolutely. If that video wall would not have been here that night, I am 100% confident they would not have purchased it. I think standing in front of that, they were just blown away. I don't think they could believe their eyes. They couldn't comprehend, even when it was on site and installed, people thought it was cardboard hanging on the wall. They didn't really understand what it was until we lit that thing up and put the new Top Gun trailers on it. People stood there in awe.
Justin: You mentioned the Mecca Sports Bar and Grill earlier. Can you give us some background in how that came together?
Ron: The Mecca Sports Bar and Grill is probably our favorite project we have ever done. It was a really short timeline. The president of the Bucks had met with me and our director of engineering and said, "I want the biggest, best sports bar in the Midwest. Period." There are a couple of bars that he liked around the country. He said why don't you guys go look at those, come back and put something together for me.
We came back and we just had the blueprints to the building. We worked with the guys from Daktronics and ended up filling out a 38-foot diagonal 2.9mm pixel pitch video wall. And then we thought it would be really cool to do some ribbons like they had at the arena. So, we ended up putting in about 126 feet of ribbons around the first and second levels of the bar. I don't know if you have ever seen it or seen pictures of it, but it's spectacular.  
Matt: I think that is kind of a trend right now. Sports facilities and teams are starting to look outside of their venue and see how can they tie in some sort of unique experience. Is that something you're also seeing?
Ron: Yes, probably now more than ever. We partnered with Daktronics on the beer garden project. Right outside the Fiserv Forum in the Mecca, there is a large video display outside in a covered beer garden. We did the audio support system for that project and control system for that project and during the playoffs, this five-block area outside the Fiserv Forum. You almost can't walk around, it's almost so busy. When the Milwaukee Brewers are playing it is the same thing. It has really become a gathering place, whether it's for the Badgers, Bucks or Brewers. We're starting to see a real uptick.
Justin: We hear that the Mecca has even been getting some attention from other organizations and you just recently won an award for that project. Can you tell us about that? 
Ron: We did! We just won the Best Bar and Restaurant for the Commercial Integrator Awards at Infocomm. The year Infocomm is canceled is the year that we win, which is a little unfortunate. We would have loved to be there and accepted that award. But nevertheless, we will take it. Shaun and I and the whole entire team are really proud of that. We worked hard on that project and there was a lot to lose on that project. It was done in a very short time frame – a matter of 4 months – as the Bucks were going into the playoffs as the #1 seed. They wanted to have that project up and running by the second round of the playoffs. It was unrealistic, but we made it happen.
Justin: So, we have talked a lot about a few projects that we have worked on together. Can you go into the benefits of working with us from before the sale, during the installation or even after the installation with service and support?
Ron: I think the benefits of working with Daktronics is the upfront coordination. The communication is so easy. I probably talk to Brock at least once a week, whether we have a project going on or not. So, the coordination and just making sure that they come out and do site visits and progress visits. They get in their car and drive out here, they spend a few days here and we go walk these sites. That is so valuable because Daktronics is the professionals. These are the go-to people so it really gives you a level of comfort knowing that those guys have put their eyes on it and our experts have put their eyes on it. It really gives me confidence knowing that the end-user is going to get exactly what they asked for, it's going to look good, it's going to be done on time and on budget. Daktronics helps us in the commissioning at the end of it. Because again, you guys are the experts.
Everything from design, delivery and support. We've had a few instances where things go haywire and we are on with Daktronics. They are on it the same night getting it fixed and getting it online. A customer may be down for a couple of minutes here and there. So, that to me is invaluable. And I know it is to the reputation of our company as well.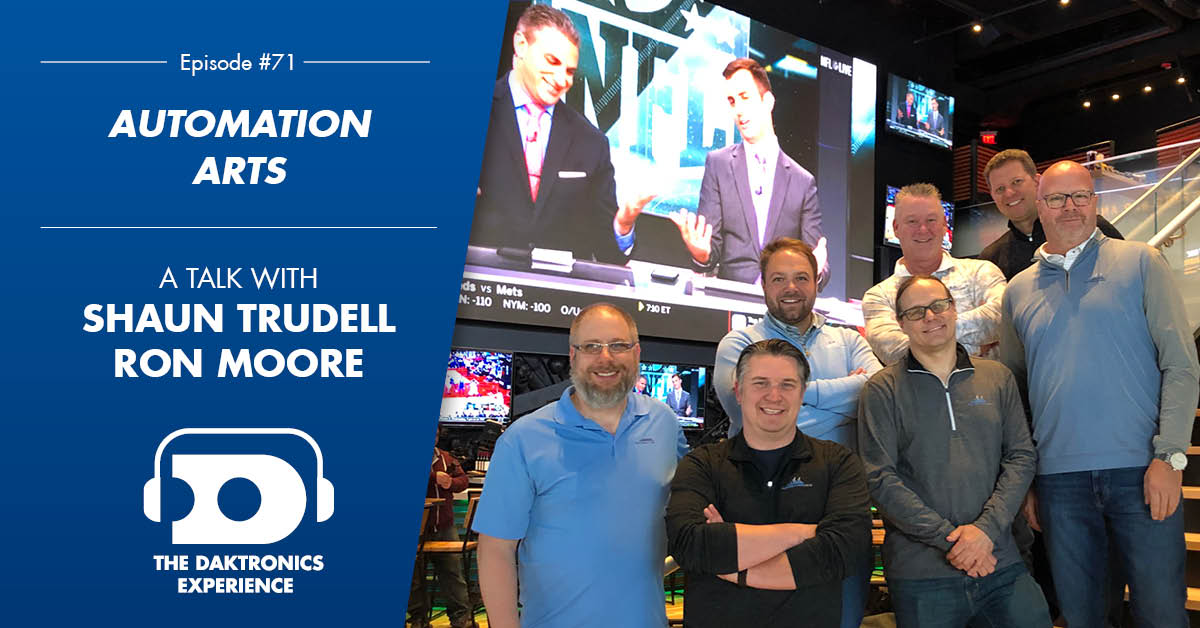 To hear the full conversation, including details on the Bank of Montreal Tower project, listen to this episode of the podcast here.
---