A Career in Event Production – Q&A with Mike Dewsnap
We sat down with Mike Dewsnap, Game-Day Producer for the Tampa Bay Buccaneers, to talk about his career in event production.
Justin Ochsner on 8/2/2019
Categories: Pro Sports and Colleges
We sat down with Mike Dewsnap, Game-Day Producer for the Tampa Bay Buccaneers, to talk about his career in event production. The following Q&A shares his background, what he does today and more from his experience in the business.
Q: What is your role with the Tampa Bay Buccaneers and what do you do?
A: I'm the game-day producer for the Tampa Bay Buccaneers. I produce all their home games and manage their control room. We have a couple of people on staff, Dan Roy and Greg Mays, who help get all the content and show ready to go. Then, of course, we put on the show on Sundays.
Q: How long have you been with the Tampa Bay Buccaneers?
A: This is my fourth season coming up in 2019. When I was first hired, we installed brand new Daktronics displays. We have two giant displays in our North and South endzones and we also have these giant tower wall displays. We also have some ribbons, which I think are like six feet tall, which is awesome. Then we installed a brand-new control room. It was kind of a mass overhaul of the system.
Q: How was it going to a new team, working with them and with brand-new display equipment?
A: It was challenging. I was hired right around when I was getting married. I was at the University of Georgia prior and I was driving back and forth on the weekends to plan our honeymoon and our wedding. Then we went off to Jamaica and when we came back I think I had maybe a month before the season started. So, it was a shock to the system of trying to figure out my surroundings, who was on the crew, even just the content. I think they were building content before I got hired, so trying to figure out what that content was and how were we going to put on a show. Then, coming from college to NFL, learning a whole new system, new breaks, new rules and everything we had to follow. It was a lot of late nights.
Q: When you got there, having that experience with Daktronics equipment, was it a lot of additional learning that first year or did you feel comfortable right away?
A: I would say probably coming into my fourth season, a lot of the stuff we did in my first year we're not doing anymore. It was cool. We tried a lot of different things. We had a mascot running around the stadium and jumping from display to display, doing all these crazy and wacky things just trying to figure out how we can use our towers and main displays. Then we realized we need to really build a foundation first, the core of the show, getting into game plays, replays, crowd prompts. Now, we finally have that foundation built and continue to build on it now. It's been kind of a breath of fresh air that we have a system in place. It doesn't feel like we're coming into a fresh start every season.
Q: How do you guys use those tower displays along with the main video display that's right there?
A: It's awesome. It gives a whole other experience on the outside, away from the video boards. In-game, we have a video display just dedicated to out-of-town scores. With those out-of-town scores, we have drive lines. They flip, they show who scores, they flash if someone's in the red zone. Our other display, we use for fantasy stats. Fantasy football is huge. We want to make sure the people can follow along, know who's leading the day, the season. A lot of our messaging in-game, we do a lot of cool things like triple replay. We have about two or four cameras that are dedicated to shooting smartphone style, so when we go to a big moment, like a touchdown or a big first down, we'll put a couple replays on the towers to match our main display. We also use them for other live video features such as "under review," where we put both coaches on the towers and kind of put them in the hot seat. Which is cool to see what they're doing on the sideline. It just gives us a whole other experience. We do a full takeover, too, where we do a giant ship battle. We use the towers and main video display as a full canvas. It's close enough to see it as a full canvas, but they're also far enough away to see it kind of as "show A" and "show B" throughout the games. We do a social wall, where you use your phone, and we can use our whole tower wall as a giant selfie. If you get lucky enough to get on our displays, it's not just a small little box, it's a full tower photo with your kid or loved one. I think the fans get a really good experience from that. It's running throughout the entire game. We get quite a few tweets or posts up there throughout the game. Not sure the exact number, but almost 100 photos per game on a rotation, so you have a pretty good chance of getting on the screen.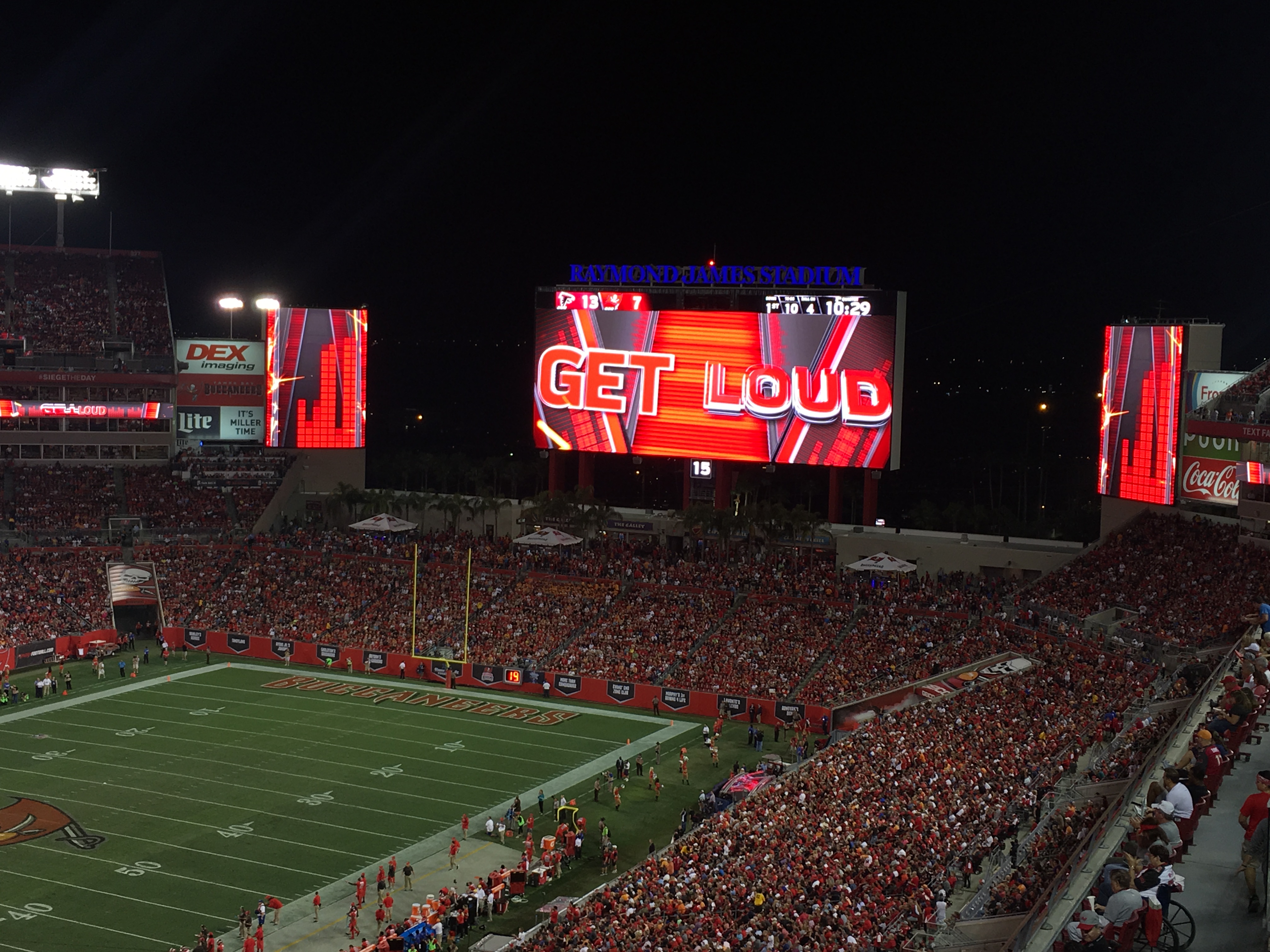 Q: Where did you first start in terms of event production? Was it before the college level or how did you get started?
A: I got lucky and started in Wisconsin. I met Steve Ackerman, who works for Daktronics as well. Before meeting him, I did a demo reel when I was in college about video boards going into the Kohl Center in Madison and was lucky enough to get an interview. After the interview, I did another demo reel and took a copy of it to Wisconsin and said, "Thank you for your time and for letting me come in an interview." Somehow, I think that video ended up in Steve Ackerman's hands. At the time, I was working at Staples, in Portage, Wisconsin. I got a phone call one day and was asked if I'd be interested in working in the production of the school's live events. Ever since that moment, I just fell in love with it – the adrenaline from live events. Then Steve was nice enough to give me the opportunity to do replay, direct and camera. I kind of learned all the different aspects of production, which was important. Because when I got to be a producer, a director, I needed to know what to expect from people, but also what they can't do. For example, cameras can't run across the field. So, that's where I started. From Wisconsin, I was lucky enough to get hired by Daktronics full time and I went to the University of Georgia. I was there for eleven years. It was a long time there, but I enjoyed every minute of it. We produced about nine sports and covered every athletic event across campus. My last five years there, we finally built a centralized location for our control room. We ran fiber across campus so we weren't having to run all over the place. Most of our productions were coming out of our football stadium, but it was a good time at Georgia.
Q: You mentioned all the different events you did at Georgia, you mentioned about nine different sports?
A: Yep, we covered everything – women's soccer, women's volleyball, football, (which was the biggest one we did at Georgia) women's/men's basketball, and gymnastics. Then, when the spring hits, you're doing baseball and softball. Right before I left, we were starting to do some other sports, I think we were starting to do tennis a little bit. I certainly saw it expanding. In my last two years, I was lucky enough to do SEC Network Productions. It opened my vision, not just for video boards, but for producing for TV. I was producing for ESPN broadcasts, for the SEC network and learning a lot of different things from that and then I was taking those ideas and elements into our video board show. We still do a lot of that stuff with the Tampa Bay Buccaneers, so we're trying to bring that broadcast, without having on-screen talent, to the video boards. We can kind of cross the two worlds between live video boards and live television production.
Q: Did you have to help with any other events on campus, like graduations?
A: Yeah, I did quite a few graduations while I was there and anything else that came from through the coliseum. At Georgia, we pretty much covered everything, including high school graduations and UGA graduations were big. I remember we had them at the football stadium. They would end up doing it on the field and build a big stage. They would usually end up having a big guest speaker, too. I ended up seeing quite a few people come through there. Georgia has great alumnus, so a lot of people ended up coming back for those graduations.
Q: How was the transition from the University of Georgia over to the Tampa Bay Buccaneers?
A: The biggest difference was going from some 200+ events a year to only 10 home game events a year. We treat the 10 home games year like the Super Bowl every game. We bring everything we got for those 10 home games. There were a lot of different rule changes between college and professional football productions, what I could and couldn't do. I felt like I fell into a different role from where I was producing events at Georgia, but we also had a lot of other people. I was in a control room where I couldn't see the football field at Georgia and when I got to the Tampa Bay Buccaneers, I was in the middle. I could see the whole field. But now I can't see the control room behind me. My vision had to change a little bit. I wasn't looking at the monitor wall like the operators in front of me. I had to trust them, what they were doing behind me, and I was watching the action on the field. Basically, to notify that we're taking a break or that we're coming back from a break. It was a good change, but it was challenging at first because I really didn't know. I was just used to being in that closed environment and not seeing the field and really focusing on the monitor wall. Then transitioned to having all those distractions in front of me and needing to focus on what it is I was supposed to be looking for.
Q: Which do you prefer, being able to see the field or being tucked away in a control room?
A: It's cool, I mean I was at Georgia for eleven years, I never saw a football game. Which is crazy. I went back, I think it was my first year with the Buccaneers, and it felt strange. Even just being a fan at Georgia and being out in the bowl, it was a whole different experience for me. Now, being at the Bucs and seeing the field and stuff, we've talked about maybe moving up top, but there's a lot of things that you must catch and look for on the field. Even at Georgia, there was always someone watching the field and telling me on the spot there was a flag on the play, we're coming back from break, stuff like that. Now I'm responsible for that. Not only am I producing the show, but I'm also responsible for those things. I think I'd prefer to see the field. I've gotten pretty good about avoiding the distractions and trying to stay focused. It's live entertainment, so you never really know what's going to happen.
Q: Is there any advice you'd give to people that are being introduced to production and trying to pursue it?
A: The biggest thing for me is always trying to network. I was fortunate enough to work at Georgia for so long. It's cool to see a lot of the students that I had over time. Some of them aren't even working in sports. They are working in film or doing special effects for a movie company. I'm still trying to stay in contact with those people because you never know where the road is going to lead you. So, networking is big for me. Also, working hard at any event and trying to do as many positions as you possibly can. I think a lot of people try to focus on something they love to do, whether it's camera, replay or whatever. You might find out that you like something else or you turn into someone like me who likes to do it all or oversee it all. It gives you the opportunity to kind of go down different paths and see where you want to go. The more events you can work, the more experiences are going to help you.
Q: How often did you need to swap out your personnel because of turnover?
A: It was a big challenge at Georgia because you're dealing with students for most of it. I would try to hire as young as possible, knowing that I'm going to have them for only a few years before they graduate. Of course, they didn't have the experience that some of the juniors or seniors had on the staff. I looked at is as training, almost like me being a professor, trying to bring in a new class every year. You know they aren't going to be jumping on the camera or jumping into the graphics side. They'd probably be shadowing someone that's been doing it for maybe a year or two. It gave them the opportunity to see other people doing it before having them jump into the fire. If you sit in a control room one time you will kind of see the controlled chaos. It gets intense. If you've never seen this before, it can be overwhelming as far as it goes with students. Now with the Buccaneers, there was a staff already in place. That was a whole new experience for me, already having people in place. Now we have new equipment and new control rooms. There was a learning curve for everybody, including myself. We had to figure out who fit certain roles because everything changed. The control room was there for a long time, so every piece of equipment in that room was brand new. A lot of it was brand new for me, too. That first year was trying to figure out that this person is good at this, so we should keep them there. Or, maybe they're better at this other position. But in professional sports, or at least in our market, we're fortunate enough to have a spring training. A lot of the crew could float to cover those other events. My biggest challenge is when they crossover. We start the season when baseball is finishing, if the Rays go to the playoffs potentially. We have those couple of weekends that things kind of get sketchy as far as who we have on the crew. The production that we have now and how intense it is with all the working parts, it's good to have the same crew. At Georgia, the turnover was a challenge, especially with all those events. I felt like every night I was always working an event, especially around baseball, when the weekends hit with football on Saturday and trying to focus on a bigger show, which is football usually, it was challenging.
Q: What are some things that you end up doing in the NFL offseason?
A: The word offseason is funny, it's a slower pace than college. In college, you only have about two months and then it's the summer to really catch your breath. With professional sports, or at least with the football, we hope to make the playoffs. That might carry over a few extra months. You just take a minute, regroup, see what worked and what didn't work. Then we're already jumping into it. We're usually trying to plan for NFL Draft parties. We do have other events that come in. We do a little bit and assist with those other productions, but not too much. There's usually always something going on. The biggest thing is that we're already planning for next season. As soon as we get those budgets, we're already asking and trying to see what we can try to push this next season. Then have to wait on the schedule to come out so we can start preparing for those events. Next, we have training camp and then we're into the preseason. It's crazy to think that there isn't much of an offseason.
Q: How do you treat something like training camp?
A: We don't have a whole lot to do with it, but it ties up our organization because we're putting on practices for fans. It's hard for us to meet as a group and have meetings. That's the biggest challenge for me because I'm still in "let's get ready for the season" mode and they all need to focus on those practices. Preseason, we end up treating pretty much like the regular season. We'll hold a few of our cards back, like big stuff that we'd normally do for regular-season games. Really, it's kind of our time to try and fine-tune everything, just like our players, before the season starts. Then, we end up getting to game one and we're ready to go with all the different bells and whistles that we have in our back pocket.
Q: What are you looking forward to the most this upcoming season?
A: Building on our foundation. We're hoping to carry over our same graphics package. Every season in the past we would end up starting from scratch and rebuilding the show from the ground up. I felt like this last season, we finally clicked. Not just graphics-wise, but as a team. We were all starting to understand the show. We were able to start using flex breaks. After we score a touchdown, we want to try to keep that energy in the stadium, giving the fans what they want when they're there at the game. We use highlights from around the league. We have a person in the control room that hosts and she's with another producer. They cut together red zone highlights and give fans what they really want. We introduced augmented reality this year. We're really hoping to push it and do more with it this first season. We got it installed last minute. We didn't get a whole lot of time to test it and really let our ideas come to life. This upcoming season, the whole offseason we're going to focus a lot on augmented reality. We do things like the "1st & 10" lines. We did some of that stuff for NBC and Sunday Night Football. Coming back from break, you'd see giant scores or logos on the field and then we'd kind of zoom past it back to the play. These are some ideas that we really want to push this season, dealing with augmented reality.
We'll certainly have our eyes on the Buccaneers game-day productions this season! Thanks again to Mike for sitting down with us during his "offseason."
---