All Sport® 1600 Series Controller Support
The All Sport® 1600 series controllers are designed to control small, simple scoreboards. It can be used to operate dedicated play/shot clocks and pitch count displays with optional handheld switches.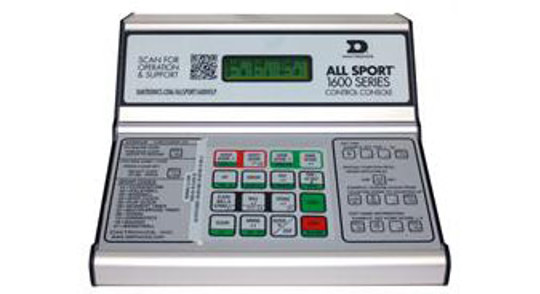 ​Order All Sport Antennas
You can order replacement antennas online for All Sport consoles.The antenna is compatible with All Sport 5000 series, All Sport 3000 series, All Sport 1600 series and OmniSport 2000 series.
Find All Sport Console Overlays
You can find the console overlays (inserts) for all available sports in Appendix B of the All Sport 1600 Series Operation Manual.
Operation Resources
Getting Started / Installing
How-to Articles
Ensure that your controller is in good health. Follow our recommended step-by-step controller checklist.
Maintenance Resources
Troubleshooting Resources
Service Requests
Use the Daktronics MySupport Portal to:
Create a new service case
View open service cases
Check order and shipping status
Verify account information
Select email/text settings to receive case notifications
Our standard response time is less than 4 hours. Access MySupport
Urgent Assistance
To help expedite your call:
Have your case number available if one has been assigned to you.

If you require technical assistance to trouble-shoot your system, please call from where the equipment is located and have everything connected and powered up.