Dakstats Soccer Software
Easy to operate. Quick to learn. Accurate stat reports in an instant.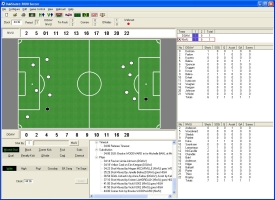 DakStats Soccer statistics software offers box scoring entry to track the most important stats as well as play-by-play entry to create in-depth shot charts and record every second of action on the field.
Download a free copy of the software and use our Quick Start Guides to start tracking baseball stats easier than ever before.
Unrivaled Display Integration
Connect the DakStats software to your existing Daktronics scoreboard, message center, or video display for an impressive scoring system.
Flexible Entry Modes
Enter Play-by-play stats live during the game or use the box entry mode to enter stats you have tracked by hand.
Accurate Stat Reports
Create a detailed game, season, and career reports in HTML format for easy emailing or posting to the web.
Short Learning Curve
New users agree - DakStats software is fast to learn and easy to use with an intuitive user interface and helpful Quick Start Guides.
Record Essential Stats
DakStats leads you through the game, ensuring that all the correct stats get recorded for each play.
Keyboard or Mouse Entry
Depending on your personal preference, you may use the mouse and/or keyboard hotkeys to enter stats.
Click To Edit
Quickly edit and update plays through the running play-by-play commentary.
Import/Export Features
Import and export rosters, games, and stats to share with other DakStats users or import files from other popular stats software.
Conference and League Features
Use DakStats to track conference and league stats, and then use a Web-Sync subscription to share stats online.
Webcasting Online Stats
Enhance the quality of your website and draw attention to your athletic programs by posting live game stats.
Balance/Error-Checking Tools
Verify the accuracy of your stats with built-in balance and error-checking tools.
Free Stats Software
High school coaches: Sign up with the Daktronics TeamUp program to receive free sports stats software.
Recommended System Requirements
Computer: 2.0GHz processor or better
Memory: 3GB or more of RAM
Video: 1024 x 768 or higher resolution
Operating System: Windows 7