Updates to Playlist Media, Users and Accounts
A couple weeks ago we posted about some exciting updates made in Venus Control Suite.  If you haven't had a chance to read that post yet, we highly recommend doing so now. We've added even more updates that are continuations of the previous ones. After you're all caught up, please continue reading below! Delete Reports in Linked Accounts […]
Daktronics Commercial Software Training on 6/6/2017
Categories: Venus Control Suite Training
A couple weeks ago we posted about some exciting updates made in Venus Control Suite.  If you haven't had a chance to read that post yet, we highly recommend doing so now. We've added even more updates that are continuations of the previous ones.
After you're all caught up, please continue reading below!
Delete Reports in Linked Accounts
Reports have changed ever so slightly to make your lives easier! You will now see filters on the right side of the reporting page that will help you search for specific Report Types.  You will also be able to select multiple reports at one time should you need to delete them.  The checkboxes to select multiple reports will appear once you have more than 10 reports on the page.
The biggest change however, has to do with reports run in child accounts. These reports will now show up in the Reports tab for the parent account, along with the list of all other reports run in the parent account.  They will be distinguishable from the other reports by a label above the report name that shows the child account name.
Users in the parent account will also be able to delete the reports run in child accounts now.
Inherited media now visible in the playlist
As you learned from reading about the previous update, media can be shared from parent accounts down to child accounts now. The additional update being released now will allow you to see if you have any inherited media being used in any of your playlists.
Click Edit under Playlist Files, to access a page that allows you to drag and drop files from your Media Library into your Playlist. Each of these Media Library files will now be labeled with "Parent Account" if they are inherited media.  The rest of your uploaded or created files will not be labeled at all.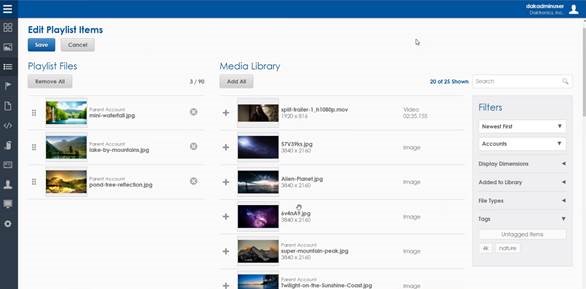 When you label media inherited from the parent account, you can differentiate between what media has been shared and what media you have uploaded or created yourself. You may find this helpful if an ad has been shared to your child account and you later added text to it.
For example, a Pepsi ad is shared and you insert text saying "2 for $3" onto it. You will always be able to tell the difference between the original ad and the edited ad.  And the best part? Once you save the edited version it will remain in your Media Library, even if the inherited media is removed!
Adding & removing users from linked accounts
In an account hierarchy, when you wanted to add a User, you had to switch into the account you wanted them in first. Well, no more! We've reduced the number of clicks and taken switching accounts completely out of the equation for you!
Going forward, when you need to add a new User, you can do so from the comfort of your own account. To use the new Account drop down when creating a User, choose which account you need them in and click on it.  That's all there is to it!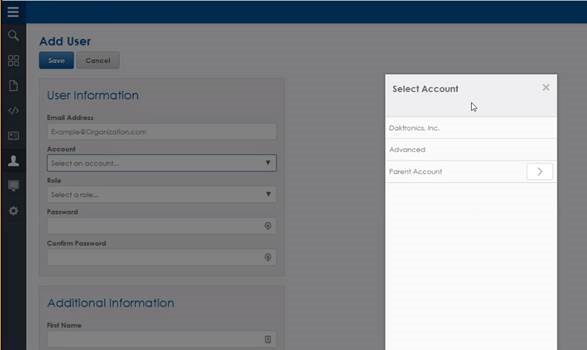 You can also delete users from the parent account if you need them removed. Just go to your list of Users, click on their name and delete them, or switch them to a different account if your heart so desires!
Parent accounts will now have the ability to see all users in their Users tab. The users who have been set up under child accounts will also have a label showing which child account they are set up under.
Ability to tell linked accounts on Dashboard
The final update this time around comes in the form of another label. You will now be able to tell which accounts are child accounts and which accounts are set up in the parent account, right from the Dashboard.  Each child account will be labeled with the name of their account right above the display name on their Dashboard panel.

This will help you when you need to know which displays you can create playlists for in the parent account and which displays you will need to switch into to create playlists for.
This will also be helpful for us here at Daktronics should you ever call in for assistance. We'll be able to identify which displays belong to the parent account and which displays are set up as child accounts.
All of these updates should be real time savers!
Thanks for reading!
We hope you find all of the updates very helpful! If you have any ideas for updates to Venus Control Suite thatwill make it easier to use, please let us know!
Be sure to click on the orange "Receive Email Updates" button on the right side of the page to subscribe, so you never miss out on any updates.
---