Media Library Walkthrough
Over the last several months, we have shown you many of the different features of Venus Control Suite, provided you with information regarding the latest software updates, and talked about the many benefits of using Venus to operate your display(s). Today, however, we are going to give you a more in-depth look into something that […]
Daktronics Commercial Software Training on 6/1/2016
Categories: Venus Control Suite Training
Over the last several months, we have shown you many of the different features of Venus Control Suite, provided you with information regarding the latest software updates, and talked about the many benefits of using Venus to operate your display(s).
Today, however, we are going to give you a more in-depth look into something that we have already touched on previously… by the time you finish reading this post, you will be an expert on the Media Library!
The Media Library serves as the central storage location for all of your uploaded and dynamic content. It also serves as a hub for some of the most important features of the Venus Control Suite software.
As the storage location, it allows you to view all of your content in either a List View or a Card View. If you have scrolled all the way to the bottom of your list and cannot find what you're looking for, don't worry, just click the Load More button to expand your list.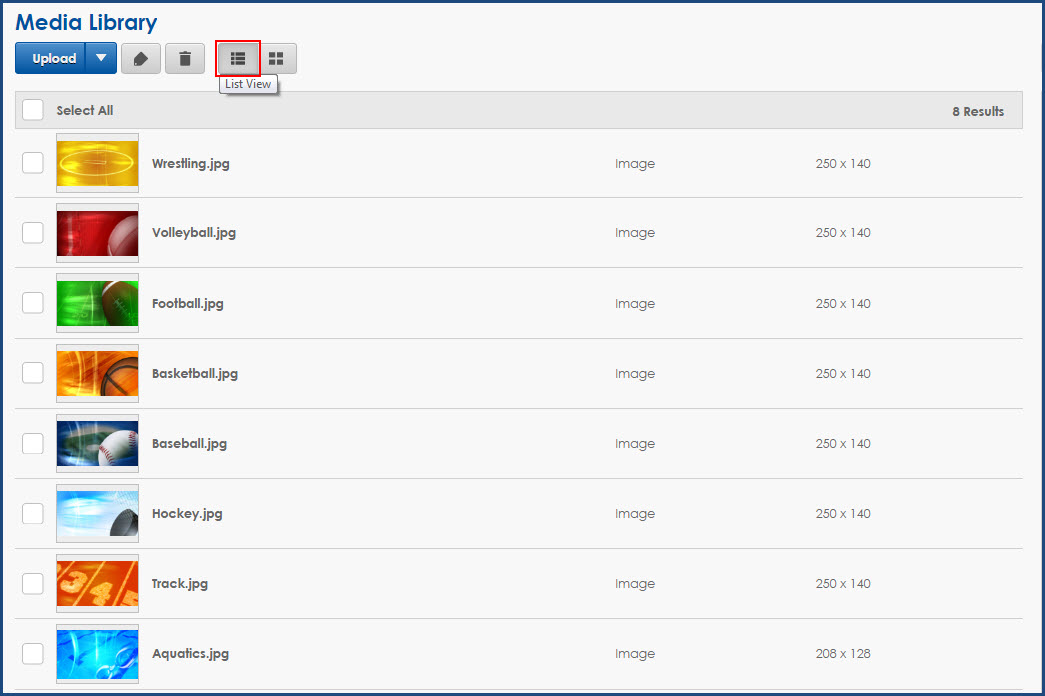 Media
Media files must be uploaded into Venus Control Suite before they can be scheduled. The Venus Uploader will allow you to upload multiple files and tag them. Simply click on the blue Upload button and either drag and drop or browse your computer for the desired files.
Trainer Tip: The Upload window also shows you all of the supported file types. So if you're ever wondering or need to know what file types are compatible with Venus Control Suite, this is the place to check!
As you can see, the Upload Media window shows you a thumbnail of the content you are uploading along with file name, file type, and dimensions. When your media has been successfully uploaded, you will see a green check mark appear on the right side of the Upload Media window. It also gives you the option to tag your file, which we'll touch on more later…
Features
As I mentioned before, the Media Library also houses some of the most important features of Venus Control Suite. By clicking on the arrow next to the Upload button, you can access Content Studio and the Web Compositor/Web Editor that are both essential tools for creating your own content.
If you haven't already, you should definitely check out our post on the Web Compositor/Web Editor titled Create and Schedule on the Go!  It's a great read and an excellent walkthrough about how to use that feature.
If you're interested in learning more about Content Studio, then we recommend visiting the Venus Control Suite Learning Center. Not only will it show you how to use Content Studio, but it also has videos and tutorials about all the features of Venus Control Suite.  This is a great resource for those of you who enjoy or prefer self-guided training.
Also, additional buttons to the right of the Upload button allow you to Tag your content or Delete unneeded content. Simply put a check mark next to the file(s) you wish to tag or delete and then click on the corresponding button.

Filters
On the right side of your screen you will see a Search bar followed by a Filters section. Use both of these tools to find specific content in your media library. Whether you use the Search bar or one of the many filters, when you finish you can click on the red Reset button in the top right corner of the Filer box to reset your parameters.
The filters allow you to search for content based on when it was uploaded, what was most recently modified, alphabetical order, your display(s) dimensions, when content was uploaded into the Media Library, by file type, or by Tag.
If you are unfamiliar with tags, we recommend reading our post about them called Goodbye Folders, Hello Tags.  It's a fun article and introduction to the world of tagging.
Trainer Tip: Creating tags to organize your content with your Media Library is important because it will help you locate a specific presentation to add to your playlist. It will save you time in the future when you'd like to reuse or edit content. Leaving content untagged will consume your time  when you are trying to find something.
Individual Media Items
Did you know that if you click on the thumbnail of an individual piece of content, it will open up a larger preview for you? Not only that, but it will also allow you to add or remove tags from the content, and even delete it if you so choose.
You can also see what file type, dimensions, file size, when it was last modified, and who uploaded it. This is all very useful information you access by one click!
If you created it in the web compositor/web editor or Content Studio, then a little pencil icon will show up in the upper left corner of the preview. Click on it to open the presentation and make changes to it.
If the file is an image or video that you uploaded directly into the Media Library, it will allow you to download the image to your computer.
We hope you found this week's post helpful! If you did, then be sure to check out our previous posts and click on the orange "Receive Email Updates" button on the right side of your screen to subscribe!
Thanks for reading!
---