Latest Updates for Venus Control Suite
A lot has happened this November, including many improvements within Venus Control Suite. The best part of these updates and new features is that they happened because of you and your feedback! All right, let's get started, shall we? Excel export for POP reports You can now export your Proof of Play reports into Microsoft […]
Daktronics Commercial Software Training on 11/9/2016
Categories: Venus Control Suite Training
A lot has happened this November, including many improvements within Venus Control Suite. The best part of these updates and new features is that they happened because of you and your feedback!
All right, let's get started, shall we?
Excel export for POP reports
You can now export your Proof of Play reports into Microsoft Excel, which gives you the ability to sort information by columns and rows. In order to export your report to Excel all you have to do is click on the down arrow next to the blue Upload button on your report page and choose Export to Excel.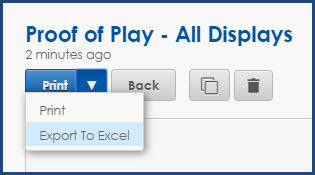 Grouping in POP reports
We now offer 2 grouping sections for Proof of Play reports. You can group by account with thumbnails and daily logs, or you can group by display without thumbnails. Basically you have the option of seeing what content played based on advertiser accounts or what content played on each display.
Uploading media gets even easier
Up until now you could upload media into your Media Library by clicking on the blue Upload button and then either dragging and dropping content into the Upload Media window. You can also click on the "Click Here to Upload" link to browse your computer.
That was easy enough, but now you can drag and drop items directly onto the Media Library. It's really that simple!
New look Web Compositor
The Web Compositor has had a couple of changes made. The first one is minor, but when you click on the down arrow next to the blue Upload button it now says "New Web Presentation" instead of saying "New Web Compositor Presentation beta."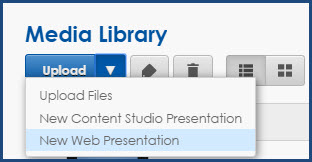 Duplicate elements in the Web Compositor
The second, and much more exciting change is that you can now duplicate elements and slides in the Web Compositor! Simply click on the "Duplicate this Slide" or "Duplicate this element" button in the far right column, and you will gain an additional matching slide or an additional matching element within your slide.


Search for accounts by name
You can now search for accounts by name when associating media.  When you go to choose an account to associate a media item with, the "Select Account" window will give you a search bar on top.  You can type the name of the account you are looking for into the search bar to find it instead of scrolling through all of your accounts and having to click on the "Load More" button!
Download Content Studio presentations
Content Studio presentations can now be downloaded from the media library. That's right, if you click on the thumbnail of a Content Studio presentation you now have the option to download the presentation. This is great if you want to share content with someone else with the same display size, but not the same account as yours.
Playlist Files
We upped the number of playlist files you can have in a single playlist. You can now have up to 90 files in a single playlist, which is 30 more than you used to be able to have.  Remember, if you ever do reach the maximum number of files, just create a new playlist for any additional files, and you'll be good to go.
We hope you find these new features and updates beneficial. If you have any ideas on how you think we can improve Venus Control Suite, then please let us know.
Thanks for reading!
---