​​Florida Display Running Continuously for Nearly 100,000 Hours
A Florida electronics retailer has been running his Galaxy display 24/7 for 11 years. In 2005, Chris Yankauskas looked for an LED sign for his business, Sound Solutions, in Niceville, Florida. He wanted to promote what was in his store, such as speakers, amplifiers, subwoofers and Bluetooth radios. "The sign is absolutely reliable," says Yankauskas. […]
1/11/2017
Categories: Sign Company News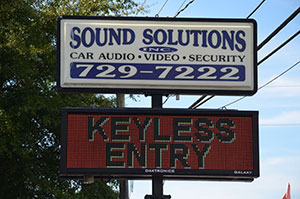 A Florida electronics retailer has been running his Galaxy display 24/7 for 11 years.
In 2005, Chris Yankauskas looked for an LED sign for his business, Sound Solutions, in Niceville, Florida. He wanted to promote what was in his store, such as speakers, amplifiers, subwoofers and Bluetooth radios.
"The sign is absolutely reliable," says Yankauskas. "I never turn it off."
Yankauskas searched for a rugged product with dependable support when he decided to upgrade his static sign. He saw the Daktronics logo on some sports signage and found a local sign shop that sold Daktronics products.
"Back in the day, I was looking for something that would last more than 2 years—not something cheap or from overseas without the support I'd need if something went wrong," he says. "My Daktronics rep is phenomenal. Always got right back to me when I had questions and really helped us."
Not only is the sign reliable, it's reaching the front-door audience. At one point, Yankauskas stopped running the time and temp to publish some other material.
"I couldn't believe all the phone calls I got asking why we quit!" he says.
Share the Sound Solutions Customer Story.
---