You Won't Miss a Beat with the New Venus Control Suite Banners!
"I keep seeing these blue boxes when I log into VCS. What are they, and why do I have to dismiss them?"
David Grotzinger on 7/28/2022
Categories: Venus Control Suite Training
As you know, Venus Control Suite is undergoing many changes! You can stay in the loop on all things VCS by bookmarking our Venus Control Suite Blog page! Daktronics Blog Page
We understand checking the blog page is not standard practice every time you log in… so we made it easy for you with live update banners!
What are Banners?
Every time you log into your Venus Control Suite account you might start seeing blue boxes appear at the top right of your screen. These are called Banners.
If you see a banner, that means some type of update has taken place within your account, and we want to tell you about it!
Why Do I Have to Dismiss Them?
So far, you might have seen banners for the Scheduling App, Easy Drop Weather, and possibly others depending on your Venus Control Suite Package. Daktronics will continue to communicate through banners to keep you in the loop!
With every banner comes a "Learn More" button. Click on the button to be directed to the article page that discusses the update in more detail. You will encounter helpful videos, blogs, knowledge base articles, and even quick tips on efficient workflow!
Once you understand the Banner's contents you can head back to your Venus Control Suite page to dismiss the banner. Dismissing the banner will ensure that you will not see it again when logging in or continuing to work in the current session.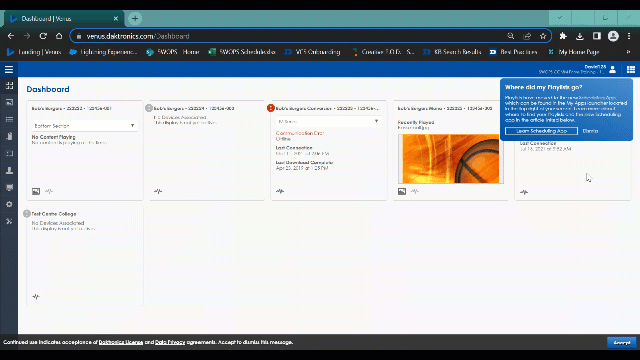 What if I Dismissed a Banner and Wanted to Go Back?
The Daktronics Software training team has your back! Contact a trainer will provide updated articles regarding a specific step in the software. By clicking "next" you can submit a software question to our inbox. Just let us know what has changed, and we will be able to assist you with the correct information. To subscribe to the Venus Control Suite Blog Page, click the link below. Scroll down until you see an orange button on the right-side reading "Receive Email Updates". This will keep you notified and in the loop with all things Venus Control Suite.
---